Oklahoma rescue crews were picking up the pieces Tuesday after a series of twisters roared through the state, leaving death and destruction in their wake.
Meanwhile, the deadly storm system was barreling towards the Ohio River Valley, the National Weather Service reported. It has already spawned at least 23 tornadoes across the Sooner State and in Nebraska, Arkansas and Iowa.
While that system appeared to be weakening, forecasters warned that it could still churn up severe storms across the Ozarks and into the Mississippi Valley with high wind gusts, large hail — and even a twister or two.
In the worst hit sections of Oklahoma, the storms had revealed a landscape littered with the carcasses of dead livestock and shattered buildings and homes.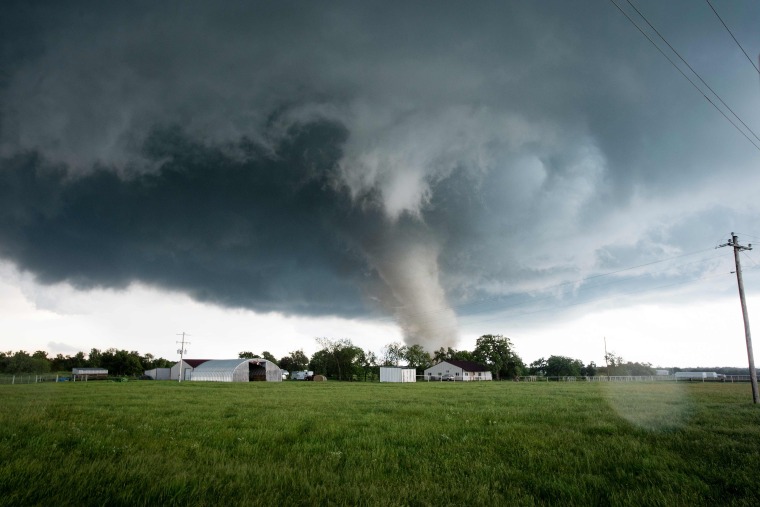 "We're out there surveying the damage," said NWS meteorologist Matthew Day, who is based in Norman, Oklahoma. "We had four confirmed tornadoes in the western two-thirds of Oklahoma."
Two of those resulted in deaths, Day added.
In Garvin County, 76-year-old Chester Barnes was killed when a tornado touched down south of Oklahoma City, according to KFOR, the NBC affiliate in Oklahoma City.
"He was a good man, a real good man," Barnes' neighbor, David Bruckner, told the station.
Bruckner's own home was reduced to splinters by the storm. His wife, Lisa, said she hid in the basement and prayed.
"I could just hear all, sounded just like a train," she told the station.
Another 76-year-old man, identified as Jackie Brooks, was killed when a tornado torn through the town of Connorville, in Johnston County, according to The Weather Channel.