It's tornado season again in Oklahoma. The ominous clouds and warm air one day last week reminded Danni Legg of the afternoon last May when a twister laid waste to the city of Moore and killed her 9-year-old son.
"Your heart drops," she said.
Legg and the families of six other children killed at Plaza Towers Elementary School in Moore helped gather more than 100,000 signatures last year for a ballot initiative to equip the state's 1,800 public school buildings with storm shelters.
But a rewrite of the ballot language by the state attorney general led to a fight in court, and now the dispute has landed in the middle of the race between Gov. Mary Fallin, a Republican running for re-election, and her Democratic challenger, state Rep. Joe Dorman.
A coalition called Take Shelter Oklahoma, which includes the Moore families, proposed having the state sell bonds to raise $500 million to build school shelters or fortify existing buildings so they could can withstand tornadoes like the one last May, which killed 24 people.
Their idea was to let schools start building shelters almost immediately and have the state pay off the debt with the $40 million to $50 million that it expects to collect each year from a recently reinstated tax on some companies.
Fallin has argued that the plan doesn't offer enough control for local school districts and that it would take money out of the state's general fund, meaning that other important programs — roads, public safety, education — would have to be cut.
The attorney general, Scott Pruitt, a Republican, rewrote the 200-word summary that voters would have seen on their ballots, emphasizing the business tax, and, his opponents say, all but dooming the ballot initiative to fail in deep-red Oklahoma.
"It was biased, misleading and confusing to the voters," said David Slane, a lawyer for Take Shelter Oklahoma. "These were really good people trying to do this. You had parents and teachers and educators from all over the state that got involved."
Take Shelter Oklahoma and Kristi Conatzer, whose daughter died at Plaza Towers, sued to stop the new language. Last week, the Supreme Court of Oklahoma ruled that the attorney general was within his rights to change it. It gave proponents 90 days to start over and get the 155,000 signatures they need to put the question on the ballot.
That presents the families with a tricky question: Should they rewrite the whole thing? That would raise the possibility that the attorney general could make changes again and land the matter in court for a second time.
The governor has proposed her own plan, a ballot initiative that would allow individual school districts to choose whether to raise their property taxes to pay for storm shelters.
"If you are in a part of the state that already has a storm shelter, you're essentially subsidizing everyone else's construction. There's an issue of fairness," said Alex Weintz, a spokesman for the governor. "Is it fair for one school to build a gigantic gymnasium that also happens to be rated as a safe room?"
Dorman, the Democratic challenger, told NBC News that raising property taxes would never fly at a time when many Oklahomans are already struggling with money, and in a state where voters in many school districts have defeated property-tax increases.
"The governor's plan is completely unrealistic," he said. "It's a solution that's really not a solution."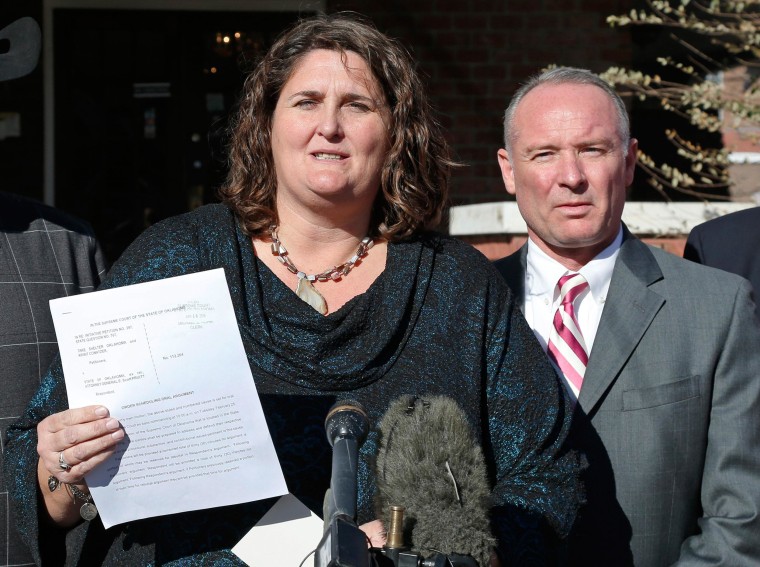 The Moore tornado was unusually deadly. Oklahoma averaged 57 tornadoes and three tornado deaths per year from 1981 through 2010, according to the National Weather Service. It is struck by more tornadoes per square mile than all but a few states.
Legg, whose 9-year-old, Christopher, was killed at Plaza Towers, said that she drove around to packed Oklahoma high school football games last fall to get signatures, and she vowed that she was ready to do it again.
She said that local control wasn't the answer: In Moore, she said, the school district had the chance to act after a May 1999 tornado there.
"It hasn't gotten done in the last 13 years, and now I have a brother and a sister without their brother because of it," she said. "I'm tired of people not being responsible for anything."
Her surviving children are 12 and 9 years old.
To avoid another fight in court, Slane, Take Shelter Oklahoma's lawyer, said he hoped to sit down with the attorney general in coming days to work out compromise language. Asked whether that would happen, Diane Clay, a spokeswoman for the attorney general, said: "The ballot language issue has been decided by the state Supreme Court."
Dorman has released a survey concluding that 506,000 people in 1,100 Oklahoma public schools — students, teachers and staff — are not protected from severe weather.
The attorney general's spokeswoman noted, though, that many Oklahoma public schools already include shelters, and that shelters are being included in the designs of new schools.
She also pointed to a nonprofit created by business leaders and two state legislators called Shelter Oklahoma Schools. It has raised $2.2 million to build shelters for schools, said John Hunt, the organization's chairman. He said the group has made about five grants and is working on more.
Shelter Oklahoma Schools describes itself as apolitical, and as a "private solution to a public problem," he said.
Meanwhile Oklahoma waits out another tornado season. On consecutive days last week, meteorologists posted a tornado watch for parts of the state and warned of the potential for strong storms with large hail.
Legg said she was startled when her phone went off with a storm alert the other night, and immediately thought of the quick decisions that twisters bring: Should I stay where I am and trust the school? Do I have enough time to get the kids?
"It's hitting us today," she said. "Am I nervous? I'm terrified."
— The Associated Press contributed to this report.