Oklahoma Gov. Mary Fallin launched a campaign Tuesday to restore a monument to the Ten Commandments that was removed from the state capitol overnight under a court order.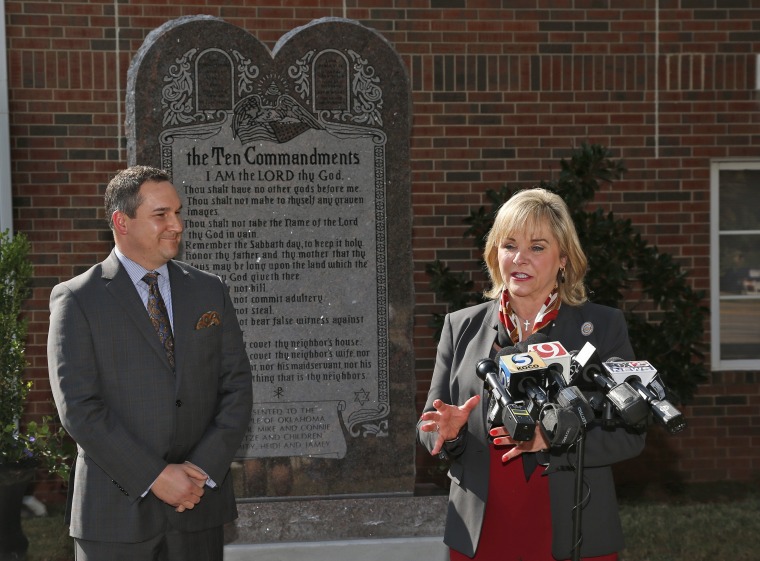 "It's not a Republican, Democrat or independent issue," Fallin, a Republican, said at a news conference in Oklahoma City. "The Ten Commandments is a historical monument. We brought it to this location. We felt it was a good place to be able to display it properly so people could see it."
The state Supreme Court ordered the monument removed in June, saying the state was prohibited from displaying it under the state Constitution. The ruling was upheld on appeal.
Late Monday night, a crane hauled the monument about 10 blocks away to the grounds of the Oklahoma Council of Public Affairs, a nonprofit conservative research institute, NBC station KFOR reported.
Fallin called for a constitutional amendment to restore the monument Tuesday, saying, "We're going to let the people of Oklahoma decide this issue."
State Rep. Mike Ritze, a Republican representing Broken Arrow and Bixby who gave the monument to the state, said he didn't understand objections, saying the monument was "identical to many others upheld as constitutional by courts across the country, including the United States Supreme Court."
"We will focus our efforts on restoring the monument to its rightful place," Ritze said.