OKLAHOMA CITY — A walkout of teachers in Oklahoma stretched into its fifth day on Friday, and a state union leader said he doesn't think pending proposals to increase revenue are enough to stop the walkout from extending into next week.
The Senate was expected to consider separate proposals Friday to expand tribal gambling and tax certain internet sales that are expected to generate roughly $40 million annually.
But Oklahoma Education Association Executive Director David Duvall says he doesn't think those are enough to keep teachers from walking out again next week.
"Our members know their needs, and they're going to tell us when it's enough," Duvall said. "I anticipate that we'll be back up here on Monday."
Senate Floor Leader Greg Treat, a key negotiator on the budget, said he had not met with education union leaders and didn't know what it would take to resolve the situation.
"I'm not the one who started the walkout, so I'm not the person to ask," said Treat, a Republican from Oklahoma City.
Oklahoma is the second state where teachers have gone on walkout this year. West Virginia teachers won a 5 percent pay increase after striking for nine days.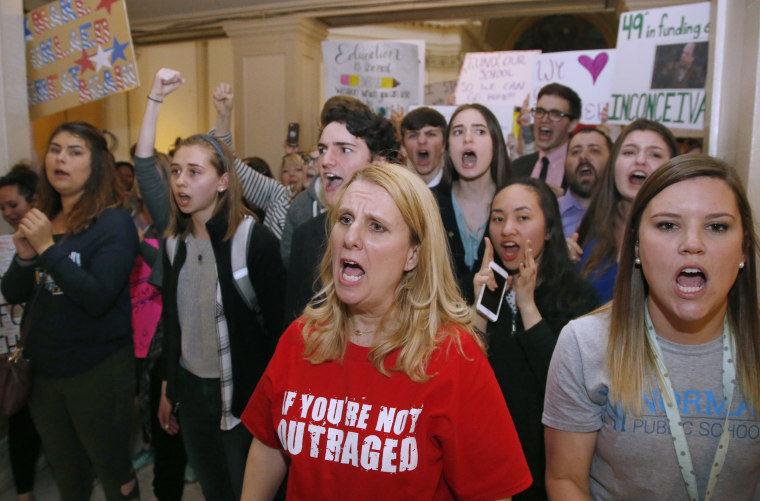 Republican Gov. Mary Fallin has faced the brunt of criticism from teachers, many of whom blame the term-limited governor for supporting tax cuts and generous state subsidies for businesses that have led to declines in state funding for schools and other state services. The governor further raised the ire of teachers after an interview this week in which she likened striking teachers to a "teenage kid that wants a better car."
Dozens of protesters inside the packed Capitol responded Wednesday by jangling their keys and chanting "Where's our car?"
And when Fallin took the state airplane to a business opening in McAlester, about 140 miles southeast of Oklahoma City, several protesters were on hand at the airport to jeer her.
"It just seems like there's a large lack of understanding on her part," said Jennifer Smith, an elementary school teacher from Tulsa who held a sign comparing Fallin to Dolores Umbridge, the villainous schoolmarm from the popular Harry Potter series.
Fallin, a lame-duck governor in her final year, has had scant success in recent years pushing her agenda, despite overwhelming GOP majorities in both chambers. Her proposal last year to generate revenue for teacher raises by broadening the sales tax fell flat in the Legislature. She focused her final State of the State address this year on endorsing a tax-hike package dubbed "Step Up" that was supported by civic and industry leaders, but the measure never made it out of the House.
Ultimately, the governor signed legislation last week granting teachers pay raises of about $6,100, or 15 to 18 percent, as well as tens of millions of new dollars for public schools. But many educators said classrooms need more money, joining a movement of teachers that has ignited protests in other Republican-led states including West Virginia, Kentucky and Arizona.
Many teachers already are back at work, especially in rural communities where local boards didn't vote to shut down. But the state's two largest school districts, Oklahoma City and Tulsa, announced plans to close for a fifth day on Friday.