An 18-year-old Oklahoma woman was arrested Monday with an AK-47 after she allegedly threatened to shoot "400 people for fun," including some at her former high school, officials said.
Alexis Wilson told her coworker at a pizza restaurant Monday that she had purchased the semi-automatic AK-47, according to a report from the Pittsburg County Sheriff's Office.
Two coworkers reported to authorities that Wilson showed off pictures of her holding the rifle and said there were people at her old school, McAlester High School, that she would like to gun down.
Deputies located Wilson near her home, according to a probable cause affidavit. She told them "she was just trying to teach her coworker not to be afraid of firearms," but couldn't explain why she made a specific threat toward McAlester High School.
She said she was bullied when she went to the school but was "always good about just ignoring it," the affidavit said. She also said she was having trouble re-enrolling at McAlester "due to previous incidents," the affidavit said.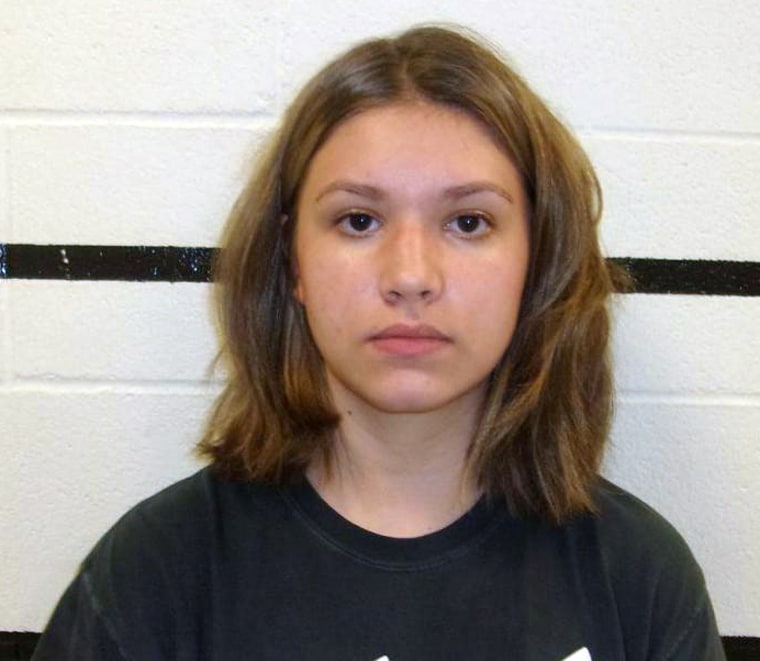 Deputies went on to search Wilson's home, with her mother's permission. The mother led investigators to Wilson's room, telling them she knew about the AK-47 because her daughter had been saving up to buy it.
The deputies found the AK-47 with six high-capacity magazines and several rounds of ammunition, along with a 12-gauge shotgun in Wilson's room.
School officials said Wilson had dropped out of the high school in her freshman year. They told investigators that she had been suspended for bringing a knife to school and having a swastika symbol on some of her belongings.
The teen was charged with felony terrorist hoax and is being held on a $250,000 bond at the Pittsburg County Jail, according to court documents. She was arraigned Monday, and her next court date was set for Sept. 27. If convicted, Wilson faces up to 10 years in prison.
Wilson's mother said during Monday's hearing that her daughter is innocent, according to the McAlester News-Capital.
A post from the Pittsburg County Sheriff's Office on Facebook lauded deputies for their response to the reported threat. "Way to keep these kiddos safe with your quick response and thorough investigations," the post said.
McAlester Public Schools superintendent Randy Hughes also thanked the deputies and other responding agencies in a video he posted to Facebook Monday.
"They had it under control before we knew anything about it," he said.
Hughes said that investigators believe Wilson was the only person involved in the alleged plot, and the district was not canceling school Tuesday. Extra security would be on the high school's campus.
He urged teachers and students to report anything that might seem suspicious. "If you overhear a conversation, if you see a post, or just see something that just doesn't look right, report it," Hughes said.
"We are living in scary times when we have to worry about the safety of our children in school," Hughes said. "I can assure you that we're going to do everything that's possible to make sure that our students are safe."