An Oklahoma teen is in disbelief over the death of her boyfriend, who she says her father — a police officer — killed, even though the two didn't know each other.
"He is the kindest person. He is the most protective person and a good person who helped the homeless," Lisa Kepler, 18, told NBC News on Thursday of Jeremey Lake, 19, who was shot to death Tuesday night. "I don't know why my dad did this."
Kepler's parents, husband-and-wife police officers in Tulsa, have been arrested in the murder. Kepler said she hasn't spoken to them.
"I tried to call the jail last night," she said. "All I want to ask him is, why did you do this?"
Kepler told NBC affiliate KJRH in Tulsa that her parents had kicked her out of the house and she met Lake at a homeless shelter a week ago. She said she and Lake were walking near his aunt's house on Tuesday night, when her father pulled up in his car. "There was no argument. I walked away, and Jeremey tried to introduce himself, and my dad shot him," she said, crying. She said she knew Lake "really less than a week, but he was my everything."
Authorities indicated that they planned to charge the husband, Shannon Kepler, a 24-year police veteran, with first-degree murder, KJRH reported. Police held the wife, Gina Kepler, for accessory to murder.
Josh Mills, Lake's best friend, was in the area at the time of the shooting and came running over.
"He died in my arms," Mills told NBC News. "I'm military and I've had medical training and I whipped his shirt off and tried to stop the bleeding. But he was in my arms for two minutes and died."
Shannon Kepler's attorney said his client will plead not guilty.
"He has a viable, if not perfect defense," Tulsa lawyer Richard O'Carroll said, but wouldn't elaborate. He said Kepler will be arraigned on Tuesday, but could be charged sooner than that.
Tulsa Officer Jillian Robertson said she believed this was the first time in the history of her police department that two officers had been apprehended together for a crime.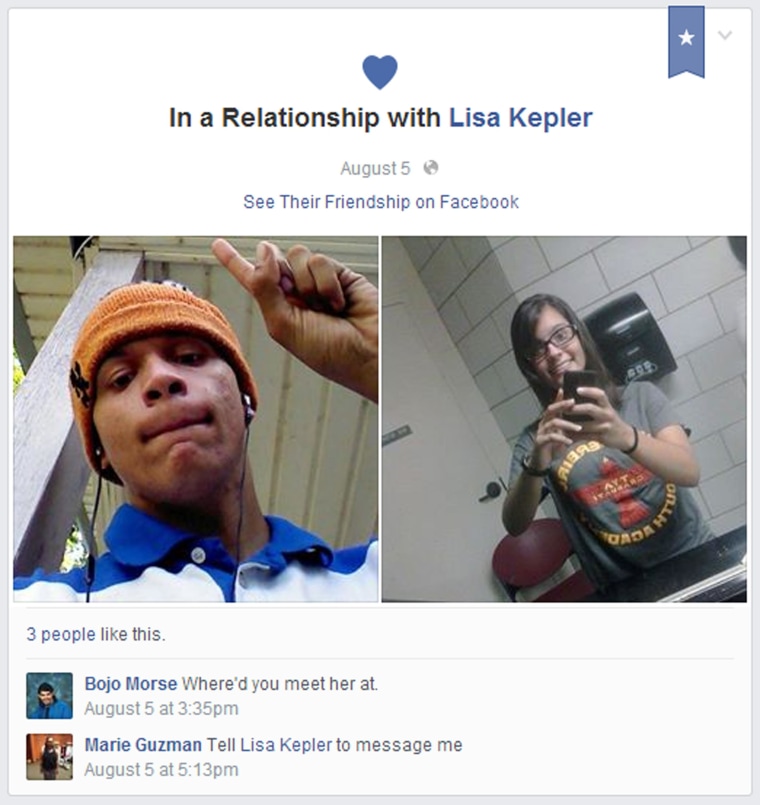 —Dee Morales, Elizabeth Chuck and Erin McClam