They won't be kicking off their Sunday shoes and cutting loose in one tiny Oklahoma town this weekend because the sweetheart dance has been cancelled for a reason that's got everybody feeling sour — it's against the law.
In a storyline that could have come from the movie "Footloose," the authorities in Henryetta, a town of a little under 6,000, put the kibosh on the Valentine's shindig that was scheduled for Saturday after a local woman, Robbie Kinney, complained.
Her beef? Holding the bash at Rosie LaVon's Marketplace — the new hotspot in town — would violate a 1979 ordinance that forbids dancing within 500 feet of a church. And the church she attended as a child, the Church of Christ, is 300 feet away.
"I'm sorry, but the law is the law," Kinney told NBC News. "Law enforcement does not have the right to pick and choose with laws they are going to enforce, no matter how ridiculous they are."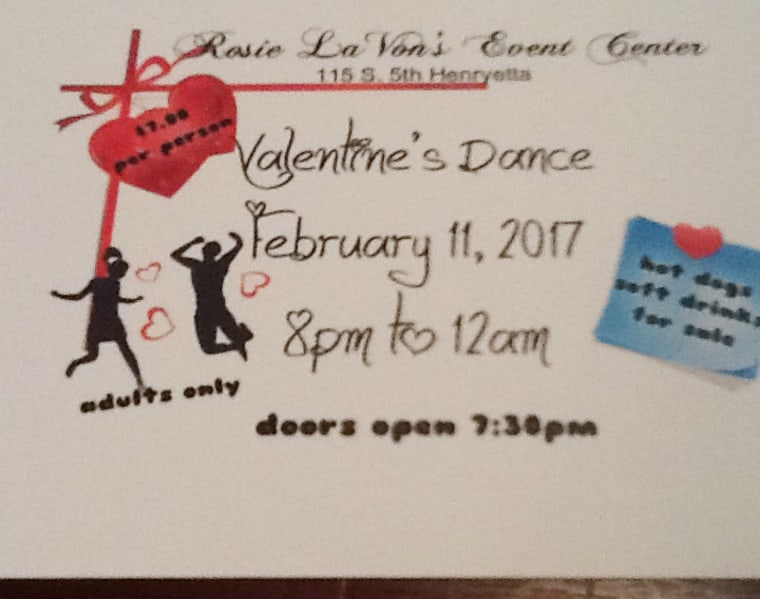 Joni Insabella, who owns the venue and helped organize the dance, said she had no choice but to cancel the bash.
"Other than her, nobody objected, not even the church," Insabella said. "Everybody was excited about the dance. But on the advice of my husband, I cancelled it. He's the city attorney and he swore an oath to uphold the law."
The tempest in this tiny town that has made Kinney, as she put it, "infamous," began when she posted a question on Facebook asking if the ordinance was still in place. She insists she wasn't trying to spoil anybody's fun.
"My dad and my uncle were planning to go to the dance," she said. "They're both elderly and they've been ill and I didn't want them getting arrested."
Henryetta mayor Jennifer Clason doesn't buy that explanation.
"This ordinance was put in place back in the 1970s when there was a troublesome dance bar on Main Street and it's never been enforced," she said.
The reason Kinney complained has more to do with long-simmering small-town rivalries than any law, Clason said.
"She accused Joni of trying to profit from breaking the law by holding this dance," the mayor said. "That's nonsense. We told her to go ahead and have the dance. I'm 45 and I grew up going to dances at the civic center, which is just 100 feet from the same church."
Insabella, who was born in Henryetta but lived in Florida for many years, said she moved back home with her husband to take care of her elderly parents. She said she opened the store, which sells vintage goods and has an entertainment space on the second floor, to bring some life back to the fading downtown.
"With this dance, we were just trying to give people a place where they could go with their sweethearts," she said. "There's really no place in town where you can go dance with your sweetheart."
But after the dance announcement was posted online, "suddenly we started getting all kinds of problems."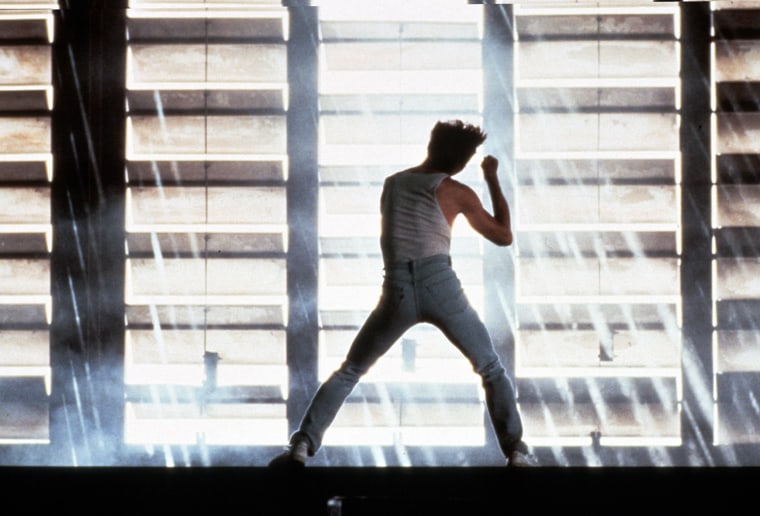 "I was getting accused of corruption, of getting special favors because of my husband," she said. "I didn't even know there was such an ordinance. There's proms and dances all the time at places that are closer than 500 feet to a church."
Insabella chuckled about the comparisons to "Footloose," a 1984 movie starring Kevin Bacon about a town where dancing and rock music were banned — and which was based loosely on another Oklahoma town called Elmore City some two hour's drive away.
She said she hopes that when the city council meets next on Feb. 22 they will get rid of the troublesome ordinance. She said she plans to host an Elvis-themed dance at her place and she's already hired an impersonator.
"We're going to dance here, come hell or high water," she said.