An Oklahoma woman is in custody in a 1993 cold case killing that rocked a California town and drew national attention after it was featured on the TV show "America's Most Wanted," authorities said Thursday.
Rayna Hoffman-Ramos, 61, was arrested in the slaying of Shu Ming Tang, San Mateo County Sheriff's Office Lt. Jacob Trickett told reporters.
Tang was found suffering from a single gunshot wound on April 26, 1993, at Devonshire Little Store, Trickett said.
"This was a cold case for nearly three decades," Sheriff Carlos Bolanos said. "Today I can announce that we made an arrest, and justice for Mr. Tang's family is at hand."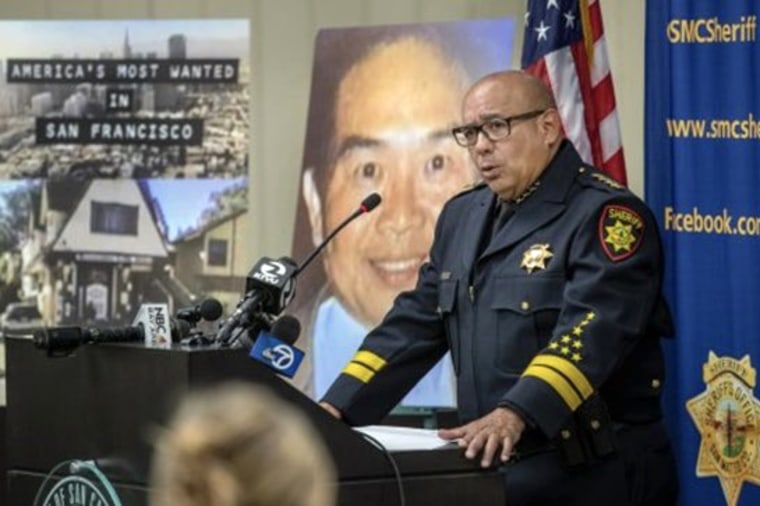 San Carlos Mayor Sara McDowell described Tang as a husband, father and "beloved" shop owner who ran a decades-old corner store in the San Francisco Bay Area town of San Carlos.
"His death shook the community," she said.
Detectives at the time believed the killing was linked to a robbery gone wrong involving an adult woman, Trickett said. Later that year, Tang's killing appeared on "America's Most Wanted" — but the case continued to elude authorities.
In 2018, investigators and analysts with the San Mateo Sheriff's Office began reviewing the case and eventually identified Hoffman-Ramos, who lived in San Mateo at the time of the killing, as a suspect.
Searches carried out earlier this month at two locations in Oklahoma and Sacramento, California, revealed "additional leads and evidence," Trickett said, adding that authorities in Oklahoma then arrested Hoffman-Ramos.
It wasn't immediately clear if Hoffman-Ramos has a lawyer.
She is being held in Washington County, Oklahoma, and is awaiting extradition on a no-bail warrant in Tang's death, Trickett said.
Trickett declined to provide additional details about what led investigators to identify her as a suspect, saying he didn't want to compromise authorities' investigation.
That investigation so far suggests that detectives' initial theory about a robbery gone wrong was correct, Trickett said.
CORRECTION (March 25, 2022, 8:30 a.m. ET): A headline on a previous version of this article misstated the year in which a cold case killing took place. It was in 1993, not 1989.