A former student at Olivet College in Michigan has been charged with attempted murder and felony assault after authorities alleged shot one of the school's baseball players after a game, authorities and school officials said Sunday.
Olivet College said in a statement Saturday that the player, who has yet to be publicly identified, was shot after he returned to the dugout to retrieve a forgotten item after a game Friday night at Muskingum University in Ohio.
It was not clear what exactly happened in the lead-up to the shooting. The Muskingum County Prosecutor's Office said in a statement that the player was shot "three separate times."
Franklin J. Grayson of Jacksonville, Florida, was charged with one count of attempted murder with a firearm specification and one count of felonious assault with a firearm specification, the statement said.
Olivet College identified the suspect as a 2021 graduate.
The player suffered non-life-threatening injuries, the school said. "He was treated at a local hospital and has now been released into the care of his parents," it added, noting that the rest of the team had safely returned to Olivet.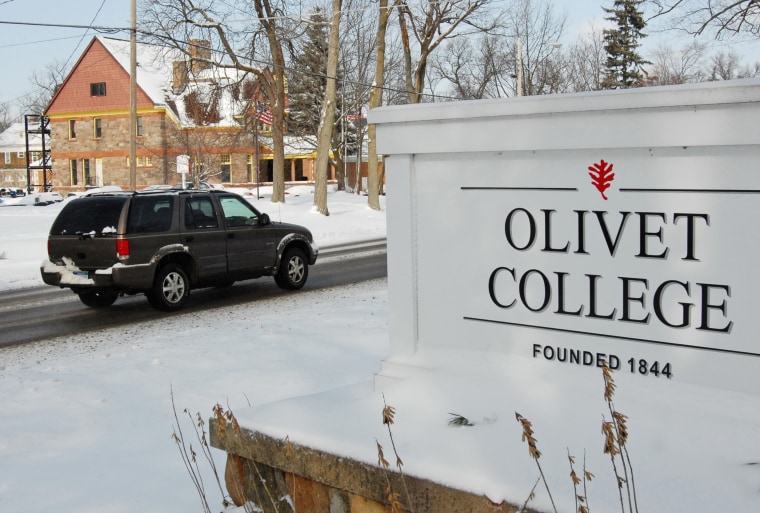 Grayson was being held in the custody of the Muskingum County sheriff on Sunday, with the prosecutor's office requesting $1 million bail. It was not immediately clear whether he had an attorney to speak on his behalf.
The college said law enforcement officials had said that there was no indication of a relationship between the suspect and victim and that there was no known or ongoing threat to the player or anyone else in the Olivet College community.
The prosecutor's office said that "eyewitness descriptions of the suspect and the clothing he was wearing eventually resulted in his quick apprehension."
"The coordinated response of numerous law enforcement agencies allowed this dangerous situation to quickly be contained for the protection of the campus and surrounding communities," it added.
A potential motive in the shooting was not immediately clear.
In Ohio, attempted murder is punishable by a three- to 11-year prison sentence. The gun specification can add three more years to any sentence, the prosecutor's office said.
Felonious assault is a second-degree felony punishable by a two- to eight-year prison sentence, with the gun specification also able to add three more years.
The prosecutor's office said, however, that because both of the charges relate to the same act, "shooting another person with a firearm," only one sentence can be imposed, meaning the maximum sentence Grayson could face is 14 years under the current charges. It said that as the investigation continues, more charges could be possible.
Olivet College said it was communicating with and providing support to student-athletes and their parents.
Games scheduled for Saturday and Sunday were canceled.
"This is a challenging time for all involved and our attention is focused on supporting the student-athletes and staff members," the school said. "Please keep your fellow Comets in your thoughts and prayers."