Gold medalist Aly Raisman is the latest Olympic gymnast to say she was molested by team doctor Larry Nassar, who has been accused of sexually assaulting more than 100 former patients under the guise of medical treatments.
Three weeks ago, Olympian McKayla Maroney broke her silence on Twitter to allege that Nassar preyed on her from the time she was 13 until she left the sport.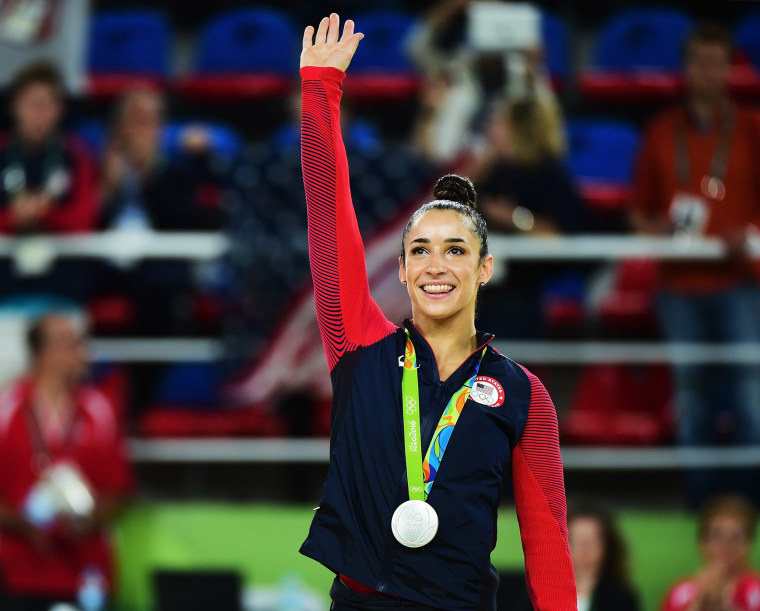 Now her "Fierce Five" teammate is telling her story to CBS's "60 Minutes" on Sunday night and to TODAY on Monday morning.
"I am angry," Raisman, 23, told "60 Minutes."
"When I see these young girls that come up to me, and they ask for pictures or autographs ... every time I look at them, every time I see them smiling, I just want to create change so that they never, ever have to go through this."
Raisman, who was on the 2012 and 2016 U.S. teams and won three gold medals, is demanding big changes at USA Gymnastics, the governing body that appointed Nassar team doctor and has been accused of failing to protect young athletes.
In a statement, USA Gymnastics said it has adopted new policies making it mandatory to report sexual abuse suspicions or reports.
"Aly Raisman's achievements have made her one of our country's most decorated gymnasts, and her dedication and determination to succeed have inspired fans around the world. In the last year, Aly has become an advocate for many issues, and sharing her personal experience of abuse takes great courage," the statement said.
"We are appalled by the conduct of which Larry Nassar is accused, and we are very sorry that any athlete has been harmed during her or his gymnastics career," it added. "We are committed to doing what is right, and we want to work with Aly and all interested athletes to keep athletes safe."
Nassar is in jail, awaiting two trials on charges he molested former patients and a young family friend in Michigan. He has already pleaded guilty to federal charges of possession of child pornography.
His attorneys had no comment on Raisman, citing a gag order in the criminal case. They have said in the past that his procedures were medically sound and not a form of abuse.