Olympic gold-medal gymnast McKayla Maroney said Wednesday that she was repeatedly molested by Dr. Larry Nassar, who is accused of sexually assaulting more than 100 patients under the guise of medical treatments.
Maroney, a member of the Fierce Five squad that competed in the 2012 Summer Games, said she was inspired to go public by women posting accounts of harassment and abuse under the hashtag #metoo in response to the Harvey Weinstein scandal.
"Everyone's words over the past few days have been so inspiring to me. I know how hard it is to speak publicly about something so horrible, and so personal, because it's happened to me too," Maroney wrote on her verified Twitter account.
"People should know that this is not just happening in Hollywood. This is happening everywhere. Wherever there is a position of power, there seems to be potential for abuse. I had a dream to go to the Olympics, and the things that I had to endure to get there, were unnecessary, and disgusting."
Maroney, 21, said Nassar, then the team doctor for USA Gymnastics, began abusing her when she was 13 years old and didn't stop until she left the sport.
Related: How the #MeToo Campaign Can Hit a Nerve for Some
"It seemed whenever and wherever this man could find the chance, I was 'treated.' It happened in London before my team and I won the gold medal, and It happened before I won my Silver," she wrote.
"I thought I was going to die that night."
"For me, the scariest night of my life happened when I was 15 years old. I had flown all day and night with the team to get to Tokyo. He'd given me a sleeping pill for the flight, and the next thing I know, I was all alone with him in his hotel room getting a 'treatment.' I thought I was going to die that night."
Nassar's attorney said she had no comment. In the past, Nasser has said the invasive procedures he used were medically sound.
He is in jail awaiting two trials on state charges alleging that he molested former patients and a family friend; he has pleaded not guilty. He is also awaiting sentencing after pleading guilty to a federal child pornography possession charge.
More than 100 women have filed police complaints against Nassar, who is the target of dozens of lawsuits, which also name Michigan State University, where he had his sports medicine practice, and USA Gymnastics, the sport's national governing body.
Related: MSU Coach Had Gymnasts Sign Card for Disgraced Doctor
Maroney — who charmed the public with her "not impressed" face after she won silver in the vault during the London games — is the highest-profile athlete to lodge accusations against Nassar, who treated many Olympic gymnasts.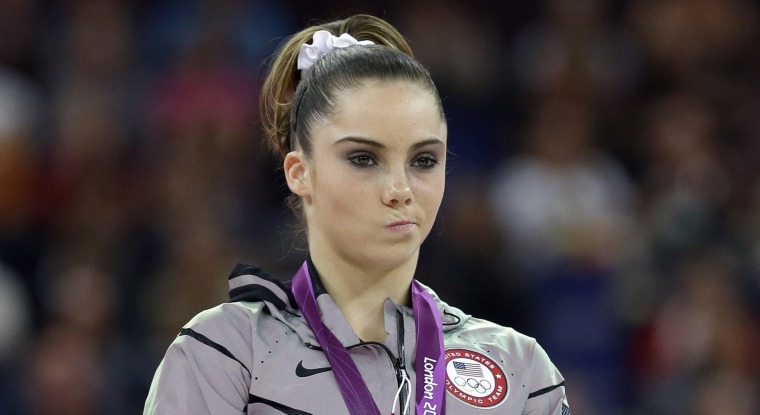 Her 2012 teammates tweeted expressions of support. "100% support you. SO proud of you and your strength. Love you like a sister!!" Aly Raisman wrote. Jordyn Wieber wrote: "So sad and heartbreaking that this happened to you Mack. I'm here for you and I support you."
The gymnastics world has been rocked by the Nassar scandal and also by accusations that officials mishandled sexual abuse allegations against coaches for many years.
The president of USA Gymnastics was forced to resign, and an internal review of the organization's practices found that a sweeping culture change was needed to protect children.
In a statement, USA Gymnastics said it admired Maroney's courage and had strengthened its policies and procedures for reporting abuse.
"We, like so many others, are outraged and disgusted by the conduct of which Larry Nassar is accused. We are sorry that any athlete has been harmed during her or his gymnastics career," the statement said.
The U.S. Olympic Committee said it was "sickened" by Nassar's alleged abuse and "heartbroken" by Maroney's account.
"Each doctor working with our athletes undergoes background checks including an evaluation of medical licensure actions. Unfortunately this predator was not identified by any organization during the time in question," the committee said.
In her post, Maroney called for victims to speak about abuse and for people and institutions in positions of power to be "held accountable for their inappropriate actions and behavior."
"Is it possible to put an end to this type of abuse? Is it possible for survivors to speak out, without putting careers, and dreams in jeopardy? I hope so," she wrote.
"Our silence has given the wrong people power for too long, and it's time to take our power back.
"And remember, it's never too late to speak up."