The shots rained into the patrol car one after the other, striking a sergeant multiple times in the arm, lodging in her ballistic vest and ricocheting off her own weapon.
In total, 18 shots were fired at close-range at Sgt. Sylvia Young from the 9 mm Luger, marking the beginning of a chaotic night in Philadelphia that would ultimately leave her, another officer and three civilians injured, a 25-year-old woman dead and the suspect killed amid a foot chase, officials said.
Young radioed for backup as the ambush started around 11:20 p.m. ET Friday.
Read more about the shooting at NBCPhiladelphia.com
"Help me, please!" Young, 46, was heard shouting on police dispatch audio. "We've got shots fired!"
Philadelphia Police Commissioner Richard Ross said Young leaned into the passenger seat to escape as much of the gunfire as she could. She was in the hospital and in stable condition with wounds to her torso and shoulder Saturday afternoon, talking and in good spirits after the night's deadly rampage, he said.
"It is absolutely miraculous that she is alive," Ross said, adding that it wasn't clear whether she would have been able to return fire after her service weapon was hit. "It's that quick thinking that absolutely helped save her life."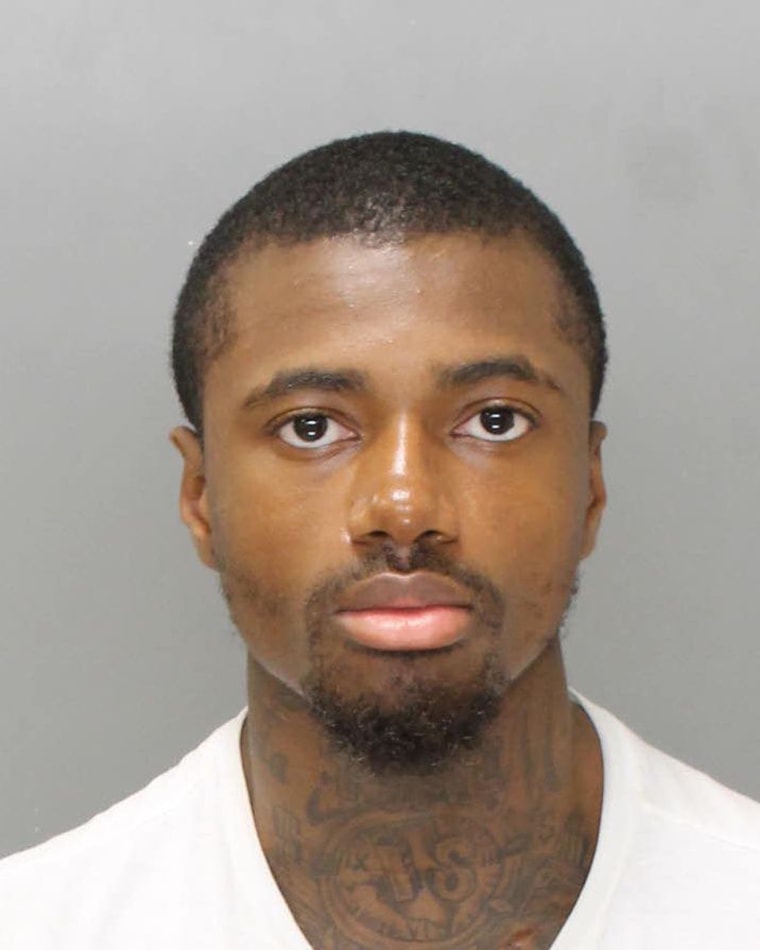 Police are still trying to piece together a motive for the spree, but haven't found any indications that the shooter, Nicholas Glenn, 25, has ties to terror groups or has been radicalized.
"Obviously he was hell-bent on hurting a lot of people. We still aren't completely clear why," Ross said.
The one clue police found was an envelope near the scene labeled "Doomed People," according to a statement from the Philadelphia Police Department. A note inside "indicated his hatred toward his probation/parole officers and police, among other unclear statements," police said.
"He's got a pretty significant past," Ross said of Glenn without elaborating. "He was well-known to the police."
"Obviously he was hell-bent on hurting a lot of people. We still aren't completely clear why."
Armed with at least three magazines and a plastic bag full of up to 15 more live rounds, Glenn fired at least 51 rounds in less than 30 minutes across multiple locations.
Glenn also fired five shots into a bar, where he struck a manager in the leg and then grabbed a female bartender and used her as a shield before shooting her in the leg as well, Ross said.
The security guard and the female patron were in stable condition, officials said. Police said the two victims were helping a wheelchair-bound customer through the doorway of the bar when Glenn attacked.
As police chased after him, the shooter then fired into a stopped car, hitting a man and a woman, both in the chest. The woman died, and the 36-year-old man was in critical condition, but expected to survive, Ross said.
He didn't release any details about the woman who died, other than to say she was 25.
Glenn then encountered two police officers in a patrol car and fired at their vehicle, but the officers weren't harmed, according to the statement from police.
Ed Miller, of the University of Pennsylvania police force, and two police officers eventually cornered Glenn in a West Philadelphia alley, where they shot and killed him, officials said.
Before Glenn died, he hit Miller with shots to the ankle and pelvis. Miller was in stable condition Saturday.
Ross praised officers for using restraint during the foot chase.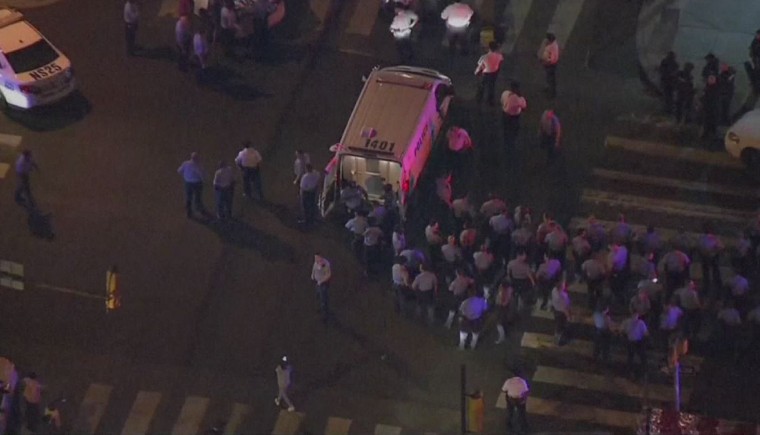 "This guy is firing at everybody that he sees, but there are so many people out there, they probably elected not to discharge their weapons out of fear of hitting some of these civilians," he said.
"He carried out one of the most violent acts that we've seen in Philadelphia in a long time," Ross added.
Officers are working with the Bureau of Alcohol, Tobacco, Firearms and Explosives to track down more information about the weapon used in the shooting, which Ross said had "an obliterated serial number."
Young, a 19-year police veteran, is the second Philadelphia officer to survive an ambush-style attack this year. Officer Jesse Hartnett credited his military training with helping him to survive a similar shooting in his patrol car in January, requiring eight surgeries.
"This is the United States of America. This should not happen in this country," Ross said Saturday afternoon. "This is a country where we have to do better with gun violence."