One person was killed and a 14-year-old boy was injured in a shooting on Monday morning near Seattle's self-declared Capitol Hill Organized Protest zone.
The Seattle Police Department responded to multiple reports of shots fired at about 3 a.m. near 12th Avenue and Pike Street. Police said callers had reported several unidentified people had fired shots into a white Jeep that had been at or near one of the barriers of the zone.
A Black male victim who was brought to Harborview Medical Center in Seattle following Monday morning's shooting died, police said. Another victim, a 14-year-old Black boy, was hospitalized with gunshot injuries. People who identified themselves as "CHOP medics" brought the two victims to the hospital, police said they were told.
No suspects have been publicly identified, and no one was in custody. Police said they were investigating the incident, but while searching the Jeep for evidence discovered that the crime scene had been "disturbed."
"The typical things we search for in a case like this, or in a shooting like this, weren't there, and it was abundantly clear to our detectives — people had been in and out of the car after the shooting," said Seattle Police Chief Carmen Best during a morning news briefing. "Detectives are trying to get information from other witnesses, but as has been the case in other crime scenes up in this area, people are not being cooperative with our requests for help."
"We're not sure who shot at the car or why they shot at the car," Best said.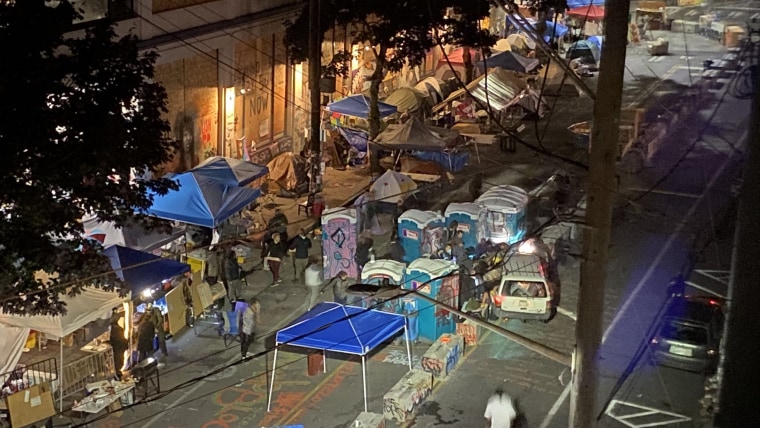 The Capitol Hill Organized Protest zone, or CHOP, was established earlier this month by demonstrators protesting police brutality and the killing of George Floyd after the Seattle Police Department vacated the East Precinct there.
Monday's shooting was the fourth shooting near or in the CHOP zone within nine days, NBC affiliate KING reported. At least one other person has been killed, and on June 22, Seattle officials ordered those occupying the area to leave.
"Enough is enough here," Best said Monday. "Two men are dead and a child, a 14-year-old, is hospitalized, and we don't know what is going to happen to that kid."
"Two African American men dead at a place where they claim to be working for Black Lives Matter. But they're gone, they're dead now and we've had multiple other incidents — assaults, rape, robbery, shootings — and so this is something that's going to need to change," she said.
"We're asking that people remove themselves from this area for the safety of the people, if they care about people, they're going to have to try to help us to make it safe," Best added. "There are people who live here, there are multiple people being injured and hurt, and we need to do something about it. Is it absolutely irresponsible for this to continue."
She said it was taking officers three times the amount of time as usual to get to the area when responding to incidents.
"We want people to move out of the area," Best said. "Continue your peaceful protest in a space where you're not affecting public safety."
Seattle officials said Sunday that CHOP would be dismantled, but it remained intact as of the nighttime.
Seattle Mayor Jenny Durkan said last week that officers would return to the East Precinct, but she did not say when.