One person was killed and several others were seriously hurt after a ride malfunction at the Ohio State Fair in Columbus Wednesday, officials said.
Ohio State Highway Patrol Superintendent Col. Paul Pride said a trooper reported the incident at around 7:24 p.m. at the Ohio State Fair, which began Wednesday. One person died and seven people were injured, three of whom were in critical condition, he said.
Witnesses reported that the ride that malfunctioned was the Fire Ball, which spins and swings passengers in a pendulum-like motion.
Ohio Gov. John Kasich said he has ordered a full investigation and ordered all rides closed until additional safety inspections can be conducted. "We will get to the bottom of this," Kasich said at a press conference.
"I am terribly saddened by this accident, by the loss of life and that people were injured enjoying Ohio's fair," Kasich said.
Tyler Jarrell, 18, of Columbus, Ohio, was identified by the Ohio State Highway Patrol as the person killed in the accident.
Officials named six of the injured as Tamika Dunlap, 36, of Reynoldsburg, Ohio; Russell Franks, 42, of Columbus, Ohio; Keziah Lewis, 19, of Columbus, Ohio; Jacob Andrews, 22, of Pataskala, Ohio; Jennifer Lambert, 18, of Columbus, Ohio; Abdihakim Hussein, 19, of Columbus, Ohio.
A 14-year-old boy was also injured, but police did not release his name out at his family's request.
A video of the incident posted on YouTube showed seats of the ride breaking off and bodies flying through the air. A witness told NBC News that "the whole car went flying off and over the side while in motion."
Sisters Britney and Kiley Neal were next in line to ride the Fire Ball when the row of seats detached.
"The ride was going as normal, and then all of a sudden you see people flying out, and then the guy hit the emergency stop button, which then made the seat fly off and people flew off as well," Britney told TODAY on Thursday.
The girls' mother Kristy Neal, who was in a different part of the Ohio State Fair, said one of her daughters called her in hysterics.
"I just ran towards the direction of the rides. There were two state troopers beside me. I don't know if they had even heard anything at that point and I said, 'Something terrible has happened. I need to find my daughters,'" Kristy said.
The sister said at home they "cried [their] eyes out," and got little sleep, adding that they are "truly traumatized."
William Brown told NBC News in an email that his wife was on the ride before the accident occurred. "I was in total disbelief," Brown said. "My wife just got off that ride before the accident happened. It could have been her," he said.
Columbus fire Battalion Chief Steve Martin told NBC affiliate WCMH that two people who were injured were in stable condition.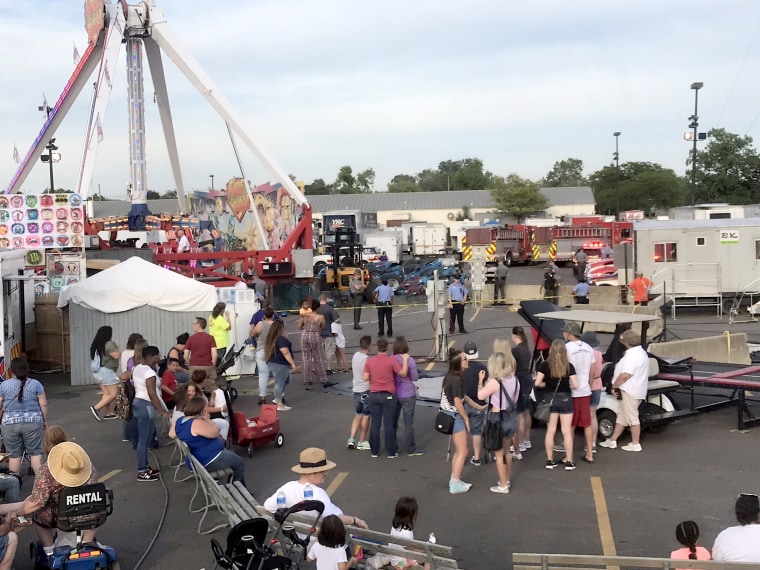 Ohio State University Wexner Medical Center has received three patients, a hospital spokesperson said. All three will likely be hospitalized for at least a week, according to Dr. David Evans, a surgeon for the hospital.
Evans told reporters that they reviewed video of the accident "that demonstrated that multiple passengers were ejected at high speed with high energy, many feet — at least 20 or 30, if not more — into the air and then crashed at a significant distance from the ride."
OhioHealth Grant Medical Center said it received three patients, one of whom was in critical condition, a spokesman said. The other two are in fair condition.
As of Thursday morning, two of the three patients brought to the medical center had been discharged, a spokesperson told NBC News in an email. A third person remained in critical condition.
Four people remain hospitalized between the two medical centers. Three victims remained in critical condition.
The fair, which is scheduled to run through Aug. 6, attracts hundreds of thousands of people every year. More than 921,000 people attended in 2016, according to fair organizers.
Kasich said the ride was inspected multiple times.
Michael Vartorella, chief inspector for amusement ride safety for the state Department of Agriculture, said his team, as well as a third party, inspected the ride. "It's been looked at about three or four times over the course of two days," he said.
"We take this job very serious, and when we have a tragedy like this it hits everybody, it hits us really hard," Vartorella said. "My children, my grandchildren ride this equipment. Our guys do not rush through this stuff. We look at it, we take care of it, and we pretend it's our own."
"This ride was inspected at a couple of different stages, and it was signed off today," he said.
On Thursday, Columbus' Mayor Andrew Ginther said he was praying for those injured in the accident.
"I am deeply saddened by the tragic accident at the Ohio State Fair last night," Ginther said in a statement. "I pray for the victims and their families and am reminded again of the outstanding work done by our first responders every day."
The Ohio State fair will stay open but rides will be closed pending safety checks, Kasich said.
"It's such a fun fair. This is just a real tragedy," fair-goer Susie Buchanan, who did not witness the accident, told WCMH. "You know, you come over here you think you're going to have a lot of fun and then you end up with something like this. This is just really a shame for those families."
CORRECTION (July 27, 6:45 a.m.): An earlier version of this article misstated the first name of a witness. His name is William Brown, not Michael.