A pastor was killed and two other people were injured Sunday after a suspect allegedly disarmed the church leader and opened fire, authorities said.
The shooting occurred Sunday morning at Starrville Methodist Church in Winona, about 100 miles east of Dallas, when pastor Mark McWilliams, 62, found the suspect hiding in the bathroom, Smith County Sheriff Larry Smith told reporters.
McWilliams ordered the suspect, Mytrez Woolen, 21, to lay on the floor, but the pastor became distracted while talking to his wife, who was with him at the church, Smith said.
Woolen allegedly lunged at McWilliams, took the gun from his hand and shot him, Smith said.
McWilliams' wife, who was not identified, was injured after she fell while fleeing the scene, Smith said.
Woolen also allegedly shot a churchgoer in the back and shoulder while the man was running from him, Smith added. The man's condition wasn't immediately available.
Woolen, who was later apprehended in neighboring Harrison County after allegedly stealing McWilliams' pickup truck, could face charges of capital murder and other crimes, Smith said.
He was being held at Smith County jail in lieu of $3.5 million bond, jail records show.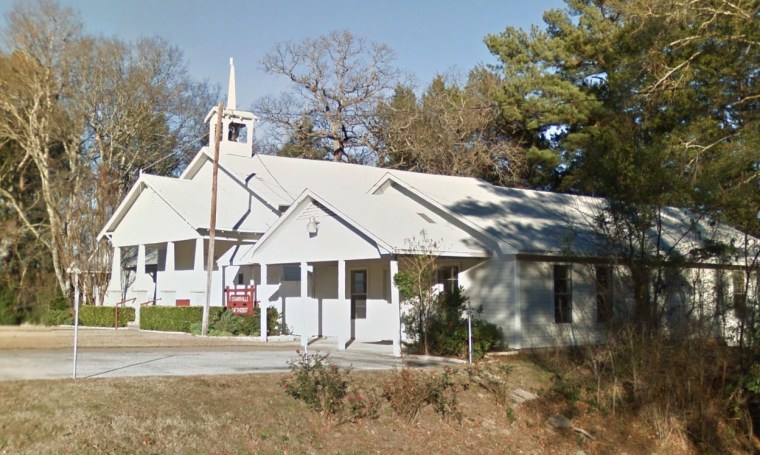 Smith said the shooting occurred after an earlier manhunt and high-speed chase. Woolen was a suspect in two drive-by shootings in the city of Marshall, about 50 miles east of Winona.
Woolen fled when authorities spotted him at a gas station, reaching speeds of 120 mph in a Volkswagen Jetta with a spare tire on it, Smith said. When the tire gave out, Smith said, Woolen crashed near the church and fled on foot into a nearby forest.
Authorities searched the area but only found a shoe near a creek, Smith said, adding that authorities believe Woolen returned to the church early Sunday morning. McWilliams found him hiding in the bathroom shortly after 9 a.m.
Smith said there were only a few people inside the church at the time.
Authorities later tracked Woolen using an emergency communications system that McWilliams' truck was equipped with. Smith said Woolen's hand was injured in the incident, though it wasn't clear what caused the injury.
Smith said Woolen's alleged motives remained unclear. Jail records did not indicate whether he has a lawyer.