Over the last seven days, a grim new COVID-19 calculus has emerged: one person died every 80 seconds from the coronavirus in America.
And the pace at which those 7,486 people died appears to be accelerating, a new NBC News tally revealed Wednesday.
In July, a total of 26,198 deaths were reported, meaning one every 102 seconds. As of Wednesday morning, more than 158,000 people in the U.S. had died of the virus since the start of the pandemic.
The numbing new national snapshot of how COVID-19 is claiming more and more lives came as Johns Hopkins University reported another milestone: The world death toll from this plague had eclipsed 700,000.
The U.S. has logged over 4.8 million confirmed cases. And around 1.8 million of those have come since July 7, when the 3 millionth case was reported, NBC News figures show.
While most of the new cases and deaths have been in the South and Sun Belt, states in the northeast like New York, New Jersey and Massachusetts that were hit hardest at the start of the pandemic — and were able to flatten the curve — have also reported worrying upticks.
Under fire for being slow to respond to the COVID-19 crisis and presiding over the biggest economic disaster since the Great Depression, President Donald Trump once again downplayed the extent of the pandemic in a call-in interview Wednesday with "Fox & Friends."
"This thing is going away," he said. "It will go away like things go away."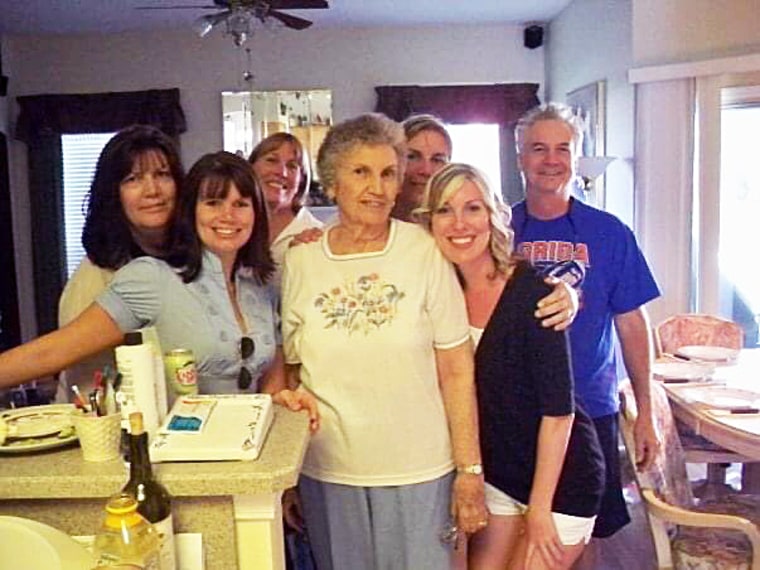 Joe Biden, the Democrat hoping to oust Trump from the White House come November, fired back.
"Donald Trump continues to live in a world of delusion," Biden said in a statement.
In other developments:
Citing the dangers of the coronavirus pandemic, Biden announced he would not be traveling to Milwaukee later this month for the Democratic National Convention. Instead, Biden said he would virtually accept his party's nomination to run for president. His announcement comes a little over two weeks after Trump, under pressure from fellow Republicans, reluctantly pulled the plug on plans to hold an in-person GOP convention in Jacksonville, Florida.
The Chicago Public School system became the latest to ditch plans to reopen classrooms to in-person education come September. Instead, the nation's third-largest school system will do what many other school districts are doing and reopen remotely on Sept. 8 and revisit that strategy on Nov. 9. "As a district, we value parent feedback, and we cannot overlook that a large percentage of parents have indicated they do not feel comfortable sending their students to school under a hybrid model for the start of the school year," Janice K. Jackson, CEO of Chicago Public Schools, said in a statement. Chicago Mayor Lori Lightfoot said the decision was "rooted in public health data."
Starting Thursday, people who live in — or who have visited — the 35 states and territories currently grappling with high coronavirus rates will have to pass through checkpoints when they arrive in New York City. They will be required to fill out a traveler health form and reminded to quarantine for 14 days. New York City sheriff's deputies and other law enforcement will be deployed to key entry points like Penn Station as well as the airports, bridges, tunnels, and major roadways that feed into the city. "New York City is holding the line against COVID-19, and New Yorkers have shown tremendous discipline," said Mayor Bill de Blasio. "We're not going to let our hard work slip away and will continue to do everything we can to keep New Yorkers safe and healthy."
Florida, a state that has seen an explosion of new COVID-19 deaths since it began reopening in May at Trump's urging, has now recorded more than 500,000 confirmed cases of the virus, the state's health department reported. There were 225 additional coronavirus deaths reported Wednesday, bringing the total number of COVID-19 fatalities in the state to 7,751. And a large number of those victims died like Grace Schultz, cut off from kin in a hospital. "She [was] 91, so her passing away wasn't such a shock to the family, but dealing with her being in the hospital and no funeral...I feel sorry for anybody going through that," her daughter, Deborah Stella, told NBC News. "It was really a horror show."
If you can't wear a mask, you can't fly on Jet Blue. The first major U.S. airline to require most passengers to wear face coverings from the start of their trips to the finish, Jet Blue announced it has tightened its requirements and will "no longer allow customers to claim exemptions from wearing a face covering altogether." So starting on Aug. 10, "customers who do not agree to wear a face covering will not be allowed to board any aircraft," the statement states. Also, the airline is banning all masks "with vents or exhalation valves."
Police announced the arrest of a New Jersey woman who was caught on videotape knocking an ailing woman — who had just told her to wear her face mask properly — to the ground. Terri Thomas, 25, was charged with second-degree aggravated assault and given an Aug. 24 court date. Margot Kagan, who is 54 and still recuperating from a liver transplant, told the police she was standing near a fax machine at a Staples store in Hackensack when she called out her alleged attacker and raised her cane to defend herself. Thomas, police said, tossed Kagan to the ground, breaking one of her legs in the process.