Pro basketball players past and present flooded social media Sunday after news broke that NBA legend Kobe Bryant had died in a helicopter crash.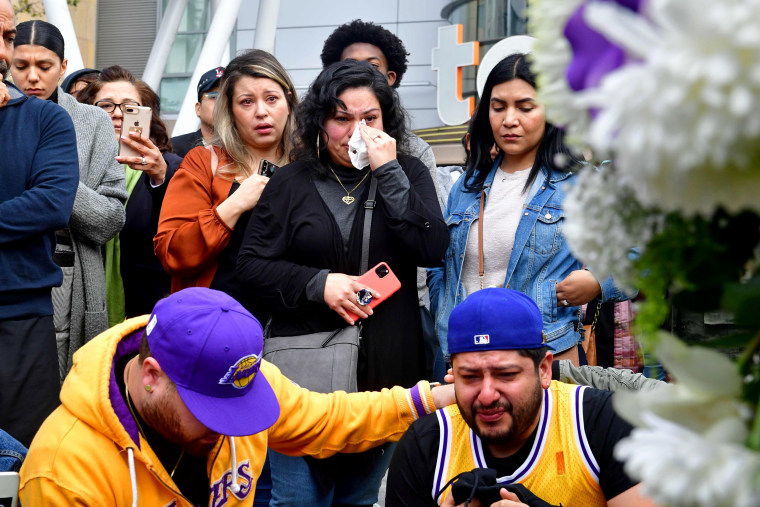 Bryant's former Lakers teammate Shaquille O'Neal posted to Instagram to say he was sick over the news.
"There's no words to express the pain I'm going through now with this tragic and sad moment of loosing my friend, my brother, my partner in winning championships, my dude and my homie. I love you brother and you will be missed. My condolences goes out to the Bryant family and the families of the other passengers on board," O'Neal wrote.
NBA legend Kareem Abdul-Jabbar, also a former Laker, tweeted a video saying it was hard for him to put his feelings into words.
"Most people will remember Kobe as the magnificent athlete who inspired a whole generation of basketball players. But I will always remember him as a man who was much more than an athlete," Abdul-Jabbar's tweet read.
Former Heat star Dwyane Wade tweeted, "Nooooooooooo God please No!"
Miami Heat guard Tyler Herro tweeted that all teams should retire the number 24, which Bryant wore at the end of his Lakers career.
Jamal Crawford, most recently of the Phoenix Suns, wrote: "No f------- way... no way, no way........ No way......... No way......no way...... I love you Kobe..."
Ja Morant, who plays for the Memphis Grizzlies, tweeted "no way" and later followed that tweet up saying, "This one hurt."
Utah Jazz player Donovan Mitchell tweeted saying he hoped the news was wrong.
"Please God don't let this be real!!" Mitchell wrote.
Boston Celtics player Jayson Tatum tweeted that the news had made him feel ill.
"Nooooooo cmon someone say it ain't true... I'm sick to my stomach right now," Tatum wrote.
Atlanta Hawks player Trae Young wrote a tribute thanking Bryant for his guidance.
"All the Lessons All the Advice Every word you ever told me... Will stick with me forever Thank You Kobe," he wrote.
New Orleans Pelicans player Josh Hart sent a tweet using a hashtag of Bryant's nickname, "Mamba."
"Rip to a legend man... #Mamba," the tweet read.
Download the NBC News app for breaking news
Saturday night, hours before Bryant's death, Lakers power forward LeBron James surpassed Bryant to become the NBA's No. 3 all-time scorer.
Asked Saturday about Bryant, James said: "As I started playing more ball and I went into high school, the things he was doing on the floor I admired and wanted to be a part of.
"I went to ABCD camp, and he came and talked to the kids that were there, and I happened to be one of the kids that were there," James said. "I was just listening. I was trying to soak up everything I could."
ABCD was a prominent summer camp for youth basketball players.
At a game between the Toronto Raptors and the Spurs in San Antonio, players ran out the final 24 seconds on the first possession shot clock in honor of Bryant.
Actors, singers and others who frequent Los Angeles also paid their respects.
"I cannot believe this is real. My god. Oh my god," model Chrissy Teigen wrote.
Television host Ellen DeGeneres wrote that her heart ached for Bryant's family.
"Like everyone, I'm stunned and saddened by the news about Kobe Bryant. My heart is broken for his wife and family," DeGeneres wrote.
Actress Reese Witherspoon wrote that she was "just devastated to hear about #KobeBryant."
"An extraordinary athlete, and a genuinely kind, wonderful man. Sending love, prayers & compassion to his family. To his entire @NBA family as well," she tweeted.
"Please don't let this be True. I'm shaking," celebrity Khloe Kardashian wrote.
Olympic gold medal gymnast Simone Biles shared an image of herself with Bryant.
"Rest in peace Kobe," she wrote.
Politicians also shared their condolences.
President Donald Trump tweeted: "Reports are that basketball great Kobe Bryant and three others have been killed in a helicopter crash in California. That is terrible news!"
Former President Barack Obama called Bryant a legend and said he was also heartbroken over the loss of Gianna Bryant.
"Kobe was a legend on the court and just getting started in what would have been just as meaningful a second act. To lose Gianna is even more heartbreaking to us as parents. Michelle and I send love and prayers to Vanessa and the entire Bryant family on an unthinkable day," Obama wrote.
Former Vice President Joe Biden, a Democratic presidential candidate, said he didn't know Bryant well, but he said the NBA star's death "makes you realize you've got to make every day count."
Democratic presidential candidate Pete Buttigieg, the former mayor of South Bend, Indiana, said he was shocked.
"This is somebody who affected so many fans and supporters, and it's just very difficult to believe, and of course we will be thinking of not just his family but everybody who is going to be impacted and mourning based on that news," he said.
California Gov. Gavin Newsom tweeted that the world had lost a legend.
"Kobe Bryant's 20 year career with the @Lakers raised the bar for every player. He willed his team to triumphs. Competed with unparalleled ferocity. Defied the odds. Simply put — he was an icon. Our hearts go out to his family and fans," he wrote.