Two high schoolers who were killed when their bus went crashing over a highway overpass in Houston Tuesday morning were remembered by their principal as "darling," motivated students.
The girls, ages 14 and 17, attended a Houston charter high school called REACH, which is made up almost entirely of minority students and requires an interview for admission.
Neither of the students' names were released, but Principal Bertie Simmons said at a press conference Tuesday afternoon that she had just interviewed the 14-year-old ahead of her freshman year at the school.
"She was darling and interested in doing everything she could to further herself," Simmons said. "Her goal was to graduate from high school and make something of herself."
The crash occurred at around 7 a.m. local time (8 a.m. ET) on a stretch of Interstate 610 known as the South Loop East after a driver of a Buick — identified by the school district as a Houston Independent School District teacher — made an unsafe lane change and struck the larger vehicle as both automobiles traveled eastbound, police said.
The bus veered to the right and slammed into a guardrail before falling off the overpass, police said.
"Those were all students who were serious, who wanted to get a good education."
Two other students were injured in the crash, as was the bus driver, identified as Louisa Pacheco. All are at area hospitals.
"Their injuries are serious and we ask for your continued prayers," deputy superintendent Ken Huewitt said.
The driver of the Buick was not identified. Police had announced no charges as of Tuesday afternoon, and said the driver showed no signs of impairment. The investigation is ongoing, police said.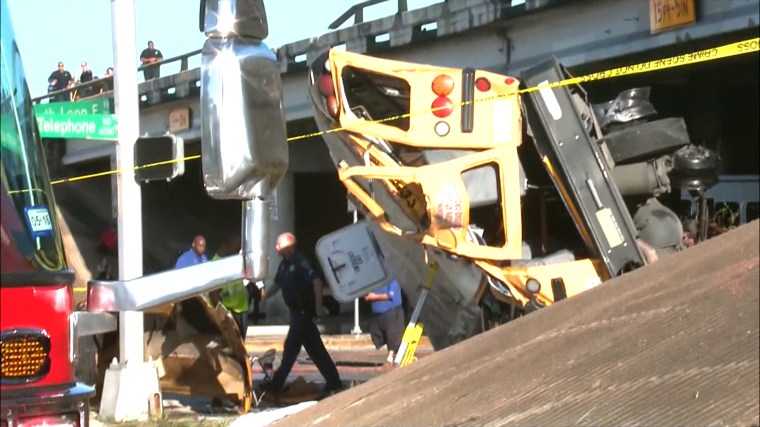 "We are deeply saddened by this tragedy," HISD Superintendent Terry Grier said in a statement. "I ask all of the HISD community to join me in praying for all of those involved."
Simmons said she knows the parents of all four students involved in Tuesday's accident.
"It goes without saying they already know how much I care about those students. Those were all students who were serious, who wanted to get a good education," she said.
The bus was en route to another public school, Furr High School, and REACH, which is on Furr's campus. Three of the students were enrolled in the charter school, and one was at Furr.
The Houston Fire Department responded to the wreck just after 7 a.m. local time, Senior Captain Ruy Lozano told NBC News.
According to the school, the bus was equipped with lap belts and seven security cameras. Footage from those cameras is being reviewed.
Houston Independent School District transportation general manager Nathan Graf, who oversees transportation for the approximately 34,000 students in the district who ride school buses, said "approximately 40 or 50 percent of our buses have lap belts."
"It's currently optional right now if they're worn," he said. "It's optional because it's difficult for the driver to enforce."
The buses, he added, are equipped with safety features throughout, including a crush-proof ceiling.
Pacheco, the driver, has a clean driving record, and the bus, which was purchased new in 2008, had a routine maintenance inspection in June and was "in good working order," Graf said. Pacheco has been a driver for the district for about three years.