Nearly a year after Hurricane Ida slammed into the U.S. Gulf Coast and devastated bayou communities on the southern end of Louisiana, the hard-hit city of Houma is still struggling to recover.
"Unfortunately, it looks apocalyptic out there," said Jonathan Foret, 45, the executive director of the South Louisiana Wetlands Discovery Center in Houma. "It feels like you're on the set of a movie and the zombies are coming out. It's really disheartening."
In this city of roughly 30,000 people southwest of New Orleans, locals confront a dismaying landscape: boarded-up storefronts, half-collapsed office buildings, roofless homes draped in sun-baked tarps, Federal Emergency Management Agency trailers parked on the outskirts of town.
Houma and other storm-beaten areas in Terrebonne Parish have made some progress since Ida crashed into Louisiana as a Category 4 storm Aug. 29 last year, becoming one of most destructive hurricanes to hit the state since Katrina in 2005. Ida was responsible for the deaths of 87 people in the United States, including 30 in Louisiana, according to a National Hurricane Center report.
But locals say rebuilding efforts have been hampered by supply chain woes, inflation, a shortage of qualified building contractors, conflicts with insurance companies and other vexing issues.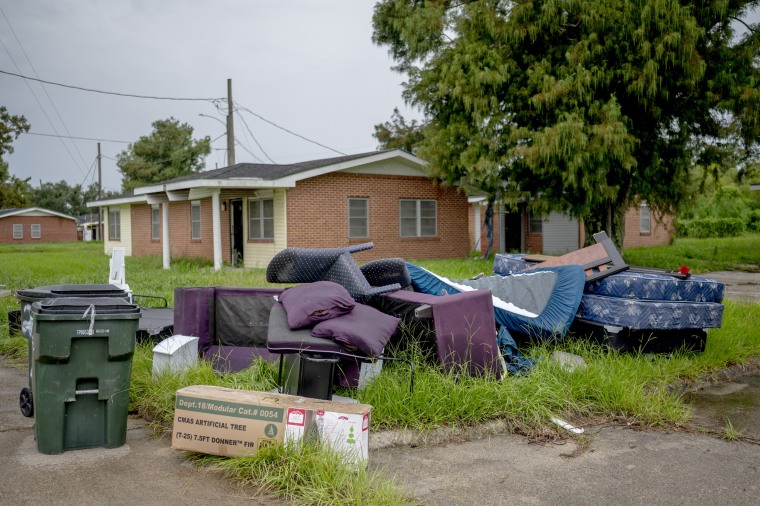 The storm displaced people in low-lying Houma and across Terrebonne, forcing some to move in with relatives, take refuge in FEMA trailers or abandon the region altogether. 
"Houma is like a ghost town," said Aimee Autin, who was displaced from her public housing unit and experienced homelessness for several months.
As with other disasters, Ida also inflicted psychological scars, heightening experiences of anxiety and depression that started during the early months of the coronavirus pandemic. In the wake of the storm, some are experiencing symptoms of post-traumatic stress disorder, according to Start Corp., a local nonprofit organization.
The challenges in Houma illustrate how powerful storms, intensified by climate change, leave lasting wounds on small communities. In the meantime, Houma residents are bracing for the next possible natural disaster as the U.S. approaches the peak of the Atlantic hurricane season.
"It's about to start all over again," said Farren Clark, 42, a Houma resident who teaches at Nicholls State University in the neighboring town of Thibodaux. "It's a feeling of: inhale, exhale, let me focus but let me prepare."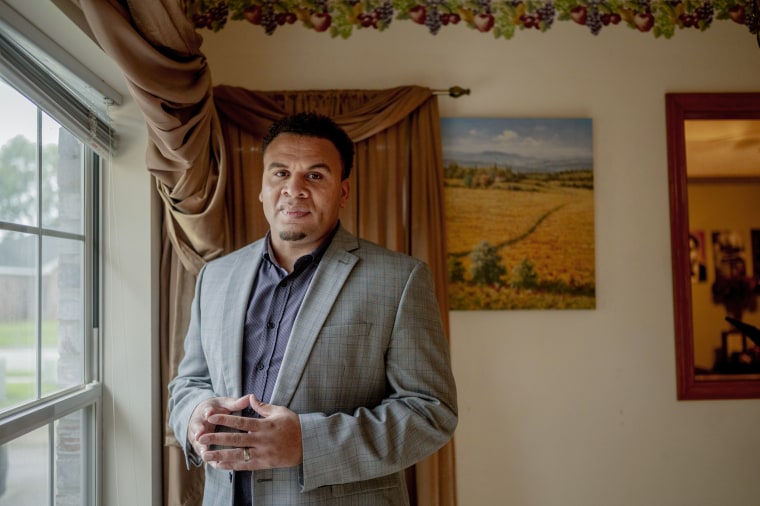 The slow road to recovery
Ida lashed parts of South America, the Caribbean, and swaths of the northeastern U.S. But the storm, driven by damaging winds that were less ferocious in other regions of the country, ripped into Louisiana with particular intensity.
Houma's historic downtown area, once a low-key commercial hub, was trashed. Nearly a year later, the district is "still in shambles," said Zachary Durocher, 42, a materials manager with a shipyard who has spent much of his adult life in the racially diverse and largely working-class city.
"The streets aren't necessarily dirty with rubble anymore, but a lot of the buildings are trashed. You see windows that are busted out, boarded up with plywood. Broken-down buildings, chipped plaster."
The economic stress has been particularly pronounced for homeowners who say they are locked in drag-out battles with insurance companies that purportedly have refused to cover Ida-related damages or pulled out of the state altogether.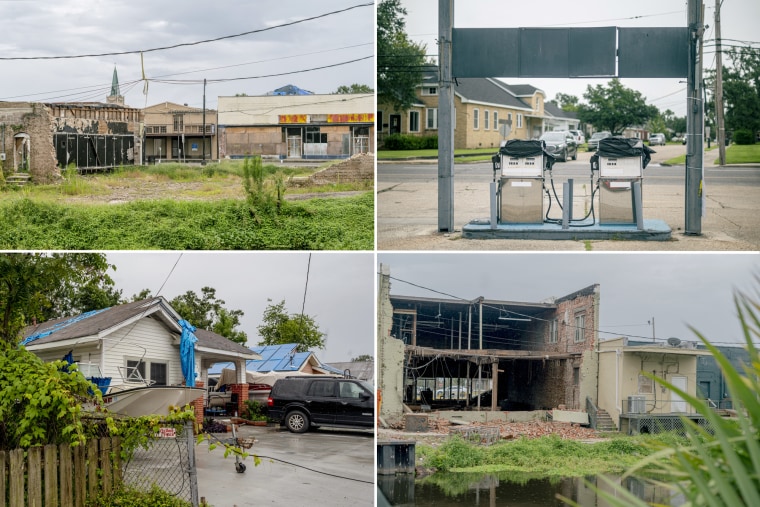 Jenny Schexnayder, 52, a program manager at Nicholls State University who lives 30 miles outside Houma, said her home sustained nearly $200,000 in damage that her insurance company largely refused to cover for months, until reversing course in June under the threat of litigation.
"We survived. We rode out the storm," she said. "Everything we're trying to repair is so we can feel safe for the next storm."
Attorneys representing two apartment complexes filed lawsuits in federal court Aug. 17 alleging that one carrier, Steadfast Insurance Co., refused to fully cover damages wrought by Ida. Belmere Apartments in Houma and Acadia Villas in Thibodaux say they sustained severe damage during the storm's fury.
The legal news service Law360, which first reported on the lawsuit, said the filing could be the first of many as the statute of limitations on cases approaches. Three spokespeople for Zurich Insurance Group, Steadfast's corporate parent, did not respond to an email seeking comment on the lawsuit.
'I don't want to wind up homeless again'
Ida splintered homes and apartment units in Houma, leaving many people without a permanent place to live in a city where the median household income was roughly $45,000 a year as of July 2021, according to U.S. Census Bureau data — roughly $20,000 under the national average.
The Houma-Terrebonne Housing Authority condemned nearly all of the city's 517 public housing units after the storm, leaving the buildings mostly abandoned and tenants adrift.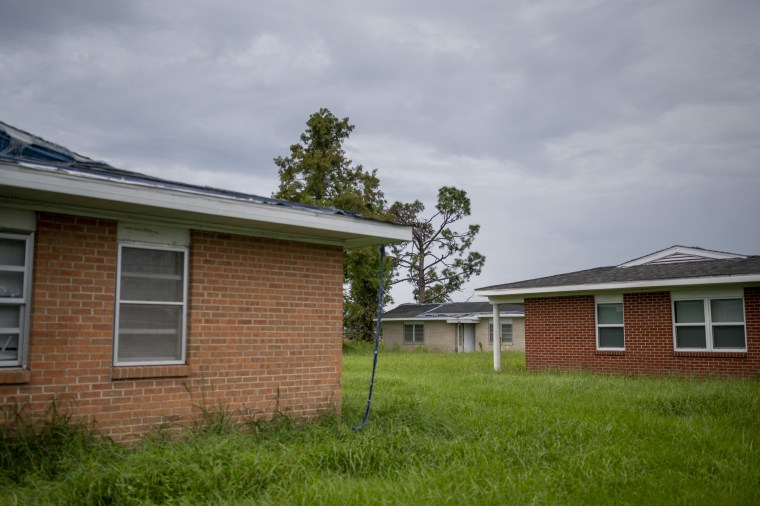 FEMA stepped in to try to fill the gap, setting up trailer camps across the parish, according to Elizabeth Daigle, 42, a social worker and program manager at the South Central Louisiana Human Services Authority, or SCLHSA, a local governing entity.
She said that at least 120 families have been staying in hotels or living with family members while they wait for additional FEMA housing. FEMA deployed some $150 million in individual assistance to the parish, according to a parish official, but many locals are still struggling to find and keep permanent residences.
"We have a housing shortage here," said Earl Eues, the director of the Terrebonne Parish homeland security and emergency preparedness office. "Even before the storm, we had very little available to people that were here, and the storm just exacerbated that issue," he said, referring to low-income housing.
Ida hit at a financially perilous time for Aimee Autin. In the early months of the pandemic, the 50-year-old retail store manager needed to stop working and go on disability benefits because she was experiencing painful complications from a childhood diagnosis of scoliosis. When the storm arrived, she was nearly broke.
The storm wrecked her public housing unit — cracked foundations in the bedroom, floodwater and mold seemingly everywhere in sight. The building was condemned and she started living in a hotel room with help from Start Corp., a local nonprofit organization that provides medical and mental health services.
Autin recently rented a small house, but she is deeply anxious that her monthly disability checks will not be able to cover the roughly $1,000 monthly rent and basic necessities for survival for much longer — and she knows that affordable housing in the area has become increasingly scarce.
"I have to cover gas, lights, insurance, medicine, household supplies, toilet paper, paper towels, the normal needs — needs, not wants. Everything is just so outrageous. I'm struggling every day." Autin said. "I don't want to wind up homeless again."
"Houma was my safe place," she added. "But now that I'm older, this is no longer my safe place."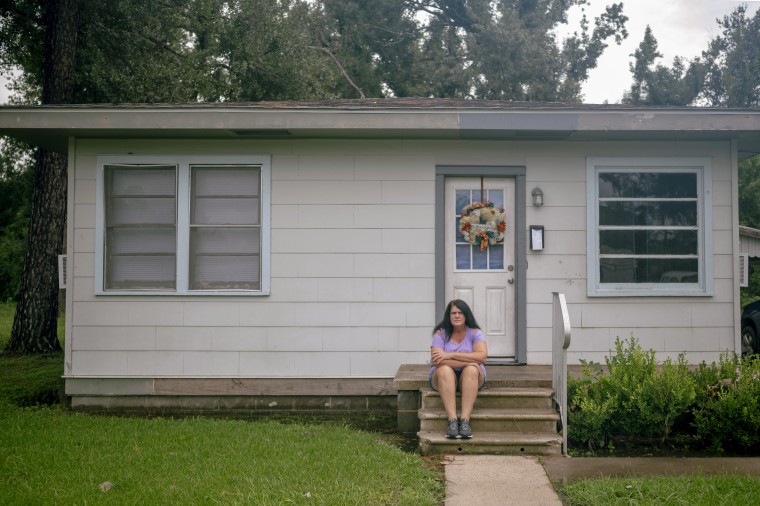 'Deathly afraid' and on edge
In April, bad weather struck the Gulf Coast again. The clouds darkened, stirring up painful memories of Ida's wrath and other natural disasters. The mental health phone line at the SCLHSA was inundated with calls for weeks.
Terrebonne Parish residents were "deathly afraid," said Lisa Schilling, the executive director of the SCLHSA. Incoming calls related to mental health went up 93% during that period, she said.
In the year since Ida slammed the region, locals have been "dealing with a lot of anxiety and depression and post-traumatic stress related to the hurricane," Schilling said. "It's not just adults. It's adolescents and children, too."
Start Corp. says it hopes to help people who have confronted mental health challenges since Ida turned their worlds upside down.
What to know about Hurricane Ida
The storm made landfall near Louisiana's southernmost seaport on Aug. 29, 2021 — 16 years to the day Hurricane Katrina slammed the Gulf Coast.
Images and videos captured widespread damage and flooding that devastated communities.
Louisianans in Houma and the neighboring town of Thibodaux told NBC News about Ida's wrath on a "long and scary night."
The organization is working with parish officials to secure some $2 million for a 24-hour mental health crisis center in Houma, where mental health resources have traditionally been scarce. (The news was first reported by the publication Houma Today.)
"The mental health crisis is so prevalent that people who, before Ida, weren't experiencing issues are definitely feeling them now," said Casey Guidry, the chief executive of Start Corp.
Guidry added that incoming calls to his organization's mental health line have spiked 74% since last August.
Clark, the Nicholls State University professor, said he and others in his social orbit are also grappling with another emotion: frustration. He knows the national attention span can be short, and he wants more of the country to remember the devastation along the bayou.
"The storm did a lot of damage to communities and homes," he said. "But it's difficult to get the nation to understand that unless it happens in a big city. You probably won't hear about it. It's as if we're overlooked.
"Well," he added, "just imagine if this happened in your town."
CORRECTION (Sept. 1, 2022, 10:30 a.m. ET): A previous version of this article misspelled the first name of a Houma woman displaced from her home. She is Aimee Autin, not Amee.