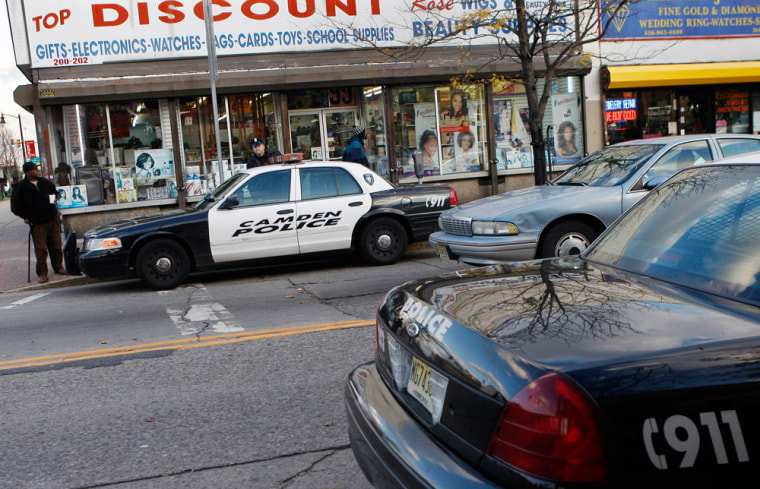 One of the most dangerous cities in the U.S. is getting rid of its police department.
Amid what they call a "public safety crisis," officials in Camden, N.J., plan to disband the city's 141-year-old police department and replace it with a non-union division of the Camden County Police.
Camden city officials have touted the move as necessary to combat the city's growing financial and safety problems. The entire 267-member police department will be laid off and replaced with a newly reformatted metro division, which is projected to have some 400 members. It will serve only the city of Camden starting in early 2013.
"It's not a money-saver, it's living within the budget you've got to get more boots on the ground," Camden County spokesperson Joyce Gabriel told NBC News. "There has been an uptick in violence this year, and the city decided to go with the county's police department."
Camden isn't the first cash-strapped city to be faced with the decision to eliminate or merge its police department.
Bernard Melekian, director of the Justice Department's Community Oriented Policing Services (COPS) office, told NBC News that as communities around the country recover from the recession, police mergers are part of a new reality that will likely continue through the next decade.
San Bernardino, Calif., files for bankruptcy with over $1 billion in debts
"This really reflects a much broader issue, which is that the economy is changing the delivery of police services profoundly," Melekian said, "and those agencies undergoing regionalization and consolidation – in particular, smaller ones that are financially distressed – are going to have to find another way of delivering those core services."
'Recipe for disaster'
Given Camden's exceptionally high rate of violence (the city recorded this year's 41st homicide earlier this month), city police officers in danger being laid off say the transition is risky at best.
Stay informed with the latest headlines; sign up for our newsletter   
"We're concerned, we're definitely concerned," Camden Fraternal Order of Police President John Williamson told NBC News. "You're going to create a police department and staff it with people who are unfamiliar with the city and say, 'Go ahead and fight crime.' That's a recipe for disaster."
Afflicted by homelessness, drug trafficking, prostitution, robbery and violence, Camden has consistently ranked high among the top 10 most dangerous cities in the U.S. since 1998, according to Morgan Quitno Press, a research firm that compiles statistical data on cities. In 2010, Camden had the highest crime rate in the U.S., with 2,333 violent crimes per 100,000 people, more than five times the national average.
Camden Mayor Dana Redd underscored the importance of the new, regionalized police force in her proposal for the next fiscal year's budget.
"The senseless acts of violence occurring in our city affect every one of us," Redd said in a statement. "We need to assure our residents that all life matters and that we are serious about making our city safe by expanding the number of boots on the ground. This decision to move towards a Camden Metro Division is being made solely on what is right for our residents – nothing more, nothing less."
Layoffs of the city's police force will begin by the end of the month, according to the mayor's office. County officials said that at most 49 percent of the city's police officers, based on an application process, will be transferred to the new county division under the plan.
Gabriel said the terms of contract for current officers of the city's police department, which include longevity bonuses, day-shift differentials and other costs, make it too expensive to transfer all of them to the new force, so the rest of the Metro Division will be staffed by new hires. Louis Cappelli Jr., director of the Camden County Board of Freeholders, told NBC News that more than 1,500 people from various states and police backgrounds have already applied for the county positions.
The new division, to be fully funded by the city of Camden and the state of New Jersey, will begin field training on the streets as early as October for a period of 17 to 19 weeks.
But no matter how long the training, Rockefeller Institute Director Thomas Gais told NBC News that consolidating into one system and increasing cost-effectiveness takes time.  
"It's going to be a disruption at least for a while before some kind of consolidation happens, before the reorganization begins to work as intended," Gais said. "There's a tradeoff generally in the responsiveness to local needs and efficiency in reallocating resources, so the question becomes whether the reorganization reduces the quality of service and whether the short-term risk is worthwhile in the long run."
Watch the most-viewed videos on NBCNews.com
Gabriel said that cities within Camden County have the option to cede their municipal police force to a county department.
Saving money
Union officials argue that Camden's move is a way for the city to get out of collective bargaining with police. The county's new metro division officers will be non-union members.
The police department in Camden has been under state control since 2005, when then-mayor Gwendolyn Faison called for the takeover. The agreement is set to expire at the end of the year, and New Jersey Gov. Chris Christie has thrown his support behind the transition to county control.
"A county police force that has a reasonable contract and that's going to provide a huge increase in the number of police officers on the streets here in Camden is a win for everybody," Christie said at a recent event at Rutgers-Camden University. "I'm willing to put my name on the line for this concept."
Other state officials have backed similar initiatives.
A 2011 report by the Major Cities Police Chiefs Association, a group representing the nation's 63 largest police forces, found that 70 percent were consolidating some law enforcement functions to compensate for recent budget cuts.
Faced with mounting costs and declining revenue, the city of Midvale, Utah, was forced to merge four local police agencies with the Salt Lake County Sheriff's Department.  
In Pennsylvania, the state police are increasingly taking on more patrol duties following the recent closures of municipal departments. Since 2010, at least 33 cities scattered throughout the state have closed or scaled back their agencies, according to state records.
Police agencies in Oakland and Detroit have raised concerns about their ability to respond to routine resident burglaries, theft, and public nuisance calls because they were stretched too thin providing support for other agencies. 
"We're seeing the economy do a lot of different things to the agencies, which are looking at various forms of consolidation, all of which is driven by the economy," Melekian said, adding that he knows of at least 100 police agencies around the country undergoing some form of service consolidation.
Cities that have made the switch from municipal to county or regional forces have reported saving millions of dollars and passing grades on the street, but Melekian said a shakeup of the current system in Camden won't eradicate crime or solve budgetary woes.
"The consensus seems to be that this saves money, but it does not produce instantaneous savings," Melekian said. "There are too many issues that need to be resolved, too many expenses, so at some point they'll have to work through these inefficiencies before they get the results they want."
More content from NBCNews.com: