The mayor of Milwaukee imposed a 10 p.m. Monday curfew for teenagers after the city was rocked by a second straight night of violent street protests over the fatal police shooting of a local man.
"After 10 o'clock, your teenagers better be home or in a place where they're off the streets," Mayor Tom Barrett said.
Barrett made the announcement as tensions remained high in the Sherman Park neighborhood and police were out in force, while the National Guard was on standby and ready to move in if necessary.
"This is not the place where you go to gawk. It is not the place where you go to take pictures. It is not the place to drive your car around," Barrett said. "Those individuals, in my mind, are deliberately trying to damage a great neighborhood and a great city."
An 18-year-old man was wounded Sunday by gunfire and seven officers were injured after protesters pelted them with rocks and bricks, Milwaukee Police Chief Ed Flynn said.
Eleven men and three women were arrested and charged with disorderly conduct, Flynn said. Three police cruisers had their windows shattered, and one privately owned vehicle was torched, he said.
Officials have been trying to calm tensions since Saturday night, when protests erupted after the fatal police shooting of Sylville Smith, a 23-year-old black man.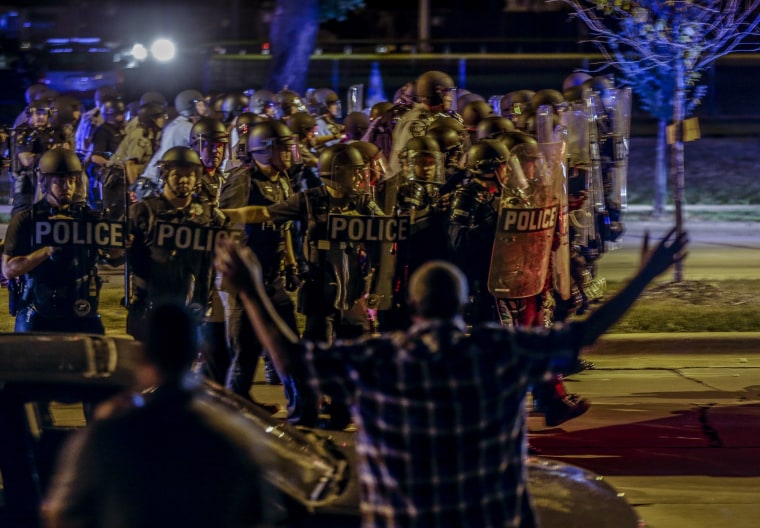 Smith, who was armed with a loaded handgun, was fleeing a traffic stop on foot when he was killed by a 24-year-old African-American officer, police said.
The next night, more than 100 people holding candles and paper signs reading "BlackLivesMatter" gathered at Sherman Park and then marched to the site of the shooting.
When police moved in and threatened arrests if the crowd didn't disperse, some responded by bombarding the cops with rocks, concrete and debris.
An injured officer was taken to a hospital after a rock broke the windshield of his squad car, police said.
The violence took a more ominous turn after 11 p.m. Sunday, when gunfire was reported and an 18-year-old suffered a non-life-threatening wound. Police said officers used an armored vehicle to rush him to the hospital, according to NBC station WTMJ.
WTMJ reported that while most of the protesters had dispersed by about 1 a.m. Monday, isolated incidents continued.
Police continued to make "multiple" arrests, and there were more reports of shots being fired.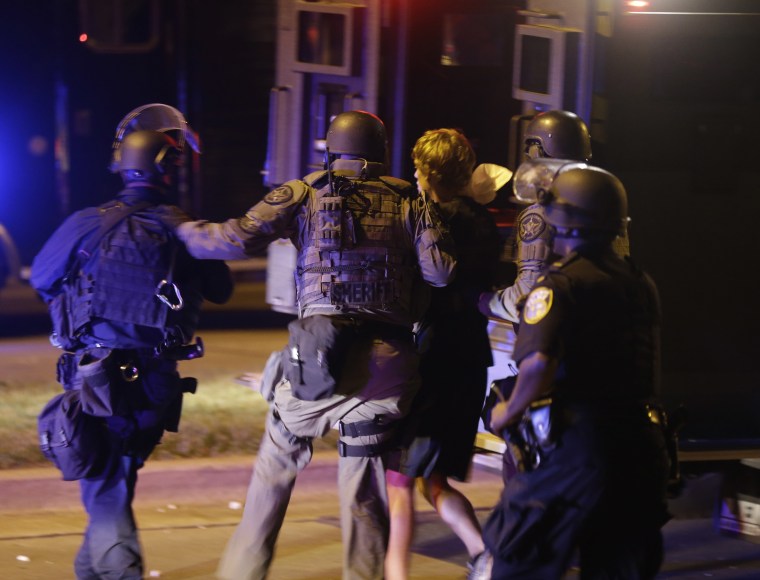 Before Sunday's violence, Smith's sister, Kimberly Neal, 24, told The Associated Press that the family wanted prosecutors to charge the officer who shot him.
Neal spoke as supporters surrounded her at the vigil as she held a bouquet of blue balloons.
When asked about the violence, she said: "People stuck together, and they are trying to stand up" for their rights.
Smith's death comes amid nationwide tensions over police use of force — which has spurred protests but also deadly violence against officers.
Flynn said body camera video that investigators have seen shows that there was a "credible threat" to the officer, who authorities have said also is African-American.
At one point, Smith, who had a "lengthy" arrest record, turned toward the officer with the gun in his hand, Flynn said. Authorities said Smith's gun held 23 rounds.
While the state is investigating the shooting, the officer who fired the fatal shots has been placed on administrative duty pending an investigation. He has also left town following threats against him and other police officers, Flynn said.
The Milwaukee Police Association condemned the riots and hit back at the suggestion that race may have played a part in Smith's shooting.
"Leadership must denounce violent riotous behavior! There can be no appropriateness in rationalizing terrorist-like actions," it said in a statement. "The thugs that caused this are certainly terrorists and must be held accountable."