Elizabeth, a Salvadoran mother of three, had grown increasingly desperate after waiting nearly five months in the dangerous border city of Tijuana, Mexico, for her turn to seek asylum in the United States.
She was told there was an easier way: Pay thousands of dollars and be led across the border with her three children, ages 18, 9 and 7.
Instead, according to Elizabeth, they were brought to armed men who kidnapped them and took them briefly to a farm. Eventually, they told her they would separate her from her oldest daughter if they crossed the Rio Grande.
"I got scared they were going to do something to her," she said in Spanish. The men took everything they had. "I thought if they kill us and leave us here, no one will find us."
She and her children began crying, and the men eventually said they would return for them.
"We just started praying," she said, and in the morning hours they were finally able to flee.
The decision has shaken Elizabeth, who only wanted her first name used out of concerns for her and her children's safety, and she said the men have called her cousin in Tijuana, threatening their lives.
When the family's name was called from a notebook allowing them to approach the port of entry this fall, Elizabeth, who fled El Salvador to escape escalating abuse and ongoing threats from her husband and gang members, was told she would be sent back to Tijuana to wait for court dates in the U.S.
This week marks the one-year anniversary of the implementation of the "Remain in Mexico" policy, and advocates say the rule has put tens of thousands of asylum-seekers in harm's way while making it more difficult for them to access protection in the U.S. Nearly 60,000 people have been put under the program since it began on the border separating Tijuana from San Diego, according to data through December obtained by the Transactional Records Access Clearinghouse, or TRAC, at Syracuse University.
"Despite not getting all the money he needed to build a wall, the president has effectively built a wall to keep asylum-seekers out of this country," said Robyn Barnard, an attorney at Human Rights First, who represents Elizabeth.
Barnard said the Salvadoran mom's story echoes many others', and the types of struggles asylum-seekers are put through when they are forced to wait in Mexico. Aside from being vulnerable to violence or threats, asylum-seekers face discrimination, housing instability and difficulty finding and communicating with lawyers.
Human Rights First said in a report released last week that it had tracked more than 800 public reports of "murder, torture, rape, kidnapping and other violent attacks against asylum-seekers and migrants returned to Mexico" under the program, officially called the Migrant Protection Protocols (MPP).
Elizabeth is one of many migrants remaining in Mexican border towns for months while they wait to learn if they will be allowed a chance at protection in the U.S.
She said she and her children barely go outside, fearing for their safety.
"That fear — you can't be out here freely in the streets," she said. "I'm afraid of what would happen if they knew I was still in Mexico."
According to the data released by TRAC, only 2,765 of the 59,241 migrants under the program had received representation.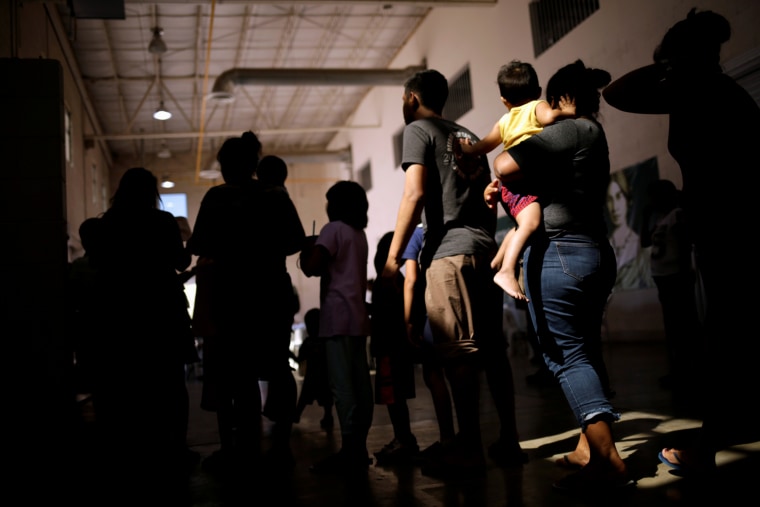 Nearly 30,000 cases remain pending, but only 187 have been granted relief, according to the data. More than 19,000 have been given removal orders while another 9,000 had their proceedings terminated. Asylum is already a difficult form of relief to win, with recent data showing only a 20 percent approval rate.
A spokesperson for the Department of Homeland Security, Heather Swift, said in a statement that the U.S. and Mexican governments "100 percent support MPP, which is firmly authorized by bipartisan Congressional statute and has allowed the U.S. to provide the opportunity for due process to more than 57,000 migrants."
"DHS is always looking at ways to expand and strengthen the program to include new locations, populations, and procedures in order to further enhance protections for migrants and ensure safe and lawful migration, while deterring smugglers and traffickers," she said. "We continually work with Mexico and have provided more than $17 million in aid for safety and security measures. MPP is one of the most important and effective tools we have implemented to confront the crisis on the border and we will continue to strengthen and expand."
Albert, a Honduran migrant and the father of four, came to Tijuana in the fall of 2018 seeking protection from the criminals who had pursued him in retaliation for his testimony in a robbery case in Honduras.
Albert, who was also sent back to Mexico under the policy, said he felt the rule was meant to force asylum-seekers, despite having strong cases, to give up.
"We are in a lot of danger waiting here, it's like the migrants have been forgotten about," said Albert, who asked that his full name not be used out of concern for his safety. "We're between the sword and the wall, all of us migrants here."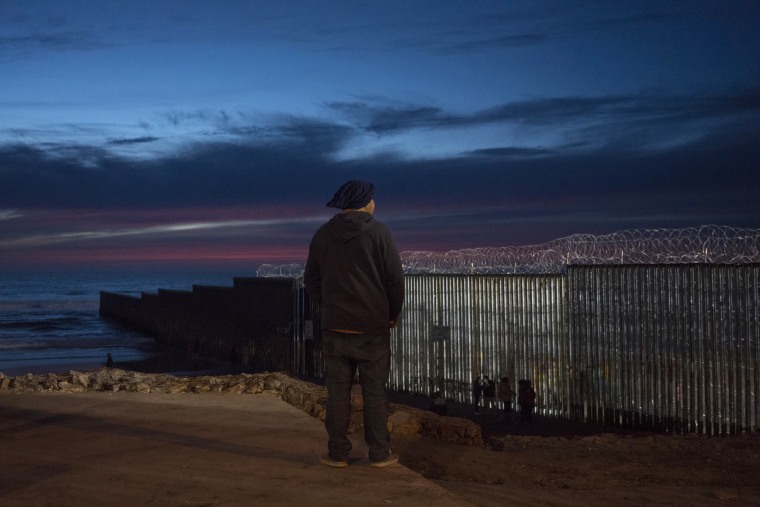 "People have failed because they have gotten desperate waiting," he said. "My life is in play."
Nicole Micheroni, an immigration attorney based in Boston who represents Albert, said that while a network of immigration attorneys had scrambled to try and represent the migrants, the policy had created a "daunting, logistical nightmare."
She said migrants with valid claims may be abandoning their cases because "things are so bad in Mexico" or they are unable to get to ports of entry in cities many miles away during dangerous predawn hours.
The policy has been challenged in court in a lawsuit from the American Civil Liberties Union and the Southern Poverty Law Center, filed two weeks after the first migrant was returned to Mexico.
In April, a federal judge temporarily blocked the policy — but just a month later, a court of appeals granted the Trump administration's request to allow the rule to take effect as the legal challenge plays out. In October, the appeals court heard arguments in the challenge to the policy but has not yet issued a ruling.
"This policy has trapped tens of thousands of vulnerable migrants across the border — making it nearly impossible for them to exercise their legal rights," Melissa Crow, a senior supervising attorney with the SPLC's Immigrant Justice Project, said in a statement about the one-year anniversary. "What's more, it has hidden this U.S. government-created humanitarian crisis from the sight of the American public."
Elizabeth's case highlights how asylum-seekers can face a series of challenges under the Trump administration's immigration policies. Even before she was allowed to present herself at the port of entry in Tijuana, she was made to wait months on a list, according to her and her lawyer, under a policy known as "metering" which restricts the number of migrants allowed in to the U.S. every day.
Because she was made to wait, the government can argue she is subject to the "transit ban," her lawyer said, a policy that says migrants need to apply for relief in another country they traveled through on their way to the U.S. Barnard says Elizabeth should not be subject to this policy, which is also facing court challenges, as her name was put on the list of migrants waiting months before it was implemented.
Customs and Border Protection disputed having a policy of "metering," saying it engages in "queue management."
"Queue management is not a policy, it is our ports managing their missions with the resources they have. CBP officers at ports do not keep track of the number of people or vehicles waiting to present themselves at [ports of entry], as people waiting have not been given any U.S. government documents," CBP said in a statement.
"The number of inadmissible individuals CBP is able to process varies based upon case complexity; available resources; medical needs; translation requirements; holding/detention space; overall port volume; and ongoing enforcement actions," the agency said. "As we have done for several years, when our ports of entry reach capacity, we have to manage the queues and individuals presenting without documents may need to wait in Mexico as CBP officers work to process those already within our facilities."
"CBP stands behind our need to balance operational requirements, capabilities and capacity," the agency said.
Elizabeth said her children have grown depressed waiting and also feel unsafe leaving their apartment. She hopes her final court hearing will put an end to their suffering.
"After everything we have suffered, and everything we have been through here and in El Salvador," she said, she hopes for a chance to finally set foot on U.S. soil and not be sent back.