By Suzanne Choney, contributing writer, NBC News.com
Following the confusion and panic caused by the Boston Marathon bomb blasts, websites have been set up for people to report that they're safe, or check in on a loved one.
The best mainstream resource is the Red Cross' Safe and Well site, where you do two things: register yourself as being "safe and well," or find out other people's status. Those people will have to register with the site first, of course.
Google has activated its Person Finder service to help people locate each other. The search giant has used this in the past, for both U.S. and international crises, such as the 2010 Haiti earthquake and Japan's 2011 tsunami strike.
If you have loved ones who ran in the Boston Marathon, you can check on their last check-ins at the marathon's website here. (A marathon enthusiast set up an independent Facebook page where some are checking in, too.) The Boston Marathon's official Facebook page has also turned into a site to share information about what happened.
(Runners, for example, who got away from the scene, leaving their bags behind, were told on the Facebook page that "baggage claim is now open on Berkeley Street between Boylston Street and St. James Avenue. All unclaimed bags will remain secure."
Families searching for loved ones can call this number at the Boston mayor's office for information: 1-617-635-4520. Anyone with information about the blasts that can lead to an arrest are encouraged to call 1-800-494-TIPS, or text the word TIP to CRIME (27463).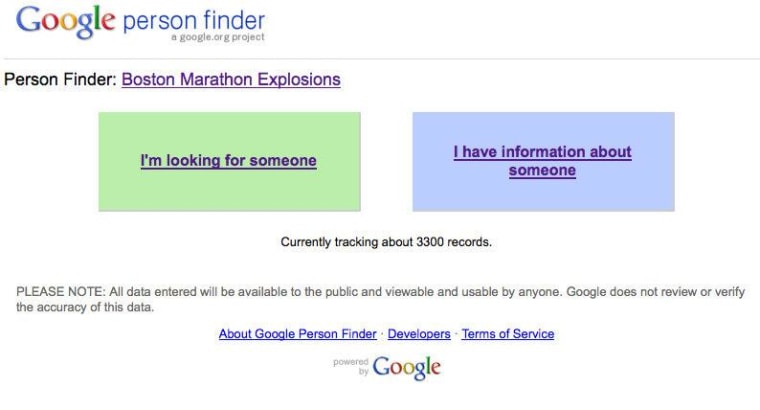 Hotlines aside, if you can avoid using your cellphones to call in and out of Boston, and instead use text messaging and social media, you will reduce strain on the cellular networks, and help improve essential communication.
If you do live in the Boston area, update your own status on Twitter or Facebook, to let others know you're OK.

On Twitter, the #runchat hashtag can be used to learn about updates about runners, as well as more information from the Red Cross by following the organization on Twitter using @RedCrossEastMA and @MassEMA. And on Reddit, a user set up a resource page, continuously aggregating many sources and tools from around the Web.