Americans are evenly split on whether professional sports leagues should require athletes to stand for the national anthem, according to a new national survey.
In an HBO Real Sports/Marist poll, conducted Oct. 15-17 by the Marist College Institute for Public Opinion with funding from the HBO series "real Sports," 51 percent of respondents opposed rules that would require players to stand, compared with 47 percent who supported such calls.
The 4-point difference is within the poll's reported margins of sampling error of plus or minus 3 percentage points among all respondents and plus or minus 3.7 percentage points among self-described football fans, who made up 65 percent of the overall sample (PDF).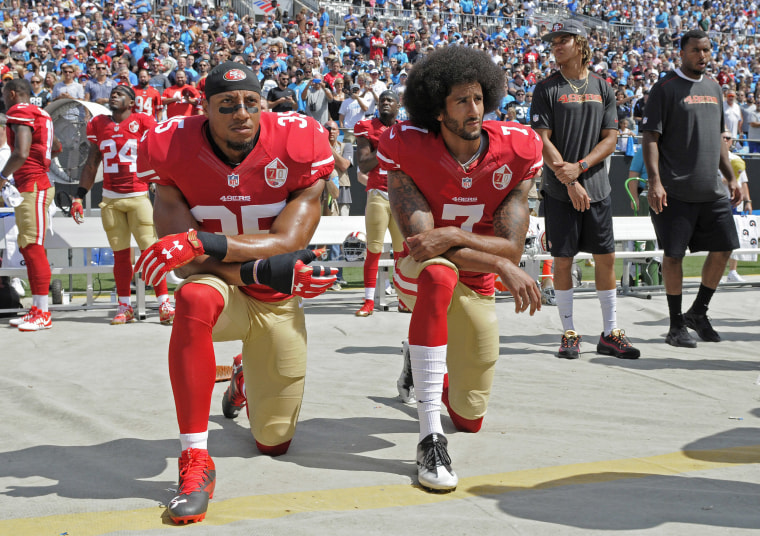 Statistically speaking, that's a tie — but it's a real shift in favor of athletes from the results of the same poll one year ago. In that poll, 52 percent of respondents thought players should be required to stand, a clear majority over the 43 percent who thought they shouldn't.
What has changed in that time is the intense attention, including from President Donald Trump, that has fallen on athletes who have chosen to make political protests by following the example of Colin Kaepernick, a former quarterback for the San Francisco 49ers, who began kneeling when "The Star-Spangled Banner" was played before games in August 2016.
Kaepernick has said his protest was intended to highlight what he called police brutality against members of racial minority groups in the United States.
"This is because I'm seeing things happen to people that don't have a voice, people that don't have a platform to talk and have their voices heard and effect change," he said at the time. "So I'm in a position where I can do that, and I'm going to do that for people that can't."
Kaepernick remains unable to find a job in the National Football League, even though he led the 49ers to the Super Bowl after the 2012 season. Earlier this month, he filed a complaint alleging collusion among NFL executives to deny him employment.
While criticism of Kaepernick, led by Trump, has been intense, there are other signs that support for his stance may be wider than is commonly believed.
In the Marist poll, 68 percent of respondents said Trump was wrong to have called for players who kneel during the anthem to be fired, compared to 28 percent who backed the president.
In August, hundreds of people gathered at the NFL's headquarters in New York wearing Kaepernick's No. 7 jersey and calling for advertisers and fans to boycott the league because no team would hire Kaepernick.
And a petition on Change.org calling for a boycott of the league had reached almost 200,000 signatures Thursday morning.
The NFL has no rule requiring players to stand during the playing of the anthem. It said this month that "there has been no change in the current policy."