As a deadly storm system raged across much of the country Sunday and Monday, killing at least 33 people and battering homes and power lines, more than a million people across the South and East coasts were left without electricity.
In the best of times, a power outage can be agonizing. But during a pandemic ...
On social media, complaints and tips about how to handle the unparalleled event were plentiful. A person in South Fulton, Georgia, said the combination of a shelter-in-place order and a lengthy power outage made her feel like she was on the Discovery Channel reality show "Naked and Afraid." Another person offered "fun" activities like staring at your fridge without opening it. As of Tuesday morning, more than 500,000 people on the east coast remained without power.
Full coverage of the coronavirus outbreak
In Kentucky, the city of Hazard tweeted that more than half the population of Perry County — about 14,000 people — was without power Monday morning.
"This, coupled with life changes associated with COVID19, is a lot for our citizens to be dealing with," the city tweeted. "Keep our community in your thoughts and prayers."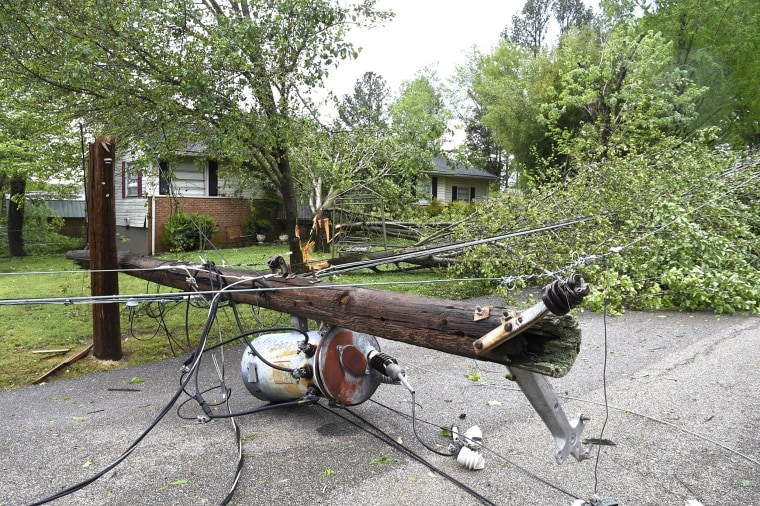 In Tennessee, where three people were killed as a tornado tore through the state's southeast corner and tens of thousands of people were without power on Monday, Gov. Bill Lee extended a statewide stay-at-home order he originally issued April 2.
In Memphis, Mark Poole said he lost electricity around midnight when 60-mph winds knocked down power lines in his neighborhood. Poole, 63, was using his 8,000-watt generator to power two refrigerators at home. Cables running from his house to the homes of two neighbors were powering their fridges, as well.
"It's looking like a spider web," said Poole, who sells cars and trucks commercially.
Download the NBC News app for full coverage and alerts about the coronavirus outbreak
Neighbors were doing their best to abide by social distancing guidelines, he said, which meant that once the weather cleared up, people hopped on bikes, went for jogs or sat in chairs in their driveways.
"It's boring as hell, and I'm about to go stir crazy," Poole said. "I'm good at sitting around doing nothing for about a day."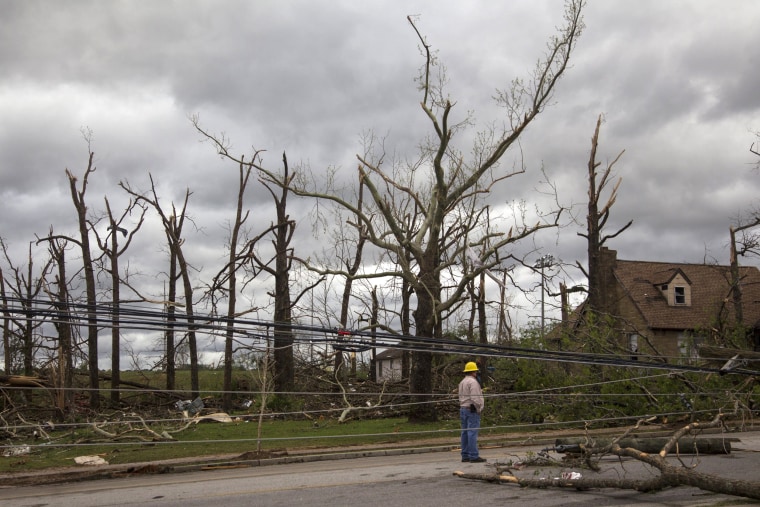 In Massachusetts, where a stay-at-home advisory was issued last month, Adam Frederick was in the middle of a work call when the storm plowed into his Boston suburb with winds he estimated it 60 mph.
Frederick, 35, a fraud analyst at John Hancock Financial, said he lost power about 4 p.m., ending the call along with the rest of his workday.
Still, the near-gale-force winds and driving rain didn't prevent Frederick's family from celebrating his nephew's ninth birthday. It wasn't a party packed by all of his best friends but rather a drive-by parade of 15 cars.
"Some of his friends made signs — 'Happy Birthday, Ben,'" Frederick said. "Everyone was honking. He was really psyched."
In the Massachusetts town of Douglas, near the Rhode Island line, Tracy Lyn Larkin lost power around 3 p.m. Larkin, a high school chemistry teacher who's been working remotely since last month, tweeted a photo Monday of her three sons and her husband gathered around a candlelit table: "Sure it'll be fun to top the quarantine off with a power outage! said no one."
In a Twitter exchange, she said she appreciated being able to spend more time with her grown children during the quarantine, although she was struggling to handle their worries, along with those of her students.
"Oh and I can't beat my kids at the game Sorry LOL," she added.
Larkin said that she was scheduled to work Tuesday but that she wasn't sure when the power would return.
But for now, she said, her kids are doing fine.
"Charged laptops and data is a beautiful thing," she said.