An arsonist ambushed Oregon firefighters by torching his own house then shooting a rifle at the first responders, authorities said Thursday.
Lance Taylor Jacobs, 60, eventually turned the gun on himself and ended the brief standoff early Wednesday morning in Springfield, Oregon, police said.
After Jacobs sent firefighters fleeing for their lives, flames spread to three other homes in the 500 block of Oakdale Avenue, which is about four miles northeast of the University of Oregon in neighboring Eugene.
All four houses burned down but no neighbors, firefighters or police were injured, officials said. One round tore through a firefighter's pants cuff.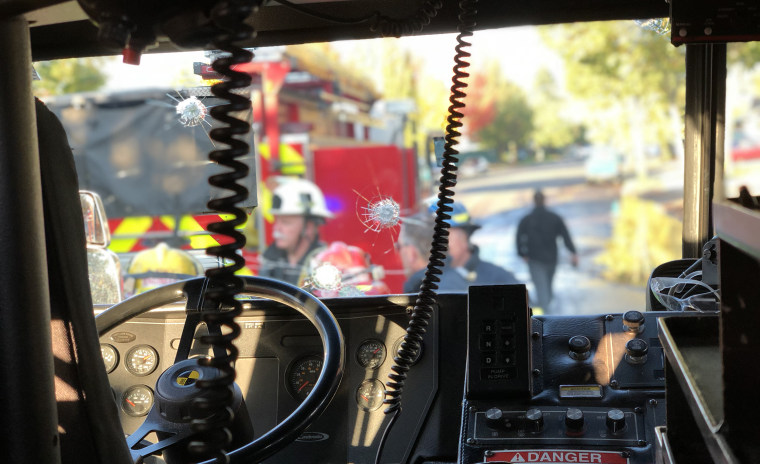 "Miraculously, honestly, no one was hit," Springfield police Lt. Scott McKee told NBC News on Thursday.
Police said Jacobs wrote a lengthy Facebook post just before the fire, listing a host of medical challenges he allegedly faced — including persistent knee and back pains, heart issues, sleep apnea, and a sinus infection.
He also complained about trauma from his divorce from 28 years ago.
"I've never really fully recovered emotionally. My life has been broken and meaningless ever since," he wrote. "It is ironic that the terrible emotional pain that I have suffered so very long with, is now being matched with all of these physical pains and health problems. I have become so very disabled by my medical issues now."
Firefighters arrived at Jacob's home only minutes after neighbors called 911 at 6:53 a.m. ET, authorities said.
Jacobs shot at firefighters as they approached, but first responders had no idea they were being targeted because crackling noises are common in house fires, McKee said.
The firetruck's windshield was hit as they pulled up, though firefighters didn't flee until they actually saw Jacobs shooting at them from about 25 yards away in a neighbor's yard, according to McKee.
Responding firefighters were just a quarter-mile away from their station house, so they ran back there — leaving the truck behind — once they spotted the armed Jacobs, according to police.
"They were so focused on where the fire was, where their water source would be, they didn't notice him (shooting at them)," McKee said.
The man killed himself at 7:15 a.m. ET before police could get to him.
Jacobs only used his long-barrel rifle in the attack, but he also had a pistol in his waistband and another gun in his backpack when police found him, McKee said.