A powerful explosion rocked an Oregon neighborhood on Wednesday morning, injuring eight people — but it could have been far worse had authorities not evacuated the area when they did, a fire official said.
The blast in Portland at around 9:38 a.m. local time (12:38 p.m. ET) followed reports of the strong odor of gas. Three firefighters and two police officers were among those hurt. None of the injuries are life threatening, officials said.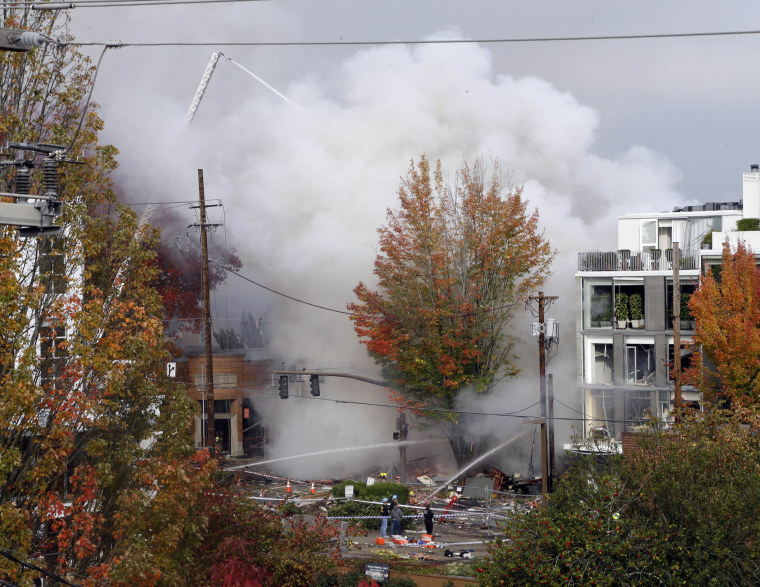 "Obviously, talking about a situation where time was of the essence, had those evacuations happened minutes later, obviously this could be a much different situation," Portland Fire and Rescue spokesman Rich Chatman said at a news conference.
Two of the firefighters sustained broken legs, Chatman said during a news conference, adding that one of them suffered "pretty significant" wounds.
Officials described the police officer's injuries as minor and non-life threatening. Details on the civilians were not immediately available.
The blast was caused by damage to a natural gas line at a building west of downtown Portland, NW Natural Gas spokeswoman Melissa Moore told NBC News.
NBC affiliate KGW reported that a third-party contractor hit the gas line at 8:55 a.m. The explosion occurred at around 9:38 a.m., after a bagel shop and a salon in the building had been evacuated and eight firefighters were inside. The cause of the ignition was unknown Wednesday afternoon, a gas company official said later.
The firefighters were inside the building with gas monitors to try and determine the danger from the leak and were caught off guard by the explosion, Chatman said.
The building was "pretty much destroyed," Chatman said. Images of the explosion's aftermath showed a tower of black smoke rising into the sky.
"I've been a firefighter for 28 years and I have not seen devastation like this in my entire career," Portland Fire Chief Mike Myers said. Myers, who recently took over as chief of the Portland department, praised firefighters and other first responders for their judgment and quick thinking.
Russell Tunes, 32, works in a nearby building and told NBC News that before the blast, the smell of gas overtook the area.
It "was going for their building all the way into our building and everywhere," he said. "The whole block."
Just minutes after Tunes and others were evacuated, he said, "the building exploded in all directions."
Tunes, who was struck by glass shards, said that the windows on the backside of his building and in nearby condos were all blown out.
"Explosion woke up neighborhood," a nearby resident, Perri Hunter wrote on Twitter. "I thought I was [in] an earthquake."