SALEM, Ore. — The head of Oregon's emergency management agency has apologized after a cryptic emergency alert was forced out to cellphones in and around Oregon's capital city, displaying the words "Civil Emergency" and "Prepare for Action," but carrying little other information.
Andrew Phelps said late Tuesday that a technical glitch had cut off crucial information: that the alert concerned elevated levels of a natural toxin in a local reservoir. Children and people with compromised immune systems have been told not to drink tap water in the Salem, Oregon, area, after an algae bloom caused the spike.
"The integrated public alert warning system inadvertently defaulted to a generic message," Phelps said in a video posted on the social media by the Office of Emergency Management. "I apologize for the confusion and the anxiety this incomplete message has caused."
The incident marked a high-profile glitch in authorities' use of emergency alert systems, following a false alarm sent out by Hawaii officials in January warning of an incoming ballistic missile.
The systems are capable of pushing messages directly to every cellphone in a given area even if users haven't subscribed or downloaded an app. Phelps said the message had also been broadcast via local television stations.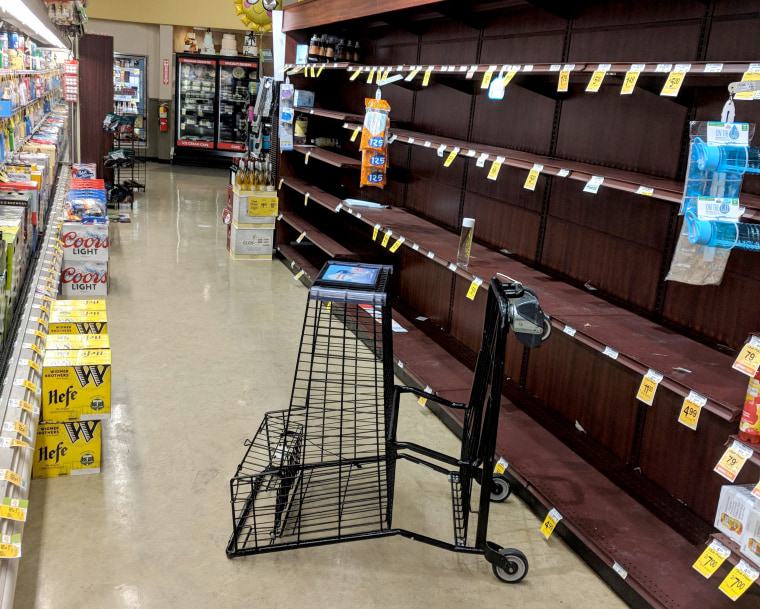 Confusion surrounded the initial alert even within the emergency management agency, with a spokesperson telling reporters the message had caught them unawares and state police asking residents via a Facebook post not to call 911 about the alert.
Officials sent a second message 31 minutes later with more information and a link to a municipal website, which briefly crashed under the load.
Within hours of the alert going out Tuesday night, the aisles at one supermarket in the city's downtown center were stripped of bottled water, and a shopping cart lay tipped on its side in front of the empty shelves. Workers had brought out a pallet of sparkling water, which they placed at the front of the store, and told customers they hoped they'd get more regular water in the morning.
Wednesday morning Cole Mahaffey, a Salem resident, set down a case of bottled water he was carrying down the sidewalk and described the uneasy feeling of seeing the first alert arrive on his phone, with an ominous warning but no other information.
"It almost made me not want to go outside," Mahaffey said, adding that the alert caught him at the gym, and that he had interrupted his exercise routine to ask staff at the front desk if they knew what it was about. "I didn't know if there was something going on in the area, or if there was a shooter, you just had no way of knowing."