An Oregon school bus driver is accused of driving under the influence after crashing a bus in Washington County with 10 children on board.
No one was hurt when the bus went into a ditch off a highway about 8 a.m., the Washington County Sheriff's Office said in a statement.
Jonathan C. Gates, 20, of Hillsboro, was arrested after deputies "discovered Mr. Gates appeared to be impaired," the sheriff's office said in a statement.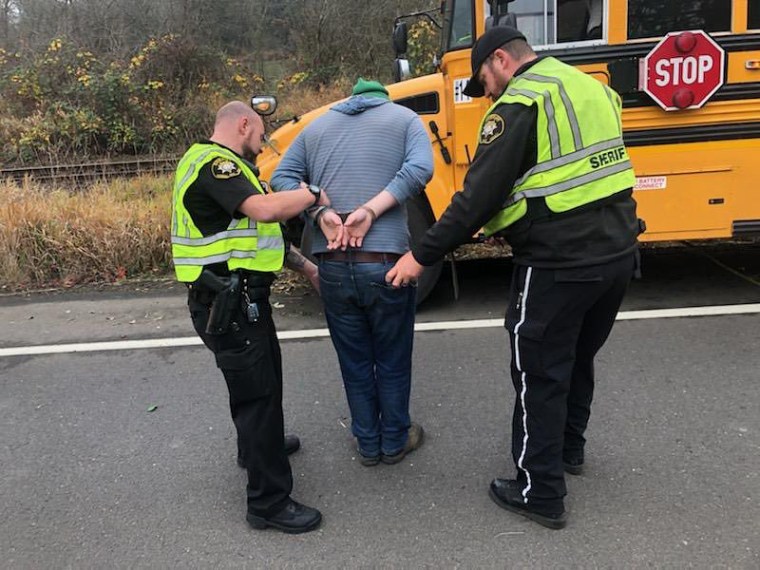 He was arrested for "DUI-controlled substance," the sheriff's office said, issued a citation and released.
The bus was carrying students ages 10 to 16 as well as an adult bus aide, the sheriff's office said. The students were from the Forest Grove School District.
"When it comes to crimes like these, we take it very seriously but they are misdemeanor crimes," Washington County sheriff's Sgt. Danny DiPietro told NBC affiliate KGW or Portland.
The sheriff's office said that alcohol was not suspected but did not say what type of substance it believed was involved, according to the station.
It was not immediately clear if Gates has an attorney. A phone number for him could not be found Wednesday night.
The Forest Grove School District said in a statement on its website that the bus veered off the road and into a ditch. "All students were evaluated by emergency personnel and were released to parents or guardians," the district said.
The district said the driver is on paid administrative leave per protocol, KGW reported. David Warner, the director of communication and engagement for the Forest Grove School District, told the station: "The safety of our students is our top priority, we'll look at this and work with the sheriff's office and we'll take the appropriate actions when we have all the details."
Washington County is west of Portland.