An Oregon sheriff has strengthened his demand for a group of armed anti-government activists to end their occupation of federal land, telling them: "You don't get to come here from elsewhere and tell us how we're going to live our lives."
Harney County Sheriff David Ward was cheered late Wednesday at a community meeting to discuss the situation at the Malheur National Wildlife Refuge, which was seized by the group Saturday.
"There's some people here in the room from outside of the community that participated and tried to do a peaceful rally that got hijacked, and people used that for a platform to do something that wasn't OK," Ward said. "And I'm here today to ask those folks to go home and let us get back to our lives in Harney County."
The packed room cheered and gave him a standing ovation.
"Go home, work your differences with whoever through proper channels," Ward said.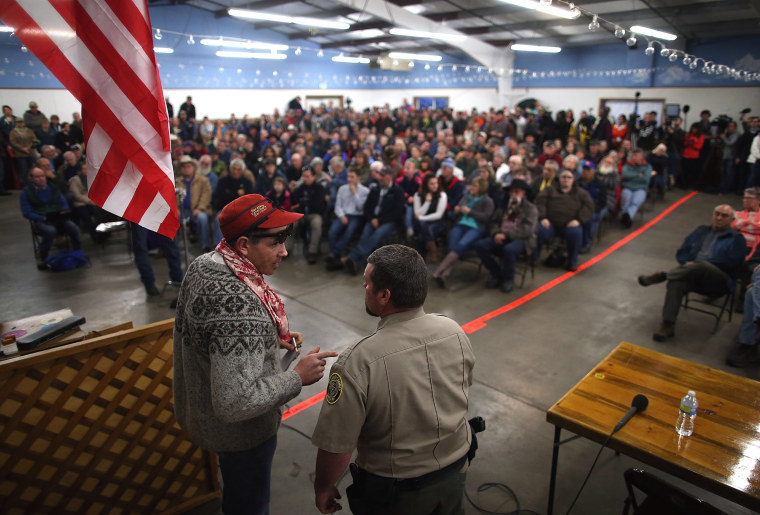 The group took over the unoccupied facility following a protest over the prison sentences imposed on a pair of ranchers, father and son Dwight and Steven Hammond, who were convicted of setting fires that spread to public land.
Schools in Burns, a town of about 2,800, have been closed out of an abundance of caution. On Wednesday all 36 sheriffs in the state pledged to provide assistance to the county. The FBI has said it is dedicated to a peaceful resolution.
A judge sentenced Steven Hammond to a year in prison and Dwight Hammond to three months. But the government appealed, arguing the charges carried a minimum of five years in prison. A higher court agreed, and they were ordered to return to prison.
Related: Meet the Activists Leading Group Occupying Wildlife Refuge
The occupying group, led by Ammon and Ryan Bundy, the sons of Nevada rancher Cliven Bundy who successfully faced down federal authorities who seized his cattle over unpaid grazing fees in 2014, had a stated aim of freeing the Hammonds but has also called for the government to relinquish federal land to local control.
Some of those in the crowd Wednesday said they agreed with some of the ideas of the "occupiers" — if not their tactics — and acknowledged that the controversy had thrust the issue of land management and federal overreach into the national spotlight.
Others said that the armed group is clearly in the wrong and damaging the community and disrupting residents' lives.
Several residents said they remain angry over the prison sentences imposed on the Hammonds.
The Hammonds surrendered Monday at the federal prison in San Pedro, California. The Hammond family has said that Bundy's group does not speak for them.
Their lawyers said they plan to appeal to President Barack Obama for executive clemency.
Ammon Bundy has acknowledged that the group occupying the wildlife refuge would have to go home at some point, but said "we are not quite there yet."
Meanwhile, a local Native American leader responded the occupiers' claims that they were fighting to have the land returned to their rightful owners, saying the area belonged to her people.
"I'm sitting here trying to write an acceptance letter [for] when they return the land to us," Burns Paiute Tribal Chairperson Charlotte Rodrique joked during a press conference.
"We know they didn't mean us, they meant themselves," she said, adding that "we as a tribe feel that this is our land no matter who's living on it."