The Oregon sheriff who had to deal with the weeks-long occupation of a federal wildlife refuge made an emotional plea for Americans to calm down and work out their differences.
"I love this country, and a house divided against itself cannot stand," Harney County Sheriff Dave Ward said at a news conference after the last four occupiers of Malheur National Wildlife Refuge surrendered Thursday morning.
Related: Four Remaining Oregon Occupiers, Surrounded by FBI, Surrender
The "house divided" sentiment, which is attributed to Jesus in the Bible, has had special significance in the United States since Lincoln invoked it in an 1858 campaign speech in opposition to slavery.
For 40 days since protesters led by Ammon and Ryan Bundy took over the refuge near Burns, Ore., on Jan. 2, Ward cajoled and pleaded with the occupiers to stand down peacefully, occasionally meeting with them to politely deliver the message that county residents didn't want them there.
Related: Oregon Sheriff Has First Meeting With Armed Federal Land Occupiers
Thursday, Ward — his voice cracking with emotion — lamented that the standoff has "torn our community apart, and I see it tearing the country apart."
"I've seen divisions in our community, divisions in families, divisions amongst friends and neighbors and divisions in our church communities," he said.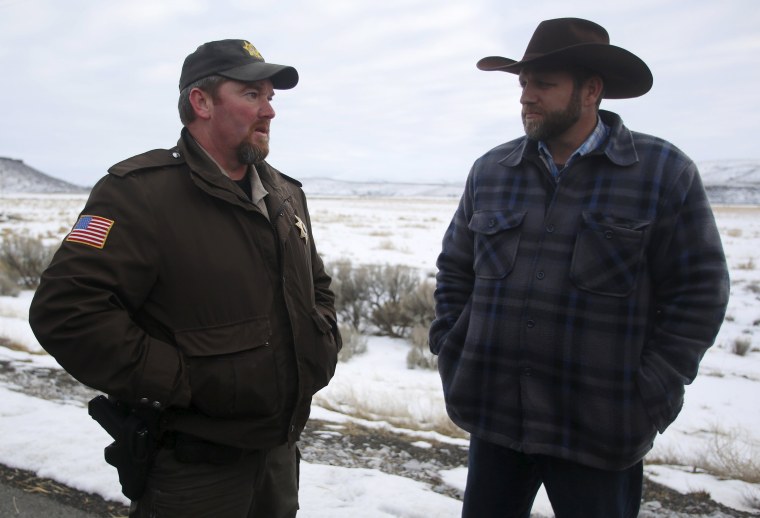 But "there's good that can come of this," he said, if "friends and neighbors can get off social media and sit down over a cup of coffee and talk things out."
Ward stressed that Americans can't "go on tearing each other apart and hating each other because of differences of opinion."
Related: Related: Cliven Bundy, Father of Rancher Resistance, Faces Prison Like His Devotees
"If we can't work through the differences we've found in our little community here, how can we expect the rest of the nation to work out their differences?" he asked.
Ward said he was proud of the county and its residents, for whom he had this message: "Turn off the computer and get on your knees and pray."