An Oregon woman is lucky to be alive after setting herself on fire while driving, crashing her car, and then jumping off a bridge, police said Thursday.
The Eugene Police Department received a call of a woman pouring a substance over her body and setting herself on fire while driving on the I-105 highway at the Washington-Jefferson Bridge just before 12:30 p.m. (3:30 p.m. ET).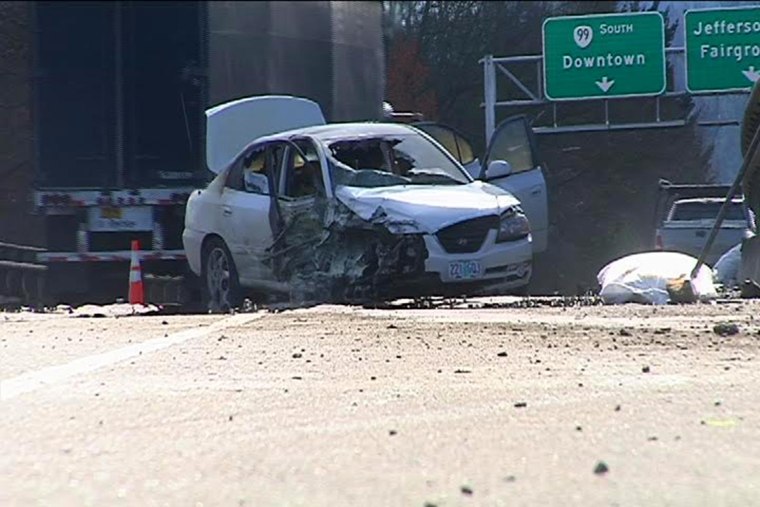 As police responded, the driver of car crashed into a median and slid before coming to a final stop, Eugene Police Department spokesman John Hankemeier told NBC News.
'When the police arrived, the car was engulfed in flames," he said.
The woman, identified as Mary Johanna Gawenda, 39, then got out of the car and jumped off the bridge and fell 40 feet to the ground below, Hankemeier said.
Nearby truck drivers on the bridge attempted to extinguish the flames with fire extinguishers and to stop Gawenda from jumping off the bridge, but were unsuccessful.
"We're fortunate to live in a community where people would stop and do something like that," Hankemeier said. "It's good to know that people still care about others and were willing to help this woman regardless of how dangerous the situation might have appeared."
Gawenda was taken to an area hospital with what were described as non-life threatening injuries, Hankemeier said. Another woman was taken to the hospital as a precautionary measure after debris fell from the crash fell over the bridge.
Police are investigating the incident as a suicide attempt.
— Daniella Silva