Omar Mateen's wife knew he was planning an attack before he massacred 49 people at an Orlando nightclub, a federal prosecutor said Tuesday.
The statement came as Noor Salman made her first court appearance to face charges connected to June's rampage. She was indicted on two counts: aiding and abetting Mateen's support of ISIS and obstruction of justice.
She said little during the brief hearing, but a family member said the allegations were impossible to believe and portrayed her as an unsophisticated victim of "domestic abuse."
"I know she's innocent — 100 percent," Al Salman told reporters outside the courthouse. "She's innocent, simple person. She will not hurt a fly."
He said the family has not had the heart to tell Salman's 4-year-old son with Mateen that she is jailed, accused of failing to stop the deadliest terrorist attack on U.S. soil since 9/11.
"She went to get you some toys," they told him.
Mateen was killed in a gunfight with police after gunning down dozens of people at the Pulse club and pledging allegiance to ISIS.
Salman was arrested Monday in California, where her family still lives. Prosecutors will seek to have her moved to face charges in Florida.
Wearing sweatpants and a yellow shirt, she spoke little during Tuesday's initial appearance, giving only one-word answers to questions about whether she understood the charges and her rights.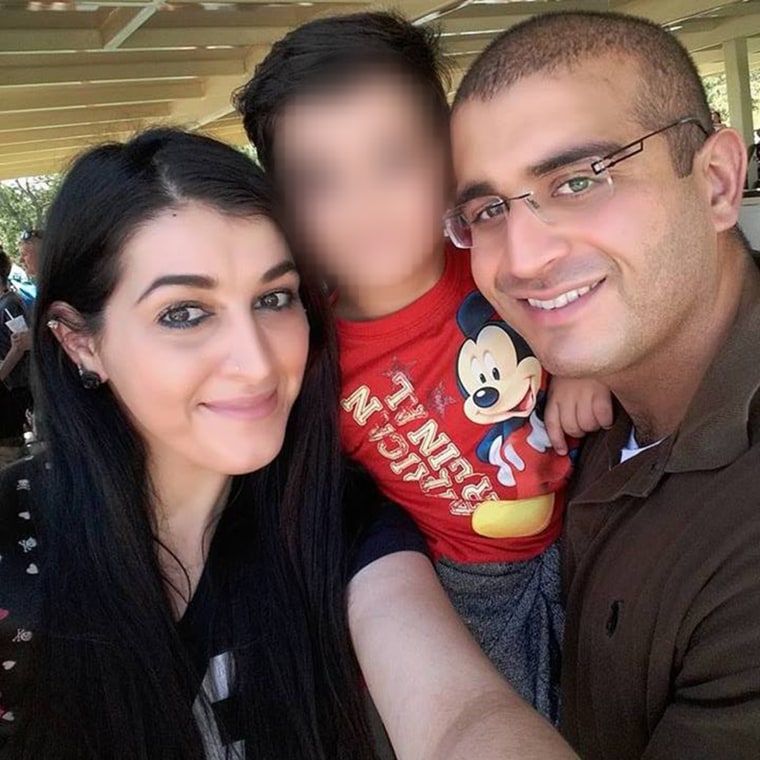 Prosecutors did not provide much information about the allegations beyond what's in the bare-bones indictment.
But Assistant U.S. Attorney Roger Handberg did tell the judge that Salman knew her husband was going to carry out an attack and later lied to Florida police to hinder the investigation.
In the days after the attack, law enforcement sources told NBC News that Salman told investigators she was with him when he bought ammunition and tried to dissuade him from violence.
Salman's lawyers have denied she had any advance knowledge of her husband's attack and said it is "misguided and wrong" to prosecute her.
"She's very soft, sweet girl," her uncle said. "He's abuser and controlling person."
He said that texts Salman exchanged with her husband during the attack showed that she did not know where he was or anything about the horrors unfolding inside the club.
Massacre survivor Demetrice Naulings, whose close friend was killed, was surprised to hear Salman, who had a 4-year-old son with Mateen, was being charged so many months later.
"I'm just kind of shocked," Naulings said, adding that it was difficult to know how to feel since the feds had not outlined the allegations against Salman.
"I forgave her husband," Naulings said. "I pray for her and the kid."