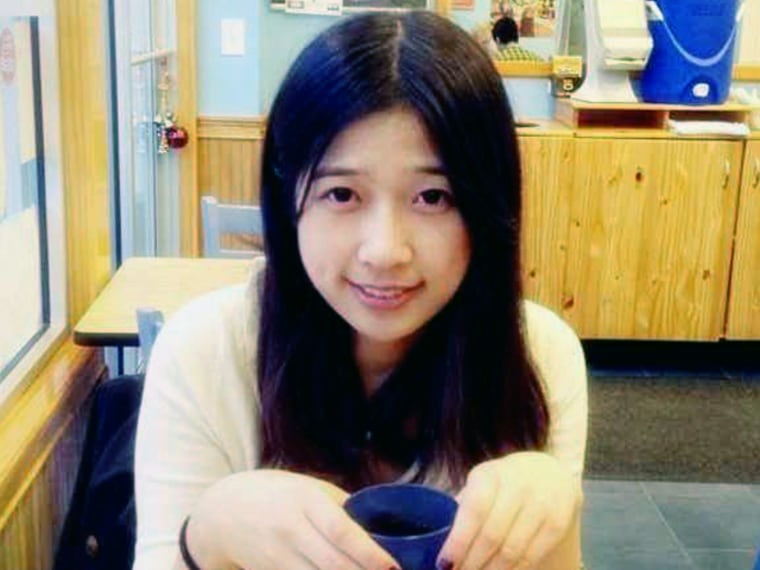 An outpouring of grief from friends and strangers across two countries followed the news Wednesday that the third victim of the Boston Marathon bombings was a Boston University graduate student from China.
Lingzi Lu was identified as the third person who died after twin explosions tore through the air near the marathon's finish line Monday. Lu was watching the race with two friends.
Chinese government and school officials had earlier confirmed the young woman's death but had declined to release her name. Boston University released her name after receiving permission from her family, according to a school spokesman.
The administrator of BU's math department, Kathleen Heavey, said of department's students, "Some of them are handling it OK, and others are beyond control."
Lu had learned the day before the marathon that she had passed the first half of her comprehensive master's degree exams, Tasso J. Kaper, chairman of the  math and statistics department, told NBC News. After this semester, Lu would have needed only one more course to complete her degree in statistics, he said. 
"She was an extremely energetic, diligent, enthusiastic student," Kaper said. "She's a very bright young scientist. Enthusiastic, very bubbly, talkative. Her friends are going to miss her deeply. She was the spokesman of the group. Her circle of friends was much wider than most."
Lu uploaded a photograph of what would be her last breakfast — what appeared to be a Chinese meal mixing fried dough and vegetables — hours before she was killed not far from the marathon's finish line. "My wonderful breakfast" read the message, which was written in English and posted at 9 a.m. ET Monday.
It was one of many photos of meals the young woman had enjoyed that she posted to Sina Weibo, a Chinese microblog. More than 21,200 comments had been posted to the woman's final message as of Wednesday.
"I cannot believe such a talented girl passed away," one commenter wrote.
"Even in heaven, [you are] a beautiful angel," another said.
It was an Internet posting by Lu's roommate that first got her family's attention, Reuters quoted media in Hong Kong as saying.
"Everyone, please help me find my roommate," the victim's friend wrote on the Chinese microblog, according to Hong Kong's Phoenix TV. The young woman had gone to the marathon, but "she hasn't come home and … everyone is very worried."
A post written Wednesday in Chinese on the Facebook page of the BU Chinese Student and Scholars Association asked for privacy. "We hope our fellow countrymen can respect the dead and not disturb her family and friends," it said.
The high-achieving young woman studied economics at the University of California-Riverside and the Beijing Institute of Technology, where she was honored as an "excellent student," according to her LinkedIn account. She started last year at Boston University, where she pursued a master's degree in mathematics and statistics.
Lu worked in the Beijing offices of Deloitte Touche Tohmatsu in 2011 and 2012, according to the online profile.
Photos on her Facebook page showed her at Toah Nipi, a Christian retreat in New Hampshire.
Another BU student was injured in the attacks. School officials have not named the second victim, but the Rev. Robert Hill, dean of the university's chapel, said Wednesday that she was "doing well."
"She has her friends around her, and she will soon have family around her," he said, according to a statement from the school.
The Chinese consulate said in a statement Tuesday: "The consulate has contacted the two families and will provide all necessary assistance to them. Our hearts go out to the families of the victims of this terrible tragedy."
Krystle Marie Campbell, 29, and Martin Richard, 8, both of Massachusetts, have been identified by family members as the two other victims killed by the blasts that shattered windows and limbs Monday afternoon in Boston.
NBC News' Le Li contributed to this report.
Related:
Second Boston Marathon bombing victim identified as 29-year-old woman
'Adorable' boy, 8, mourned after Boston Marathon blasts
Inside a bomb investigation: the hunt for forensic clues
Sina Weibo