A Donald Trump-inspired congressional candidate has sparked outrage by plastering "Make America White Again" on billboards in eastern Tennessee.
Rick Tyler, an Independent running in the 3rd District that includes the city of Chattanooga, almost immediately started catching hell for his racist spin on the presumptive Republican presidential candidate's slogan, "Make America Great Again."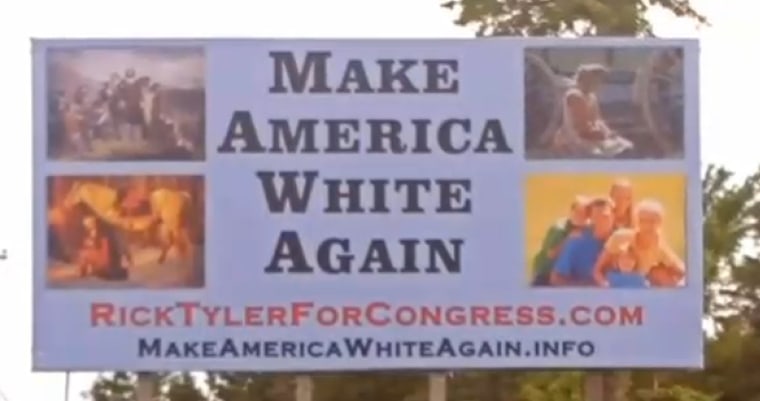 Rep. Chuck Fleischmann, the Republican currently representing the district, condemned "the billboard and Mr. Tyler's message."
Local Republican Party honcho Ryan Haynes also denounced Tyler's billboards.
"There's no room for this type of hateful display in our political discourse," he said in a statement. "Racism should be rejected in all its heinous forms in the Third Congressional District and around the country."
So far there has been no response from the Trump campaign. But by Thursday the offending billboards located near Benton, Tennessee were taken down down after outraged residents complained, NBC affiliate WRCB reported.
Tyler insisted he had no hatred in his heart for "people of color." He told WRCB he just wants America to go back to a "1960s, Ozzie and Harriet, Leave it to Beaver time when there were no break-ins; no violent crime; no mass immigration."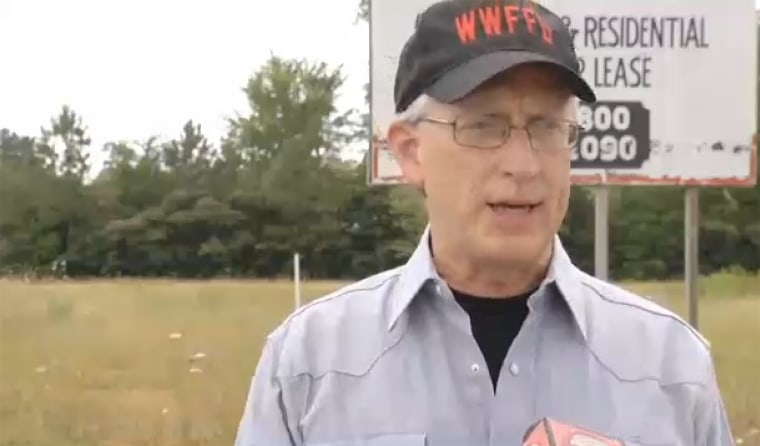 But in a radio ad posted on Tyler's website he declared "the Caucasian race... the architects and progenitors of advanced civilization and high cultures."
Tyler's views on Trump seem conflicted, however. In blog posts on his website, Tyler calls Trump "latest stalking horse entity to be foisted upon the American electorate" — but also an inspiration.
"His advocacy of a "temporary ban" on Muslim immigration and the construction of a wall on the Southern border have created a climate conducive to conversation relative to the elephant in the living room no one wants to talk about ... namely, the urgent and vital subject of race," Tyler wrote.