The former New England prep school student whose rape trial exposed a campus ritual of sexual conquest said he doesn't regret rejecting plea deals — despite being sentenced to a year in prison.
"I'd do it the exact same way," said Owen Labrie, speaking to Newsweek in an exclusive interview — his first since being found guilty on lesser charges in October.
Related: Owen Labrie Sentenced to Year in Prison
The 20-year-old is out on bail while he appeals his partial conviction with the New Hampshire Supreme Court.
"It was the only thing that sustained me, knowing I had told the truth," he continued. "I had done what was right. I walked out of the courthouse with my chin up."
Labrie had the chance to take plea deals that would have required him to admit to having sex with a 15-year-old freshman girl in May 2014 while he was a graduating senior at the prestigious St. Paul's School in Concord, New Hampshire.
In exchange, prosecutors would have sought less than a month of prison time with no sex offender registration requirement.
But Labrie during his trial remained steadfast that he never had sexual intercourse with the girl, and that "divine inspiration" stopped him from going further despite admitting to putting on a condom.
Prosecutors maintained that Labrie electronically wooed his schoolmate and then forced himself on her as part of a tradition called the "Senior Salute," in which graduating seniors try to bed underclassmen.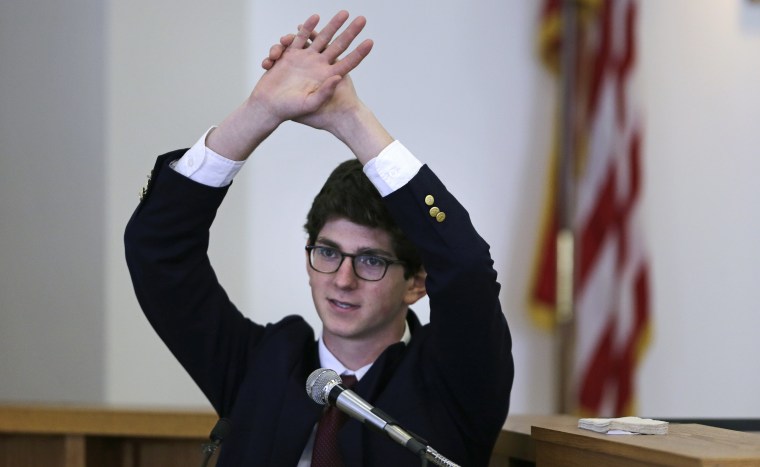 The two-week trial shone a harsh light on St. Paul's, an Episcopal boarding school whose alumni include Secretary of State John Kerry, former FBI Director Robert Mueller and "The Breakfast Club" actor Judd Nelson.
Labrie was acquitted of the more serious felony rape charges, but was found guilty of misdemeanor counts of sexual assault and endangering the welfare of a child, as well as a felony charge of computer-related seduction.
In addition to prison time, the judge sentenced him to five years' probation and ordered him to register as a sex offender in his home state of Vermont.
His Newsweek interview, which was published online Friday, shows how the once-popular student-athlete is coping with small-town life as a social pariah — at times being shunned by employers who "can't have a rapist working here."
Related: St. Paul's School Rape Trial: Accuser Tells Court 'I Felt Like I Couldn't Say No'
Labrie didn't grow up in a wealthy family, and earned a scholarship to St. Paul's.
His plans to attend divinity school at Harvard is off the table. And in a nod to his past, he likes to occasionally wear clothing emblazoned with his prep school's name.
"At times, he seemed to fear that it would make it easier for people to recognize him; other times, he wore it defiantly," Newsweek wrote.
A spokeswoman for the victim's family accused the Labrie profile of giving him a chance to advance his post-conviction efforts without talking to law enforcement, the judge or lawyers.
The article notes that "neither the victim nor her family would give an on-the-record interview."
"Newsweek's coverage ignores the judge's own comments at sentencing that this was not a 'teen romance,' but rather a nonconsensual encounter where an 18-year-old sexually premeditated his actions to harm a 15-year-old freshmen girl," family spokeswoman Laura Dunn said in a statement.
Meanwhile, Labrie must adhere to a strict nighttime curfew and had to surrender his passport, although he is free to travel locally. Since the trial, the magazine reported, he was focused on building his own small chapel out of lumber.
He completed it late last month, a few days after he was put on his state's sex offender registry.
Editor's note: An earlier version of this story said Labrie has no regrets in his legal defense, but that is not accurate; he told Newsweek he did not regret rejecting plea deals.