The owner of a conservative apparel company was fined more than $200,000 by the Federal Trade Commission for replacing "made in China" tags with "made in the USA" tags on clothing.
The FTC acted against Lions Not Sheep Products LLC owner Sean Whalen after he posted a video on social media titled "MADE IN AMERICA!" in which he said "he could conceal the fact that his shirts are made in China by ripping out the original tags and replacing them with tags stating that the merchandise was made in the United States," the FTC said in a statement.
In a statement shared with NBC News, Whalen said the video "was an honest, transparent, and true assessment of the Made in USA guidelines at that time as we understood them and as they had been presented by the FTC."
Whalen and Lions Not Sheep swapped the tags on shirts from May 10 to Oct. 21, 2021, according to the FTC.
Lions Not Sheep says on its website that it sources its "products and 'blank' garments from multiple domestic and international vendors and suppliers."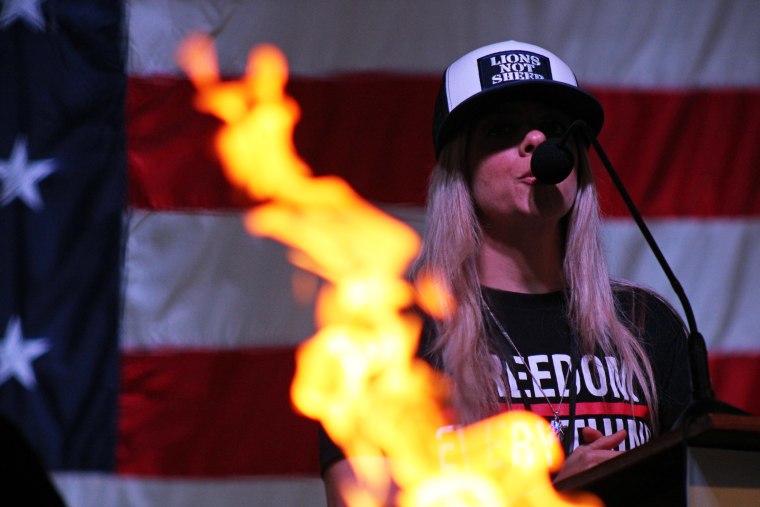 "In our effort to keep as many jobs as possible inside the USA, our blank garments/items that are purchased internationally are shipped to the USA to be printed, embroidered, laser engraved, tagged, and bagged all inside the USA," it says on the website. "This process is commonly known as 'white-labeling.'"
Further clarifying the company's business process, Whalen said Lions Not Sheep purchases all their apparel from an American company that's then printed by another American company and sold "while employing many American workers as well."
"We certainly don't agree with the FTC ruling and its interpretation, nor do we think we were treated fairly, but we have no choice but to accept it and move on," said Whalen in the statement. He added that the FTC ruling isn't surprising, given Lions Not Sheep is "a conservative and very patriotic company who loves this country deeply, a stance not many of the 'leadership' in DC share."
As part of the order, Whalen will be fined $211,335 and the company must "stop making bogus Made in USA claims" and "come clean about foreign production."
"Under the order, Whalen and Lions Not Sheep must stop claiming that products are made in the United States unless they can show that the product's final assembly or processing — and all significant processing — takes place here and that all or virtually all ingredients or components of the product are made and sourced here," the FTC said in a statement.
Lions Not Sheep features products on its website like shirts that say "Let's Go Brandon," which is code for insulting President Joe Biden, according to The Associated Press. It also features hats and shirts with the hashtag "#FJB" and the description "If you know, you know. #FJB."
Another hat featured on the website bears the Revolutionary War slogan "Don't tread on me," which was featured on flags flown by the mob that violently overran the U.S. Capitol on Jan. 6, 2021.
The company's about section on its Facebook page tells readers: "You have two choices. To LEAD or to be LED. We are a generation of LEADERS. We are a generation of LIONS."
The company is based in Salt Lake City.