The couple who called in the tip that led to the capture of an escaped Pennsylvania inmate suspected in several crimes said they recognized him from the news after their dog tipped them off that someone was nearby their home.
Michael Charles Burham, 34, was taken into custody by 5:50 p.m. Saturday in Warren County after a weeklong manhunt, Lt. Col. George Bivens of the Pennsylvania State Police said. Cindy and Ron Ecklund led authorities to Burham after their dog's barking alerted them to his presence.
Ron Ecklund said he got into a golf cart and drove down to the creek near their property to investigate.
"Gentleman stands up and I asked him, 'So, what are you doing?'" Ecklund told NBC News correspondent George Solis. "He said, 'I'm camping.'"
Ecklund told his wife, who was outside the golf cart, to get back in the cart so they could return to the house.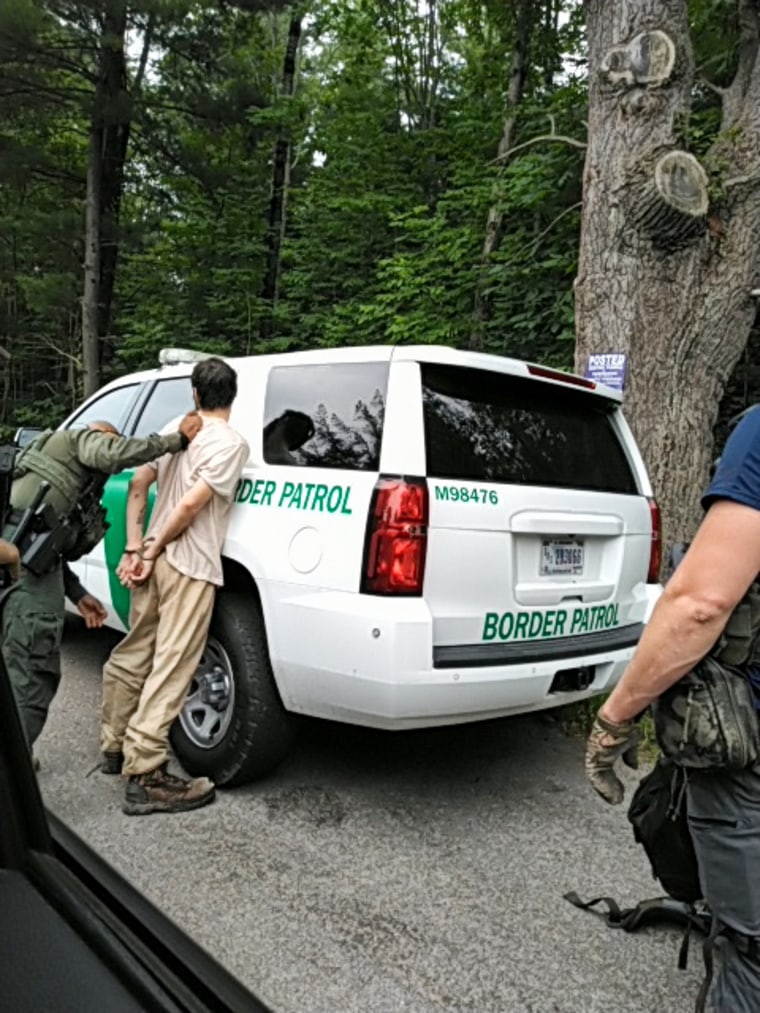 "We weren't halfway up the yard and I'm like: 'Dial 911. I know exactly who that is,'" he said. "I've seen his picture enough. He's been all over the news."
The couple believe they might be eligible for the reward authorities offered for information about Burham's whereabouts, which had increased to $22,000 by Friday.
Burham escaped from the Warren County Jail on July 7 by climbing through the metal grates of the jail yard's roof. He then climbed down using tied-together bedsheets, authorities said.
Authorities described him as someone with "survivalist skills" who was comfortable in woods for long periods of time. At least 15 federal and local departments had been searching the area for him for eight days.
He was taken into custody at gunpoint and will be arraigned on an escape charge, Bivens said.
Burham was being held in the county on kidnapping and other related charges. He is accused of having kidnapped a Warren County couple while on the run from authorities in New York, where he is a suspect in the May 11 murder of Kala Hodgkin.
Chautauqua County District Attorney Jason Schmidt said last month that there were no state charges against Burham in the murder case.
He was charged with flight to avoid prosecution in U.S. District Court for Western New York in May. The case was dismissed without prejudice on June 16, according to court records.
A federal criminal complaint says Hodgkin was found fatally shot at her home. At the time of the killing, there was an active arrest warrant charging Burham with raping her, according to the complaint.
While police were on their way to Hodgkin's home, a separate call came in that Burham had allegedly tried to break into an ex-girlfriend's home and then set her car on fire, the complaint says.
Burham went on the run, leading authorities on a multistate manhunt before he was captured May 24 in South Carolina, the Jamestown Police Department in New York said.
The complaint said Burham kidnapped a couple at gunpoint at their Sheffield, Pennsylvania, home while on the run. They were found alive in a cemetery in North Charleston, South Carolina.
A note in their vehicle allegedly written by Burham told his father he was "safe for now" and apologized "for all the problems I caused the family," the complaint says.