NEW YORK — Two new breeds will make their debuts at the Westminster Kennel Club Dog Show in New York City this week, joining a field of nearly 200 blood lines competing in this year's edition of the prestigious canine showcase.
The show, in its 139th year, is billed as the second-longest continuously running sporting event in the United States, behind only the Kentucky Derby.
This year's event, which begins on Monday and concludes with the awarding of "Best of Show" on Tuesday, draws nearly 3,000 competitors from around the world and features 192 breeds.
The field includes two newcomers: the Coton de Tulears and the Wirehaired Vizsla, hailing from Madagascar and Hungary, respectively.
Coton de Tulears are small, fluffy non-sporting dogs known for their friendly personalities. Wirehaired Vizslas are amber-haired sporting dogs considered to be excellent hunters, gentle and easily trained.
To be included in the show, a breed must meet rules set by the American Kennel Club, including having sufficient numbers in the United States, a certain geographical distribution and a parent club that regulates breeding.
Golden Retrievers have the largest number of entries into the competition, followed by Labrador Retrievers, while there is only a single white Bull Terrier and one Norwegian Lundehund entered.
All told, dogs from 15 countries and 48 U.S. states, excluding North Dakota and Idaho, will compete.
As part of the show, judges select the best of each breed and group, divided into seven categories - hound, toy, non-sporting, herding, sporting, working and terrier.
The show culminates late on Tuesday with the selection of the "Best In Show" winner, crowned at Madison Square Garden. The winner of the "Best In Show" competition and its owner receive a trophy and go on a media tour.
In the last show, a wire fox terrier named Sky won Best In Show, making it the 14th time a wire fox terrier won the prize, more than times than any other breed.
This year, David Merriam, a retired federal judge from Bonsall, California and an expert on Bull Terriers, will select the Westminster's grand champion.
The show is preceded by a weekend of dog-related events that included an agility contest on Saturday, in which a border collie named Tex flew through an obstacle course to the win the Masters Agility Championship prize.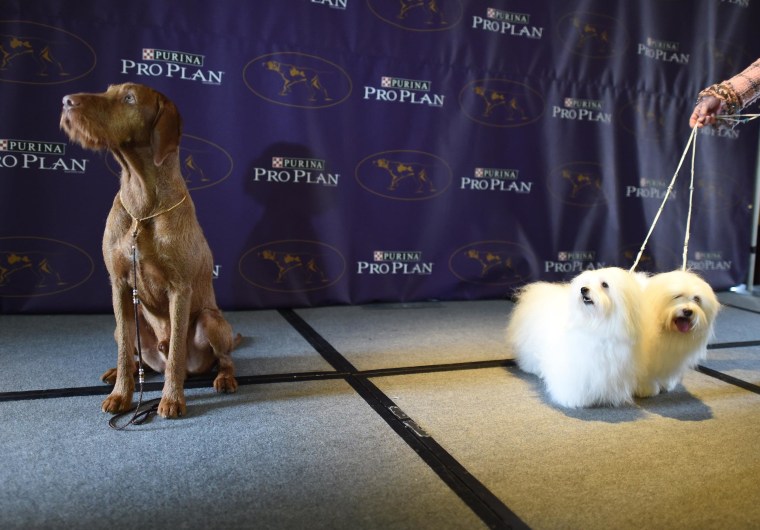 — Reuters