Pamela Smart, the former high school employee serving life in prison for recruiting a student she was sleeping with to kill her husband in 1990, says she takes responsibility for the killing. But, in a new "Dateline" but doesn't think that will "ever be enough" for those who have long regarded her as the ultimate vixen-villain.
Smart was 22 and a high school media coordinator in New Hampshire when she began an affair with the student, William Flynn, and was later convicted of conspiring with him to fatally shoot her husband, Gregory Smart, 24.
But Smart has always denied knowledge of the plot carried out by Flynn, who cooperated with prosecutors, along with three other teens, with prosecutors to receive shorter sentences. All three have since been released.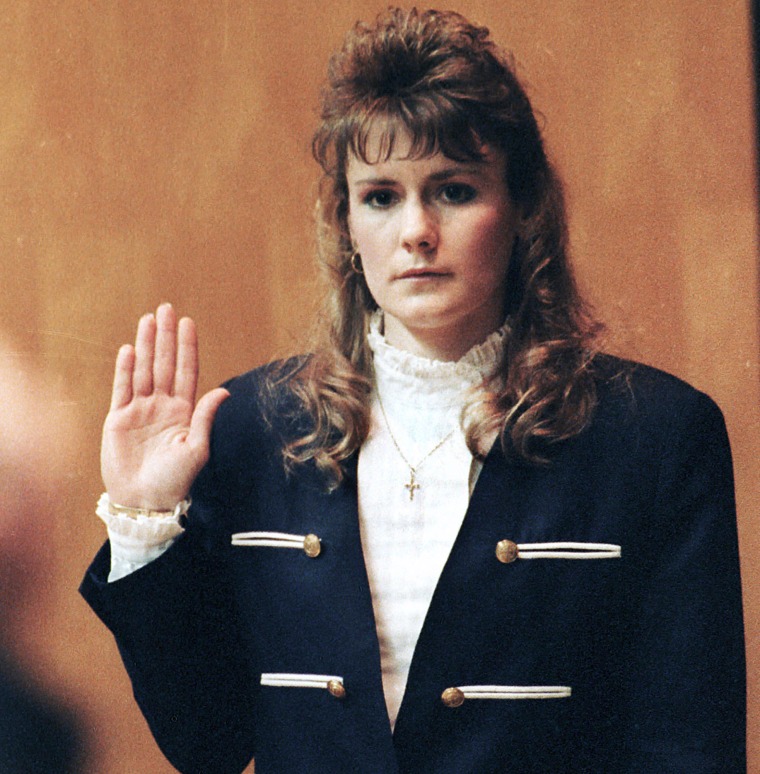 "I'm not placing blame on everyone else. I'm saying, it's my fault my husband's dead. I don't know what more responsibility I could take, you know, for that," Smart, now 51, said in an interview from prison that aired on NBC's "Dateline" Monday night.
Watch the full episode of "Dateline" here.
The 1990 murder was one of the first high-profile cases to revolve around a sexual relationship between a school staffer and a student, resulting in a trial that swiftly became a media circus and later inspired books including "To Die For," which was adapted into a 1995 movie starring Nicole Kidman and Joaquin Phoenix.
"I know that there are a lot of things that contributed to this verdict — the media, the judge all of those things that happened. However I know, bottom line, if I never had this relationship, he would still be alive. So, therefore, I know I am responsible," Smart said during the interview with "Dateline."
She added that she doesn't think her concession of responsibility, while not an admission of guilt, will ever satisfy her critics.
"I don't know if enough will ever be enough for anyone in this case. I don't," said Smart. "I mean people act like I just got to prison, like I haven't lost my 20s, my 30s, my 40s, all in prison. I'm in my 50s now, and when is enough punishment going to be enough?"
Smart, who was sentenced to life without the possibility of parole, is currently housed at the maximum-security Bedford Hills Correctional Facility for Women in New York. She has spent her nearly three decades earning two master's degrees tutoring fellow inmates and serving as an AIDS educator and president of an inmate liaison committee.
Earlier this year, Smart was denied a sentence reduction hearing for a second time, exhausting her judicial appeal options.
Her latest request was rejected in May in a 4-0 vote with one abstention. Counselor Andru Volinksy, who voted against the sentence reduction, said a line in Smart's petition, which read "Although I never wanted nor asked Mr. Flynn to murder Gregg, I will forever carry the blame and guilt," nudged him to deny her request.
"I think that sentence is at great odds in the evidence in the case and causes me concern," Volinsky said.