LOS ANGELES — Linda Fisher looked out her window Thursday morning and saw the pines beyond her backyard in Paradise, California, ablaze.
"That whole canyon was on fire," the certified nursing assistant, 33, said. "When I saw the flames I called 911 and they said we're not taking you out — you need to get out."
For the next 15 minutes, she ran around her two-story condominium in mountainous Paradise, less than 100 miles north of Sacramento, and scooped up clothing for her boys, ages 4 and 8, before driving them into a traffic jam of evacuees punctuated by spot fires in every direction.
Fisher and her sons fled and are staying with loved ones in the Bay Area while she figures out her next move. They were lucky. At least 23 people have perished so far in the 105,000-acre Camp Fire that consumed most of the residences in Paradise.
"In the residential areas, 80 to 90 percent of the people lost their homes," Mayor Jody Jones said.
Fisher said her landlord reported that the home she was renting is gone. The devastation in the 26,682-population town is so complete that folks like her are seriously wondering if they'll ever go back.
Fisher's job was taking care of an elderly patient, who also lost his home.
"We don't have anywhere to go," she said.
Brian Rice, chairman of the California Fire Foundation, toured the aftermath Friday and checked in on the families of local firefighters who were still at war in the verdant hills.
The Camp Fire, only 20 percent contained as of Saturday morning, is now the most destructive fire in state history, said Deputy Chief Scott McLean of the California Department of Forestry and Fire Protection.
Rice said 50 firefighters live within the blueprint of the fire. So far he's verified that at least 18 have lost homes. He said the California Professional Firefighters union, of which he's president, provides $3,500 checks on the spot to those who have lost residences.
Some local evacuees who come across firefighters are being handed $100 gift cards from the California Fire Foundation's SAVE (Supplying Aid to Victims of Emergency) program, too, he said.
It's little consolation. Rice said the town really was decimated, with rebuilding now possibly up in the air.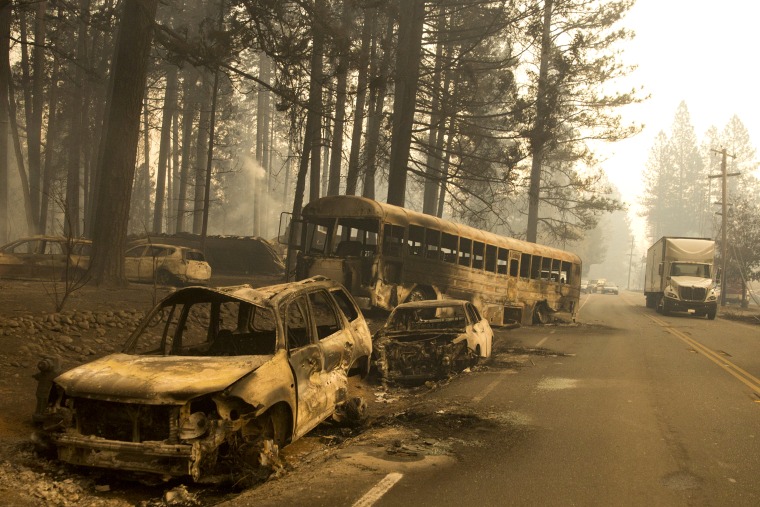 "Honestly, it looks like Armageddon," Rice said. "There's a part of me that wonders if this city will come back. It is that devastating."
Resident Mariah Bush, now with her sister in Chico, California, said she doesn't know yet if her home is still standing. But she acknowledged that "the town is gone."
"Yesterday I was a lot more hopeful about my house," she said Friday, fighting back tears. "Today was a little less hopeful. I'm thinking about the things I wish I had thought to bring that I hadn't thought to."
Stephen Walsh, spokesman for the American Red Cross' Gold Country regional offices, said two of four evacuation centers for Camp Fire survivors are full, with nearly 400 people using them.
At a Red Cross center in nearby Chico, evacuees wore surgical masks Friday to filter out smoke as they rummaged through secondhand clothing piled on folding tables outside.
Emerald Mayfied grabbed a pink girl's jacket and held it high, victoriously.
"Place is burned down completely," she said. "So we're looking for baby clothes, teenager clothes, mom clothes."
"I never made it back to the house," she added. "But my kids got all the pets. And all the kids are safe. And the baby is good. So we're doing good."
The Red Cross coordinates the delivery of two meals a day, and evacuees are each given a brand new cot, Walsh said. But their long-term outlook is unclear.
Paradise is a working-class community filled with retirees. The median home value just above $200,000 is closer to Wisconsin's $167,000 than to San Francisco's $858,800, according to U.S. Census Bureau data.
Some sunk all they had into Paradise.
"I know a lot of people don't know the status of their homes," Walsh said. "It could be days or weeks."
For now, evacuees like Fisher are happy to be alive. As she drove through flame-licked roads Thursday she devised a plan: Her and her boys would find water, soak their blankets and hunker down somewhere — anywhere.
"We were trapped," she said. "We were surrounded."
Power lines fell ahead and propane tanks exploded behind, she said. "Embers falling everywhere. People running everywhere."
After a few hours dodging flames and traffic, Fisher found sheriff's deputies who directed her to safety. Maybe it was just in time.
On Friday charred, abandoned vehicles lined the streets of Paradise. Some were pushed off the road by tractors to clear the way for first responders, said Rice of the California Fire Foundation.
Butte County Sheriff Kory L. Honea, describing the dead, told reporters Friday night that on Thursday "four individuals were found in their vehicles, and they were in the Paradise area."
He described those bodies to NBC News as "a group in the same car."
"It's certainly possible that they were family members," he said.
"We found another individual near those vehicles today," he added. "That person was outside the vehicle."
A total of 110 Paradise residents were still unaccounted for, the sheriff said.