An Iowa college student left paralyzed after a sports injury during his freshman year thought he had little chance of ever regaining movement below his neck. Still, 23-year-old Chris Norton set a seemingly impossible goal: to walk across the stage at his graduation.
And on Sunday, Norton accomplished that feat after more than four years of physical therapy and some assistance from his fiancée, Emily Summers.
"My graduation walk was what I considered my game day or Olympic event," the Luther College graduate told NBC News on Tuesday. "My full focus was to take the best steps I could possibly take and not worry about the audience or anything else."
Getting to that point took determination and countless hours of rehabilitation.
Norton fractured part of his spine in 2010 during a football game at Luther in northeastern Iowa. Doctors told him he had only a 3 percent chance of regaining any movement below his neck, he said, but took advantage of the medical care and therapy. He slowly regained movement throughout his body.
With the realization that people with similar injuries might not be covered by the type of insurance he had, Norton started a foundation to raise money for people who didn't have access to equipment that could help them recover as well. The items include a $25,000 wheelchair exercise bike and a $15,000 hand rehabilitation system, according to Norton's SCI CAN Foundation website.
He also wanted to inspire those who were going through the same strenuous physical therapy that he was, and publicly announced that he planned to walk across the stage at his commencement ceremony.
He finished school a semester early so that he could dedicate up to six hours a day to working out in preparation, he said.
On Sunday, he walked across the stage to collect his diploma — with Summers by his side. He had proposed to her the day before.
"So many people, including myself, fear failure, it's human. But if you do everything in your power to accomplish your dreams, at the end of the day, you can be proud and happy with how far you've come," Norton said, adding, "Good things will come your way."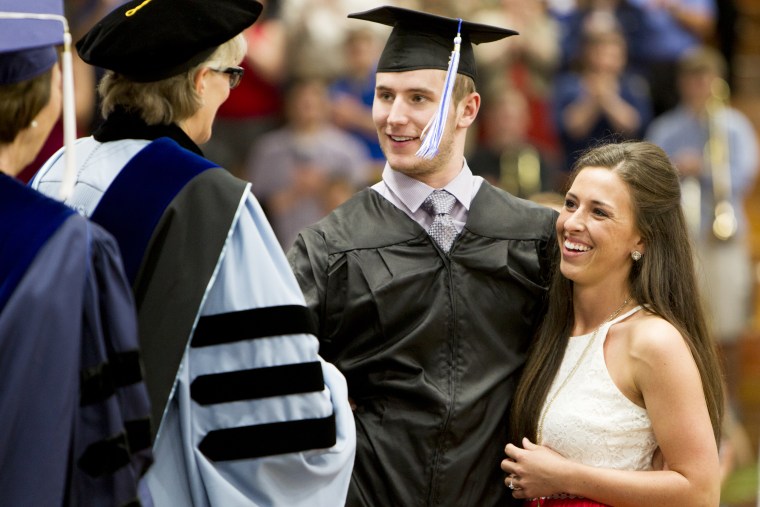 SOCIAL