The parents of a 23-year-old charged with a hate crime for an arson fire at a California mosque described their son as a loner who might have some type of mental issue, but said if he committed the crime he will have to face the consequences.
No one was hurt in Friday's fire at the Islamic Society of Coachella Valley, about 75 miles away from the scene of last week's terror attack in San Bernardino, but the building was damaged, officials said.
Carl Dial was arrested late Friday and charged with arson, commission of a hate crime and burglary, the Riverside County Sheriff's Department said. He is being held in lieu of $150,000 bail.
"We will supply him with money for the commissary. We have no plans to bail him out. He's an adult," Dial's father, John Dial, told NBC News Saturday. "We both said right there, we said to him, I hope you like reading books, because you're in it for the long haul. He's a man."
John Dial said his son is innocent until proven guilty, but, "If he's charged with this, he's going to be responsible, as an adult," he said.
Related: Hero's Funeral for San Bernardino Victim Who Saved Co-Worker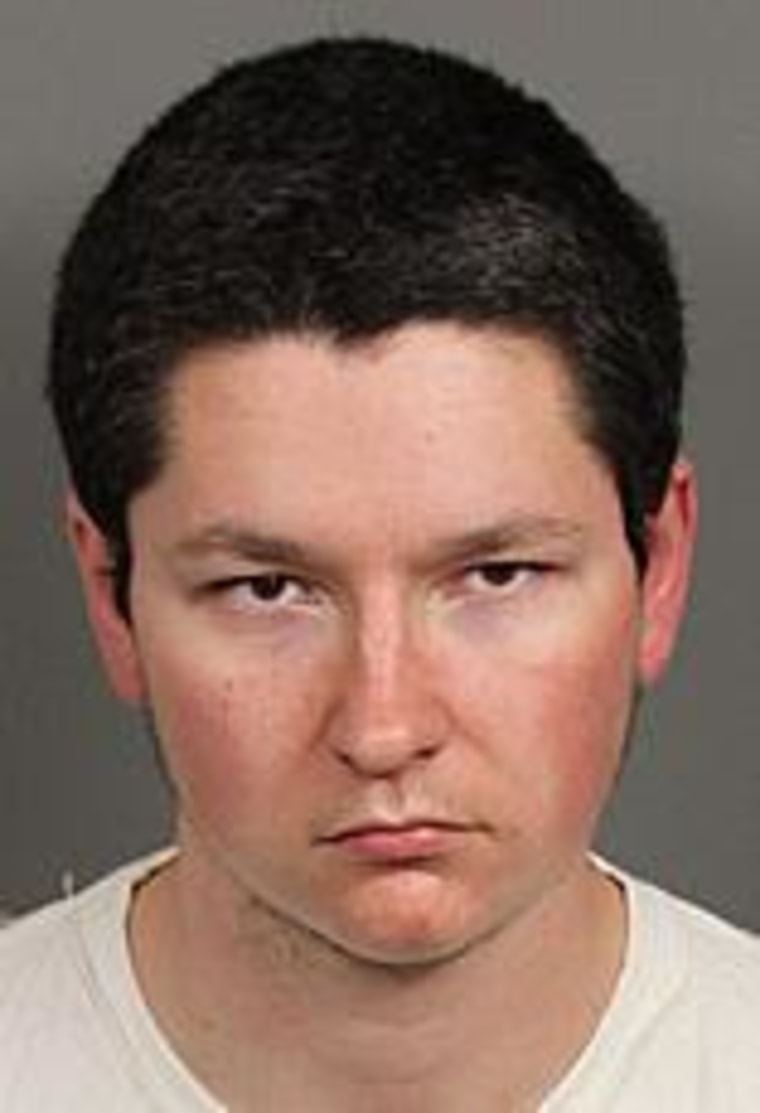 The intentionally set fire at the mosque occurred a little more than a week after a husband and wife who authorities believe were radicalized opened fire on a holiday luncheon for county workers in San Bernardino, killing 14 people.
A man at the mosque told NBC Los Angeles that he heard an explosion before the fire. Police have not said how the fire was set.
"As far as we're concerned, it is an act of terrorism," Reymundo Nour, acting imam at the mosque, said. "The individual targeted us, we believe that it was targeted."
Carl Dial recently moved in with his brother and his brother's wife, his parents said. He was taking classes at a local college, they said.
Related: San Bernardino Shooter Plotted 2012 Attack But Got Cold Feet, Sources Say
John Dial saw Carl early Friday, before the fire broke out at the mosque around noon. His son had a backpack and he assumed he was going to class. John Dial saw his son later, before police arrived, and nothing seemed amiss, he said.
Sheriff's deputies arrived at the home of Carl Dial's parents at around 7 p.m. Friday and interviewed them. "The officers asked me, 'Is your son capable of this. And I said anybody is capable of anything at any time," John Dial said.
Dial's father said his son struggled socially. Carl Dial's demeanor took an anti-social turn around 2000, and his father said if his son committed the arson he believes some type of psychiatric ailment might be to blame. Carl Dial had seen mental health professionals while younger, he said.
"He was caught up in social media. Social media has produced people like my son, without person-to-person contact," John Dial said. "I believe he was lacking in social skills."
Meanwhile, an online fundraising effort to help the families of the 14 people killed in San Bernardino, titled "Muslims United for San Bernardino Families," had raised more than $203,000 by Saturday night.
Reporting by NBC Producer Jessica Roe