Todd and Lisa Sturgeon knew their son was dealing with mental health issues. But before Connor Sturgeon, 25, opened fire at a bank in downtown Louisville, they never fathomed that he could carry out an act of such horrific violence.
"I'm afraid that whatever we come up with as the cause still isn't going to make sense," Todd Sturgeon told NBC News' Savannah Guthrie in an exclusive "TODAY" show interview that aired Thursday.
Lisa Sturgeon said she and her husband did not see any signs of violence before their son, an employee at Old National Bank on East Main Street, walked into his workplace and started firing bullets from an AR-15-style rifle, killing five people and injuring eight others.
The violence sent shock waves through Louisville, Kentucky, and across the U.S., where mass shootings in everyday places have become sickeningly commonplace. The bloodshed in Louisville took place just 14 days after a 28-year-old shot and killed six people at a Christian school in Nashville, Tennessee.
"We had no real indications that something like this could have happened," Lisa Sturgeon said. "There was no clear tell."
More than two weeks after the shooting, the Sturgeons are wracked with emotions. There's confusion, sorrow, heartbreak for the families of their son's victims and grief over the loss of their child, whom police killed in an exchange of gunfire.
"It would have been bad enough if we had just lost our son," Lisa Sturgeon said. "But for him to take others with us — with him — it's just — it's beyond what we've taught him, the way we live. We're always saying do no harm. He didn't do that."
Todd Sturgeon said he and his wife were fearful about even speaking to the news media. "We have a concern about inadvertently being disrespectful to the families," he said. They are trying to find the right time to reach out to their son's victims in a manner that feels "respectful."
Asked what they would say if they had a chance to speak directly to the families, Lisa Sturgeon said: "We are so sorry. We are heartbroken. We wish we could undo it, but we know we can't."
Josh Barrick, 40; Deana Eckert, 57; Tommy Elliott, 63; Juliana Farmer, 45; and Jim Tutt, 64, were killed in the attack.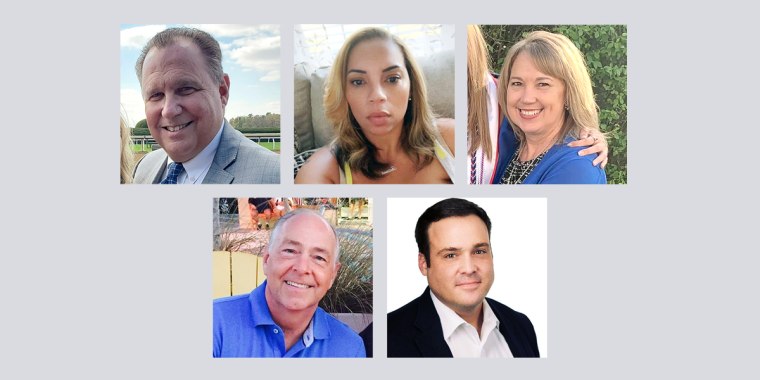 The families of four of the victims have declined to comment.
Jeffrey Barrick, Joshua's brother, said: "A husband was taken, a father was taken, a brother and son was taken. He did nothing to deserve this, he simply went to work one day just like all of us do. The fact that anyone can walk in and buy a semi-automatic weapon, its only purpose being to kill many in seconds, is simply wrong.
"Enough is enough. Inaction is not an option. We deserve to be safe in our communities — whether that be at the bank, the grocery store, our schools, or anywhere else. We are simply heartbroken, this didn't have to happen."
Two of the eight people who were injured were police officers — among them Nikolas Wilt, who is still recovering from a gunshot wound to the head.
Mental health struggles
The Sturgeons said their son's mental health challenges appeared to begin a year ago, taking the form of panic attacks and anxiety. He was seeing a psychiatrist and a counselor, and he was taking medication. Connor seemed to be improving.
But in the days leading up to the shooting, something seemed to change. 
"He called me on the Tuesday before the event … and he said, 'I had a panic attack yesterday and … I had to leave work,'" Lisa Sturgeon recalled. She said that she asked her son what might have caused the panic attack and that he was not sure.
She recalled that she told him: "We're here to help you."
Lisa Sturgeon wanted to see her son. She had lunch with him the next morning. She then set up an appointment with his psychiatrist for that Thursday, five days before the shooting. All three Sturgeons met with the psychiatrist over videoconference. 
By the end of the session, it seemed Connor was "coming out of the crisis," Lisa Sturgeon recalled.
The last time the Sturgeons saw their son was Easter Sunday, the day before the shooting. Todd Sturgeon watched his son join an Easter egg hunt that afternoon. Connor watched the Masters golf tournament with a friend that night. He seemed "fine" to his mother. 
Five days earlier, their son had bought a gun.
A phone call, then a horrible shock
The morning of the shooting, Lisa Sturgeon got a call from her son's roommate, who said that Connor had told him that he was "going to go in and shoot up Old National."
The roommate found some notes Connor left behind, Lisa Sturgeon recalled. She was shocked to learn that her son had a gun. She remembered thinking: "Where did he get a gun? We don't have guns."
The moments that followed the call were surreal, a blur of disbelief and panic. Asked to describe her frame of mind at the time, Lisa Sturgeon said: "There's no way this is happening. Please stop him. Please make sure nobody gets hurt."
"This cannot be happening," she remembered thinking.
Todd Sturgeon was driving his car when he learned that shots had been fired at the bank. "You go from praying for his life to praying that this is unimaginable, that he just commits suicide and doesn't hurt anyone else," he said.
Lisa Sturgeon raced to the scene and called 911. But by that time, Connor Sturgeon was already at the bank.
"He punished others," Lisa Sturgeon said. "He took others' lives."
The need for change
Connor Sturgeon bought his AR-15-style weapon legally. His parents believe he "absolutely" should not have been able to do that.
"What we're hoping to do is stimulate some conversation around this," Todd Sturgeon said. "I think the overwhelming majority of Americans don't want people in an impaired state to have a weapon in their hand.
"Now, it becomes more complex to thread the needle and protect us from those people while still being conscious of individual rights and liberties."
The Sturgeons do not necessarily have specific policy solutions in mind. But they know something needs to change in the U.S.
"How many mass shootings have there been this calendar year already? It has been happening to other people like us, and we're continuing to let it happen," Lisa Sturgeon said, "and we have to fix that."
In their grief, the Sturgeons are also consumed by feelings of guilt.
"Well-meaning people keep saying to us, 'You know, you did what any reasonable parents would have done.' But Connor in his darkest hour needed us to be exceptional, not reasonable — and we failed him," Todd Sturgeon said.
"We failed those people," Lisa Sturgeon said.
If you or someone you know is in crisis, call 988 to reach the Suicide and Crisis Lifeline. You can also call the network, previously known as the National Suicide Prevention Lifeline, at 800-273-8255, text HOME to 741741 or visit SpeakingOfSuicide.com/resources for additional resources.