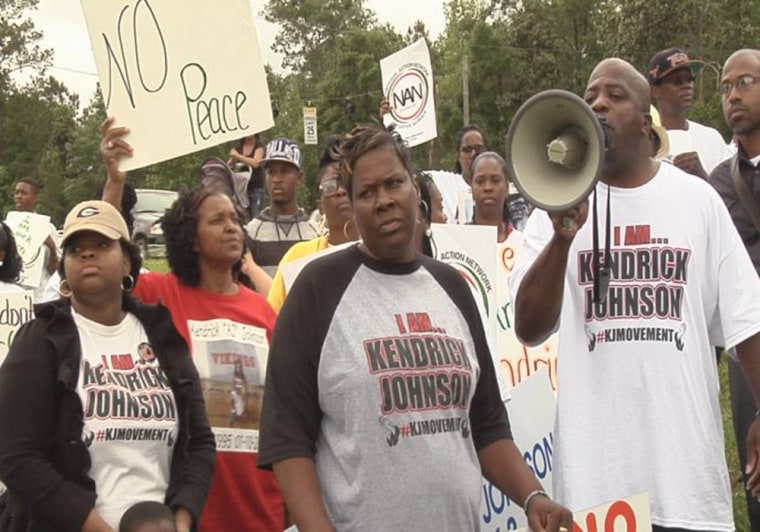 ATLANTA – At its widest point, the lonely space where Kendrick Johnson's body ended up was just 14.75 inches in diameter.
The Lowndes County Sheriff's Office continues to insist his death was a freak accident. But the teenager's relatives are ramping up their efforts to have it ruled a murder.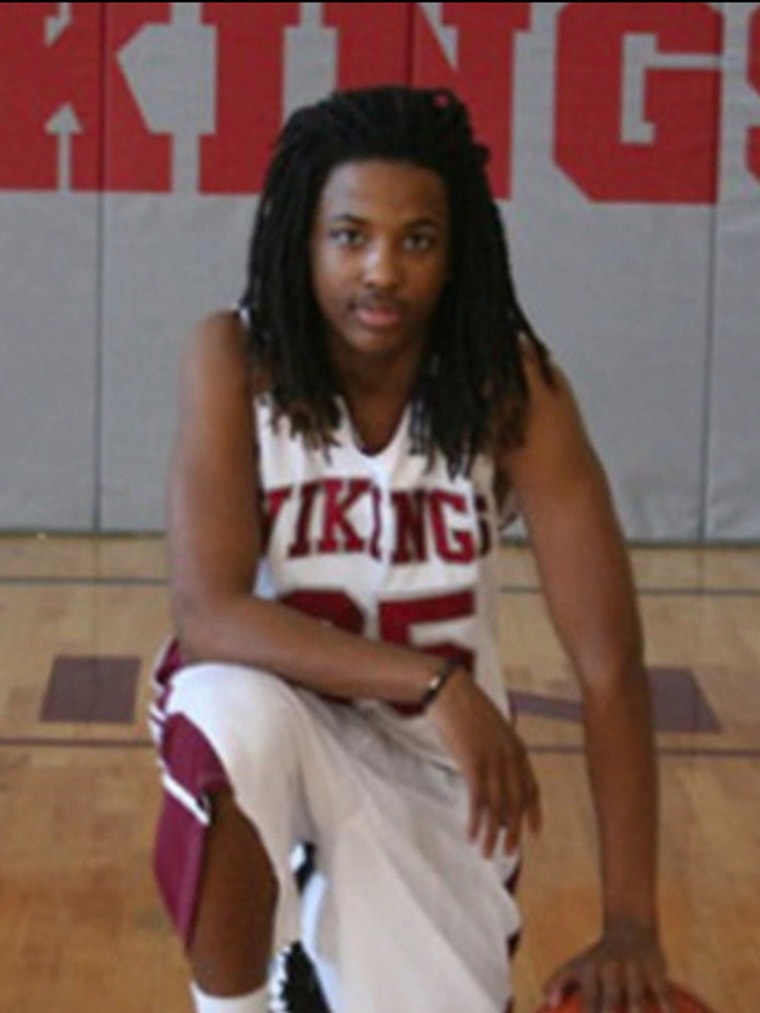 On Wednesday morning in Valdosta, Ga., attorneys for Johnson's family, the sheriff's office and the school district are scheduled to have a closed-door meeting with Southern Judicial Circuit Chief Judge Harry Jay Altman.
It's the latest chapter in the Johnson family's desperate search for answers after their 17-year-old son was found dead in a rolled-up gym mat.
Chevene King, the family's lawyer, expects to discuss the release of the entire gym's surveillance footage and the status of a coroner's inquest, which the family filed a petition for last week. 
In a coroner's inquest, a six-person jury would hear evidence and determine whether a death was the result of natural causes or something else.
But if no resolution is reached at Wednesday's meeting,  Judge Altman could schedule a formal hearing for a later date, a representative from his office said. 
"We're not stopping until we get justice," said Jacquelyn Johnson, Kendrick's mother.
"Justice for KJ"
The fight to reopen the case has attracted civil rights attorney Benjamin Crump, the lawyer who drew national attention for representing the family of Trayvon Martin.
The Johnson family has now hired him.
"This is a real-life murder mystery where these parents sent their child to school with his book bag and he was returned to them in a body bag," Crump said.
Kendrick Johnson  — a three-sport athlete called "KJ" by his friends  — was found dead  on Jan. 11 in the old gym of Lowndes High School.
An autopsy conducted by the Georgia Bureau of Investigation ruled that he accidentally suffocated inside an upright gym mat after he fell in headfirst reaching for a shoe.
But five months later, Johnson's parents exhumed his body. A private pathologist performed a second autopsy. Dr. Bill Anderson determined Johnson's death was due to blunt-force trauma to the right neck.
"Where we found the trauma was in an area that had not previously been dissected or looked at in the first autopsy," Anderson told NBC News.
And in a very strange twist, Anderson also discovered Johnson's organs were missing and the body cavity had been filled with newspapers.
"We thought we buried Kendrick, but we only buried half of Kendrick," his father, Kenneth Johnson said. "It's hard to wake up every morning and he's not there."
Crump said the discovery raises even more questions since the organs couldn't be examined in the second autopsy.
Sherri Lang, a spokeswoman for the Georgia Bureau of Investigation, told NBC News that the agency stood by its team of medical examiners "100 percent."
Case Closed
Lt. Stryde Jones with the Lowndes County Sheriff's Office said there is no evidence to suggest that Kendrick Johnson was murdered.
"Based on the information, that we know now -- the autopsy findings, our investigative findings -- our case is closed," he said.
Jones showed NBC News written statements from students who told detectives that kids at the school often hid their shoes in gym mats. Jones said that they would usually retrieve them by tilting the mats on one side, but that in this case, Johnson could not do that because the mat was up against the wall and surrounded by other mats.
How did it get there?
Jones said students had just returned from winter break and it was possible the mats would have been rearranged during that time.
But according to King, the family attorney, the school's gym had at least four surveillance cameras. So far, only a few still images from one angle have been made public. They show Johnson walking in the bottom right-hand corner of the frame but they don't reveal how exactly Johnson got inside the mat.
Lt. Jones said the remaining footage does not shed any light on how Johnson got there either. School officials have said they must get consent from other minors in other parts of the video before they can release it.
"We clearly have serious questions," King said. "We have conflicting autopsy reports. We have missing organs. And we have a video tape that is not being offered to the family for viewing."
Federal Investigation?
In a written statement in September, the U.S. Department of Justice declined to pursue a federal criminal civil rights investigation — citing a lack of sufficient evidence — but said U.S. Attorney Michael Moore in Macon, Ga., would continue to "monitor" the case.
Moore has not responded to messages from NBC News seeking comment. His office will not confirm any ongoing formal investigation. Still, callers to his office are greeted with a recording asking anyone inquiring about the Kendrick Johnson case to leave a message in a specific voice mailbox.
Tallahassee-based private investigator Beau Webster has been looking into the case since the Johnson family contacted him in February.
"All indications are that there was some type of foul play involved," he said.
But he's had a difficult time convincing possible witnesses to come forward – and he said the school denied him access to the gym for months.
"That's what's so frustrating about this case," Webster said. "That so much of the evidence that was possibly inside the gym that morning when the body was found has been destroyed or is not available."
For Kenneth and Jacquelyn Johnson, assurances from sheriff's investigators that their son's death with simply a tragic accident does not sit well. They believe a group of students beat their son to death. The motive is unclear.
"We've got to fight for him," Kenneth said. "Because if we don't fight, no one will."