The argument began over a parking space.
In 2016, a Wichita, Kansas, man stabbed his neighbor to death and wounded her twin sister amid a brawl at their apartment complex.
He was arrested, but initially was successful in claiming immunity from prosecution under the state's 2006 "stand your ground" law.
That is, until late last month, when the Kansas Court of Appeals overturned a dismissal of a murder charge for Seth Collins, 40, and ruled he must face trial.
That comes as a similar case of "stand your ground" in Florida has again brought the law into national focus. In Florida, the local sheriff declined to arrest the man involved in the fatal shooting at a Clearwater convenience store, which also started over a parking spot.
The latest incident has led some Democratic politicians and civil rights groups to call for the law's repeal. Even some Republicans have disputed how the legislation was interpreted.
While both killings share parallels, how they've unfolded highlights the nuances in a law that can be deciphered in varying ways depending on the person and the state, lawyers and legal experts say.
"I think the law is always kind of evolving," said Charles O'Hara, a criminal defense attorney in Wichita. "People misperceive self-defense a lot, so it gets down to the specific details about what happened in each case. People always look for a general rule that we can say, 'It doesn't apply here and it doesn't apply there' — but the law is much more gray."
At least 24 states have some form of a "stand your ground" law, with Florida's enacted in 2005 with the help of gun lobbyists.
Both the Kansas and Florida laws put the burden of proof on the prosecution to show that a person wasn't justified in claiming "stand your ground." They also don't put the onus to retreat on a "victim" who believes they're in harm's way.
The appeals court in Kansas determined that Collins, who is white, "lacked the reasonable belief" that he needed to use deadly force when he killed Kayla Brown, a 22-year-old black woman. It also ruled that he was the aggressor in the case, and therefore could not claim self-defense.
On the night of the incident, Collins drove into his Wichita apartment complex after getting ice cream with his two daughters. He wanted to pull into a space next to where Brown's twin sister, Shayla, was standing and talking with a friend.
"It was disputed whether Collins politely asked Shayla to move so that he could park his car in that space. What was undisputed was that Collins and Shayla got into a verbal argument that included an exchange of racial and other insults," the appeals court ruling said.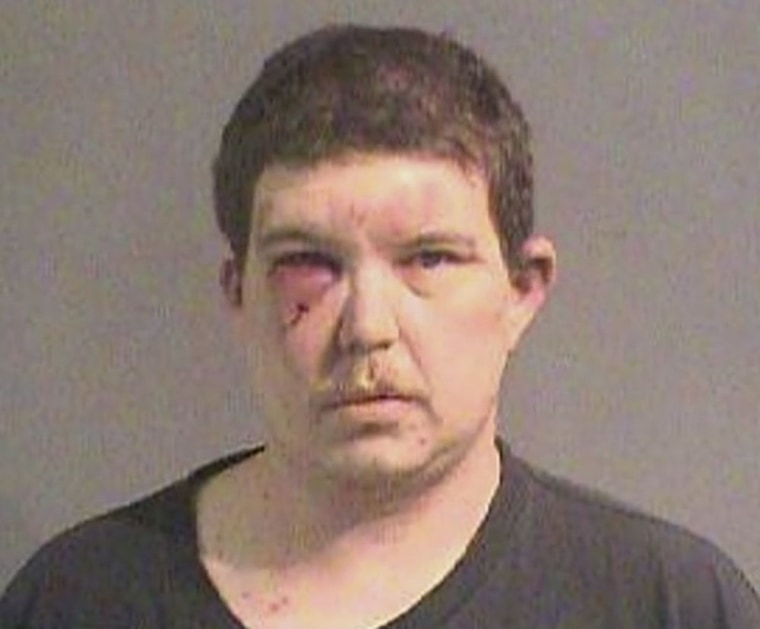 A witness said in a defendant affidavit that after Collins found parking elsewhere, he confronted Shayla and their discussion became heated.
It was unclear who shoved whom first, according to the witness, but a fight erupted and Collins fell to the ground.
Kayla and Shayla's mother, Trishall Dear, then came outside and helped to break up the fracas, and told police that Collins struck her.
Collins had visible injuries to his face and retreated up a stairway to his apartment.
Dear then said Collins reemerged a couple of minutes later down the stairs. According to an affidavit, he was retrieving his eyeglasses that he dropped. Shayla confronted him, and as he turned to go up the stairs, he was followed by Dear and her daughters.
Once at the top of the stairs, he stabbed Kayla in the neck with a 4-inch blade, according to the affidavit. The group got into another altercation, and Dear told police she noticed Kayla was also bleeding from her head and Shayla was stabbed in the arm.
A witness told police that she heard Collins use the N-word and call the women "dumb b-----s."
Although Collins was arrested, district judge later dismissed second-degree murder and other charges. An attorney for him did not immediately respond to a request for comment Thursday.
O'Hara said the "stand your ground" law is clear that aggressors shouldn't benefit from immunity.
In the parking lot dispute in Clearwater last month, the idea of who was the aggressor remains under scrutiny.
Police said surveillance video from the scene shows Michael Drejka, 47, questioning Britany Jacobs about whether she was allowed to be parked in a handicapped spot.
As Jacobs got out of her car during the argument, her boyfriend, Markeis McGlockton, came out of the store and shoved Drejka to the ground. Drejka pulled a gun out of his pocket and fired at McGlockton, who at the moment was backing away. There is no audio in the video and it's unclear what words were exchanged.
McGlockton, 28, was later pronounced dead at the hospital from a gunshot to the chest.
Floridians have the ability to justify using deadly force against an assailant in order to "prevent imminent death or great bodily harm." A person also doesn't have to retreat and can stand their ground if he or she "reasonably believes" using force is necessary, is preventing their imminent death or injury, wasn't engaged in criminal activity at the time and had the right to be in the area where the confrontation occurred.
During a news conference Tuesday, Pinellas County Sheriff Bob Gualtieri explained why Drejka wasn't initially arrested, saying that there was no probable cause to do so because "he reasonably believed that serious bodily injury was imminent."
Gualtieri added that the burden of proof for using "stand your ground" for immunity in Florida lies with the prosecution and not the defendant. State Attorney Bernie McCabe is expected to receive the case for review as early as this week.
Gualtieri also said that the law has some inherently subjective components to it since "it has to be viewed through the lens of the person under the circumstances of the time."
State Sen. David Simmons, a Republican lawmaker who helped to draft the original legislation, defended the statute Thursday as being "clear" and classifying parts of it as subjective is "simply incorrect."
He added that the law also states that a person can't claim "stand your ground" if they provoked the use of force.
"'Stand your ground' is only a small part of self-defense, and is reserved for truly 'innocent' victims of an aggressor," said Simmons, who is also a lawyer.
The law also doesn't preclude authorities from arresting someone in a "stand your ground" situation.
"Nothing in either the 2005 law or the 2017 law prohibits a Sheriff from making an arrest in a case where a person claims self-defense if there is probable cause that the use of force was unlawful," Marion Hammer, Tallahassee's NRA lobbyist told Politico this week.
In an email to NBC News, she added that she wasn't making any judgments on how Gaultieri has handled the McGlockton shooting.
"Agreeing or disagreeing with Sheriff Gualtieri's decision is inappropriate and foolhardy for anyone other than the State Attorney at this time," she said.