PARKLAND, Fla. — Sunshine poured through vaulted windows at the MiraLago at Parkland clubhouse, where 17-year-old Anisha Saripalli sat with her eyes closed as a makeup artist pressed strips of false lashes against her glitter-dusted eyelids.
As Vance Joy's "Riptide" played on a loudspeaker, dozens of volunteers teased hair and applied blush to more than 150 Marjory Stoneman Douglas High School students Saturday afternoon, hours ahead of their senior prom.
Saripalli glimpsed her new look through her iPhone camera and let out a squeal of excitement.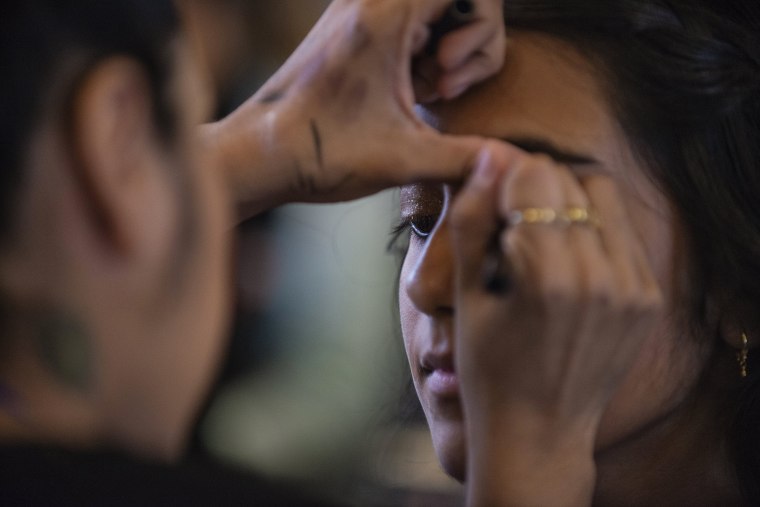 But like so many other moments over the past few months, her thoughts quickly returned to the one person she wanted to share this with the most.
Carmen Schentrup, Saripalli's best friend, the one who laughed with her over inside jokes about Harry Potter, who had skipped a grade and hoped to become a medical researcher, died in the Valentine's Day school shooting that killed 17 people and tore a hole through the South Florida community.
"Just seeing everyone here and not seeing Carmen is sad," Saripalli said. "She was the most excited to go to prom."
From the outside, the students' preparations for prom may have looked normal. And though that's what many Stoneman Douglas seniors hoped for, they all felt the absence of the four seniors killed before they could share this teenage milestone.
"She would have been so excited to see this," Saripalli said of Schentrup, as she watched her classmates have their makeup done. "Oh, my God! And the eyeliner," Saripalli added. "She would have loved all the eyeliner."
'It's not the same anymore'
Julia Cordover, 18, the senior class president, had been thinking about prom since her freshman year at Stoneman Douglas, when her class began raising funds for the event.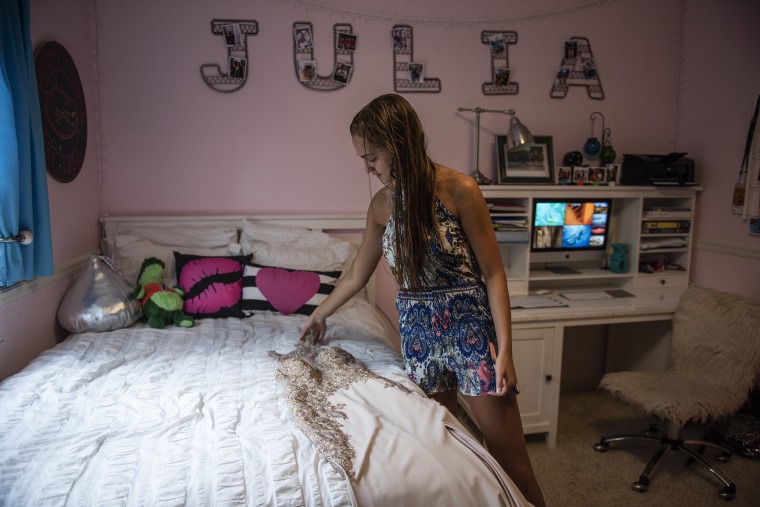 Everything changed after Feb. 14. Once tasked with planning a festive night marking the end of her and her classmates' high school careers, Cordover suddenly found herself walking a tightrope to plan an event that would strike a balance between memorializing those who were lost and allowing her fellow students to let loose after weeks spent mourning and planning walkouts to keep gun reform in the national spotlight.
"It's not the same anymore," Cordover said. "With all the grief and healing we've been doing, it's another way to take in the reality of everything. It's not necessarily a celebration, but also a remembrance."
You do everything in your power to make sure it's the best it can be.
Many seniors were initially hesitant to attend prom — a moment of such lightness wasn't even imaginable in the days after the shooting. But as the weeks passed, the senior class grew determined to keep their traditions intact.
"People were saying, 'We didn't let this ruin our year. We came back,'" said Demitri Hoth, 18, a senior who was friends with Schentrup as well as senior Nicholas Dworet and junior Helena Ramsay, who were also killed. "It'll be different, obviously," Hoth said a couple weeks before the event, "and it won't be the thing it was supposed to be, but it doesn't mean we won't get to go."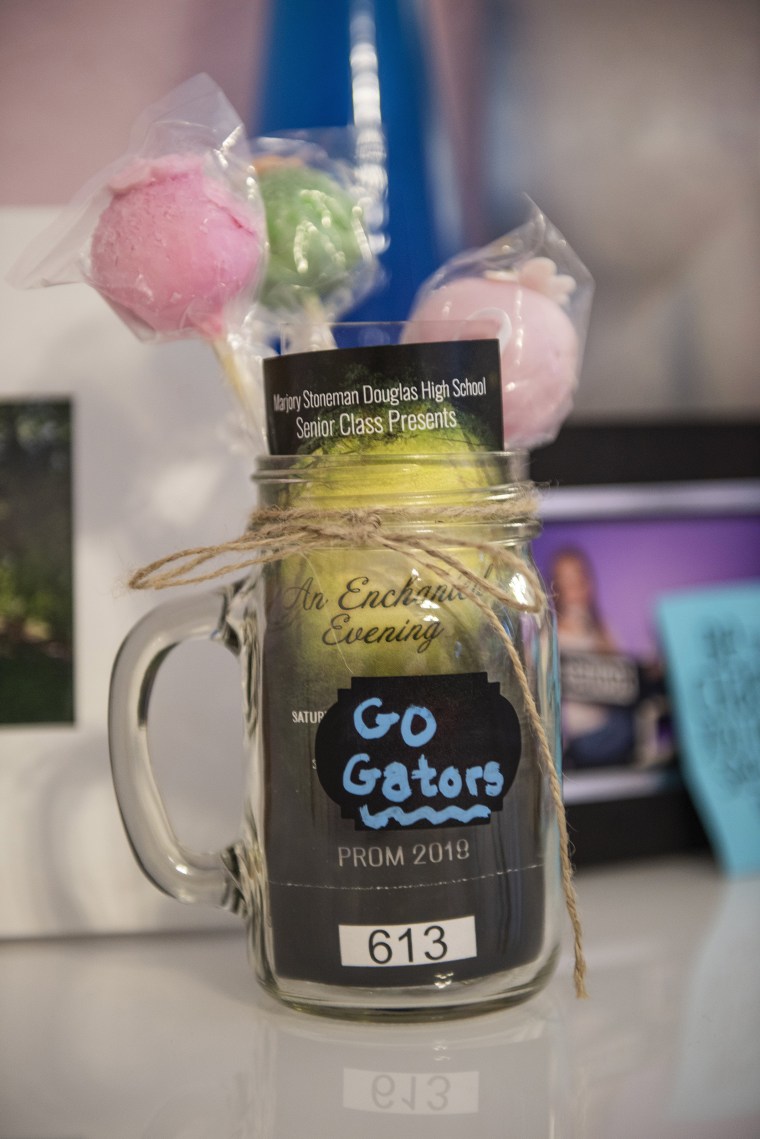 Senior Allyson Adak, 18, agreed. Her friend from band, Alex Schachter, 14, had died in the shooting, and she planned to attend prom with a group of band friends. She hoped the energy of the evening would lift her spirits.
"You have this vision for a perfect senior year, and when you don't get it, you do everything in your power to make sure it's the best it can be," Adak said.
Still, for the students, memories of Feb. 14 are never far from the surface.
When the fire alarm blared that day, Saripalli initially figured a culinary class had burned a batch of brownies.
It wasn't until she saw SWAT teams and Broward Sheriff's officers race by, and the texts began to come through, that she realized Stoneman Douglas had a shooter on campus.
Immediately, Saripalli texted her friends, asking where they were and if they were OK.
"The only person who wasn't responding was Carmen Schentrup," Saripalli said.
When she learned of her best friend's death hours later, she couldn't stop crying.
Prom was the last thing on her mind — and weeks later, when other students started talking about it, Saripalli was unsure if she should attend, since Schentrup, who had been so eager to go, couldn't.
"In our entire friend group, she was the one that was most excited about this and the fact that we're going and she really wanted to go is just hard," Saripalli said.
'The best prom ever'
The February shooting hit close to home for Arielle Nielsen, a makeup artist who lives just minutes from Stoneman Douglas.
In the days that followed, she wanted to find a way to support the students, so she reached out to the school to see if she could donate her services as a makeup artist. When she learned that nearly 600 seniors were expected to attend prom, Nielsen tapped a network of industry professionals and asked for help.
What started as an idea for a handful of students quickly evolved into the Beautifully Strong Douglas Prom Makeover Event, where more than 100 volunteers worked to give about 150 students, including Saripalli and Cordover, a bit of glamour Saturday ahead of the dance. A photobooth and makeup gift bags added to the pre-prom fun.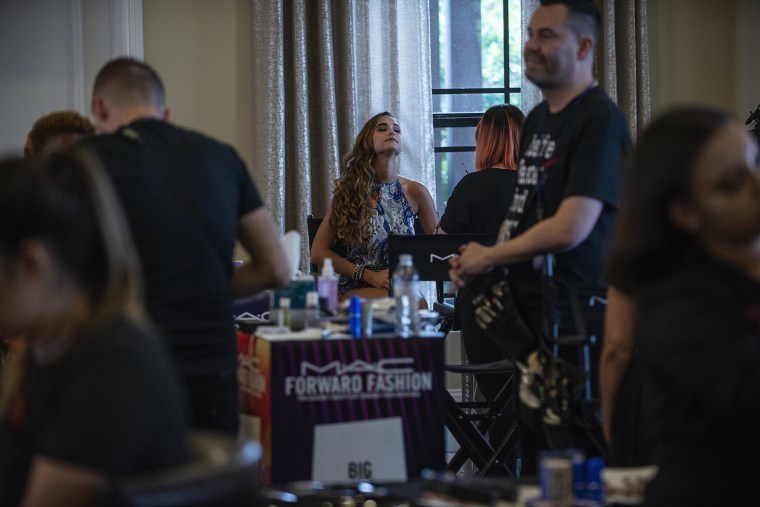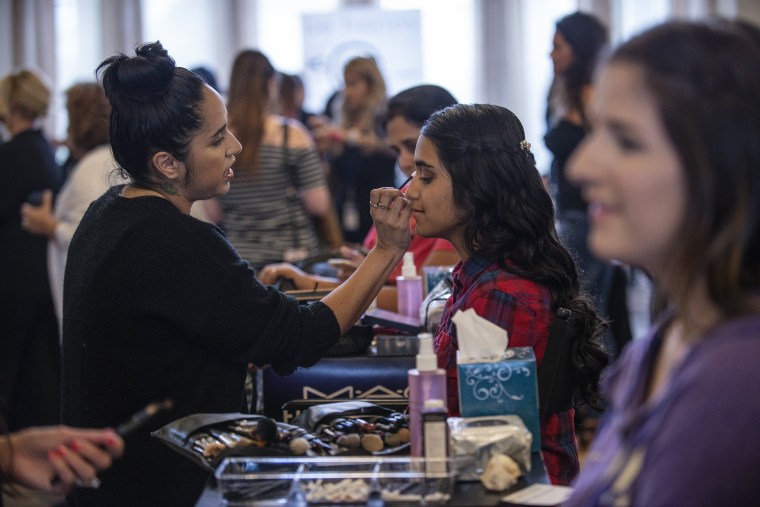 "I know so many people in community that were affected — I wanted to give back and give them a day just to be pampered and not have to think about anything but prom, and I think they deserve that," Nielsen said. "I wanted them to feel good and give them the biggest night."
She wasn't the only one who wanted to help the students of Parkland enjoy their prom.
The Westin Fort Lauderdale Beach Resort, where the dance was held on Saturday night, covered the $50,000 cost of hosting the event. The hotel also worked with vendors who donated food, a DJ, centerpieces and ice carvings, said Daniel Estevez, the resort's general manager.
"This is a way that we could bring a smile to their faces and leave them with a good memory in their senior year," Estevez said, "so they have the best prom ever."
'A fragment of normality'
Dressed in a beige gown with blue and purple rhinestones, Cordover joined droves of Stoneman Douglas students late Saturday afternoon in front of the fountain at the Parkland Commons shopping center to take pictures.
Hundreds of students crowded together, posing in the evening glow for photos their parents snapped on iPhones.
The boys wore tuxedos with orange memorial pins fastened to their lapels, while many of the girls were in burgundy dresses matching Stoneman Douglas' colors. Soon they would board buses bound for the Westin, where they would celebrate the end of their high school careers while taking time to remember those who were missing.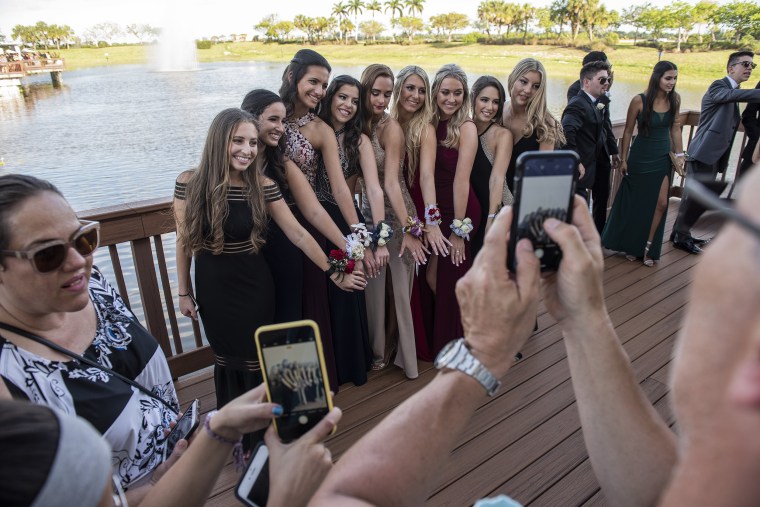 Once at the Westin, students could write in journals labeled for the seniors who had died — four in the Feb. 14 shooting and two others who died from illness and suicide. There was a quieter space set apart from the music and dancing, where pictures of the missing seniors were displayed, Cordover said. As a final memorial, Cordover planned to release butterflies into the night sky.
Many Stoneman Douglas students saw the dance as a moment to leave behind the marches and rallies their school has become synonymous with over the past two-and-a-half months. It was also a chance to be ordinary teens during a year that was anything but.
"It's the typical high school experience. Even though ours didn't end typically, this will be a fragment of normality," Saripalli said ahead of prom night. "In the moment, we're all going to be happy."