For some students, going back to class at Marjory Stoneman Douglas High School in Parkland, Florida, is like being forced to repeatedly board a downed airplane.
"It's just really hard to think about," David Hogg, a senior who has become one of the more outspoken survivors, told NBC News on Tuesday. "Imagine getting in a plane crash and having to get back on the same plane again and again and again and being expected to learn and act like nothing's wrong."
On Wednesday, the school will resume classes with a half-day schedule as Broward County attempts to return to normal. Hogg says he feels sick heading back to class knowing the only change at his school since gunfire rattled the South Florida community on Valentine's Day will be the 17 people who won't be there when he returns.
"It's a disgusting idea to think about," Hogg, 17, said of the lack of legislative action on school safety and gun control. "Literally nothing's changed except that 17 people are dead."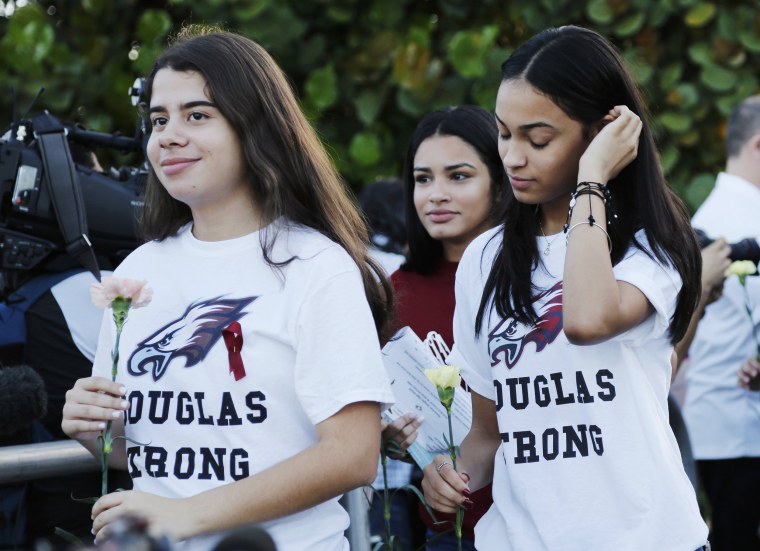 Stoneman Douglas students are now joining the growing ranks of American schoolchildren who have had to learn how to cope with haunting memories after their campuses became the site of a national tragedy.
When it happened at Colorado's Columbine High School in 1999, Austin Eubanks, now 36, struggled to return to any semblance of the normal life he knew before the shooting.
Related: Parkland shooting victim Maddy Wilford speaks out following hospital release
While inside Columbine's library, Eubanks, who was 17 years old at the time, was shot in the hand and knee — and his best friend was killed right next to him.
Eubanks said he later tried to return to the Columbine campus in his senior year but painful reminders of the massacre just months earlier surrounded him.
"My senior year I tried to go back, and I had just lost a best friend. I had been one of the students who was injured, and not only that, at the time they had not done the remodel on Columbine yet. All they did is take plywood and they made a wall where there used to be the entrance to the library," Eubanks said.
Every time he passed the plywood, he was reminded that it masked "where, at the time, the worst school shooting in U.S. history occurred," he said.
Eubanks said he numbed himself from the pain of Columbine by taking drugs, which led to a years-long addiction he has since overcome. As someone who has first-hand experience overcoming the trauma of school shootings, he urged the students of Stoneman Douglas to work through their pain rather than run from it.
Related: Florida officer Scot Peterson defends response to Parkland shooting
"Speak up about it," Eubanks said. "That's the most important part, because what happened for me is it was difficult, I didn't want to do it so I detached. I detached from community. I detached from connection and I didn't go through the healing that I know a lot of the student body did in the senior year that I missed."
Eubanks has since become the chief operating officer of Foundry Treatment Center in Colorado, which deals with trauma and addiction. As the students of Stoneman Douglas return to campus, he says it's important they do not disassociate from the events that occurred just two weeks ago.
Dr. Daniel S. Schechter, director of stress, trauma, and resilience in the Department of Child and Adolescent Psychiatry at New York University Langone Health, agreed.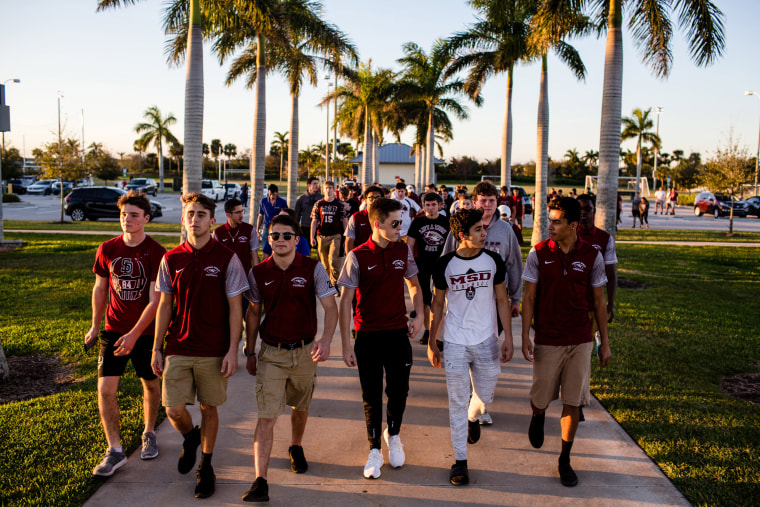 "It's important to deal with the stress when they're confronted with scene of the crime to be able to link themselves to present moment, which we use with people who have experienced bad things," Schechter said, adding that grounding exercises are often used in situations where trauma has been experienced.
Schechter said it's impossible to know which students will or won't be susceptible to post-traumatic stress disorder as they return to campus, but that it's important for students to be present in the moment as they confront the memories at school.
Related: FBI says it's trying to rebuild trust after botched Parkland tip
Broward Superintendent Robert Runcie said on Wednesday that while the day will be filled with mixed emotions, he was elated students would be returning to campus and that the "Marjory Stoneman Douglas family" would be reuniting.
In bringing the students back, Runcie acknowledged security would be heightened on campus, but said he didn't want to turn Stoneman Douglas into a fortress.
"I don't think the solution is to turn our schools into prisons and build armed fortresses, but yes, we do need to enhance security," Runcie said, adding that a law enforcement presence would remain at the school for the foreseeable future.
As students in Parkland prepared to confront the memories left on the Stoneman Douglas campus, Florida Gov. Rick Scott announced on Tuesday a $500 million investment in school safety and mental health as part of an action plan announced last week.
Stoneman Douglas students will return to campus starting at 7:40 a.m. ET and will be dismissed at 11:40 a.m. ET. This schedule is currently projected to last until March 2, according to the Broward Schools website.
While some students remain anxious about returning to the scene of the shooting, others students say they feel ready.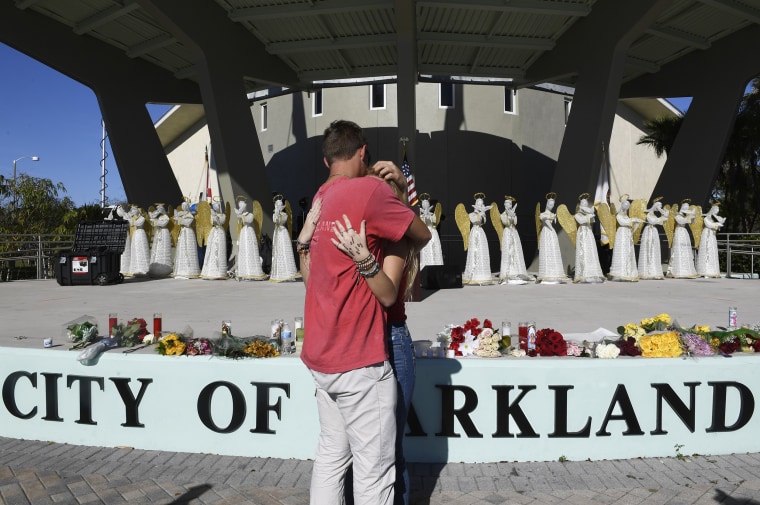 Daniel Duff, 14, a freshman, returned to Stoneman Douglas on Sunday for an orientation in his fourth-period drama class. He said being back on the campus and talking with teachers has reassured him.
"I wasn't too sure about going back," he said, but added that orientation had made him "more ready."
Duff said teachers told him that students would initially take eight 20-minute classes and that each session would focus on discussing the incidents on Feb. 14 and healing. Duff said he was told classes would not immediately go back to the standard curriculum.
Debbie Duff, Daniel's mother, said she doesn't feel anxious "at all" about her son returning to Stoneman Douglas, but said she anticipates it might be an emotional day for the students. She said the teachers and staff have worked hard to reach out to students through email and texts in the days they've been away and are continuing to make the transition as smooth as possible.
"I don't have any worries about our school feeling unsafe," Debbie Duff said. "I have overheard some people say they don't want to go back because they don't feel safe. That's not my concern."