An armed security officer on campus where a gunman killed 17 people never went inside the high school or tried to engage the gunman during the attack, a Florida sheriff said Thursday.
That officer has now resigned.
"I think he remained outside for upwards of four minutes," Broward County Sheriff Scott Israel said during a news conference Thursday afternoon.
Scot Peterson, a sheriff's deputy assigned to the school, "was absolutely on campus through this entire event. He was armed, he was in uniform," Israel said.
Peterson was seen on video arriving at the west side of a building, but "he never went in," Israel said.
Related: FBI says it's trying to rebuild trust after botched Parkland tip
Israel said Peterson should have gone in and "addressed the killer, killed the killer."
Israel added that after seeing the video, hearing witness accounts and getting a statement from Peterson, he suspended the officer without pay pending an internal investigation. Peterson then resigned, he said.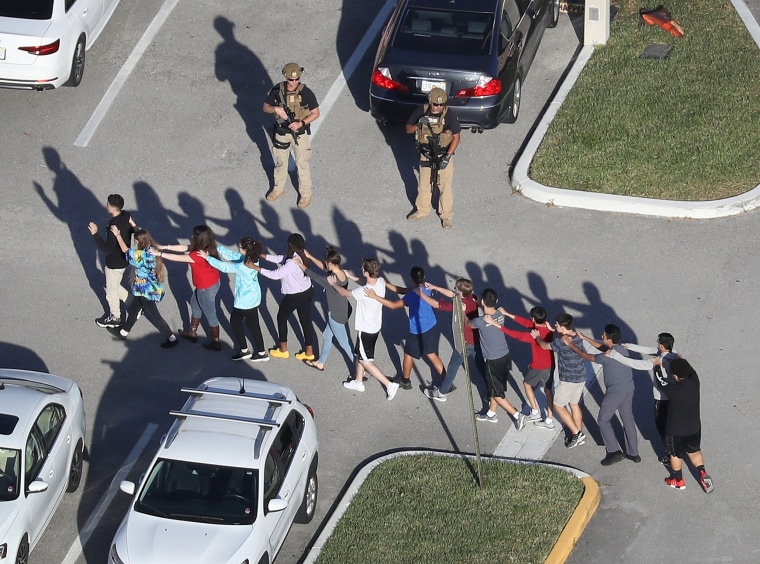 The sheriff said the revelation left him "devastated. Sick to my stomach. There are no words I mean these families lost their children," he said.
He also addressed two past calls the sheriff's office received related to suspected gunman Nikolas Cruz that were not fully acted upon.
"In two of these cases, after being briefed by internal affairs, I've restricted two of our deputies while we delve further into this, to take statements and make a decision whether or not they could have done more or should have done more," he said, adding. "It's a fluid investigation. They are on restricted duty."
Lauren Noyola, a 16-year-old who lost three close friends during the shooting, wondered if some of the victims could have been saved had the deputy acted.
"Maybe they could've been saved — maybe they could still be alive if he had gone inside and tried to stop something from happening," she said of her friends.
The Broward sheriff's announcement came just after a separate police department responded to reports that delays in security camera footage led to confusion in their attempts to locate the gunman.
Officers believed the gunman was still inside Marjory Stoneman Douglas High School when they arrived at the scene of the shooting because of a miscommunication from the person reviewing video security footage, Coral Springs Police Chief Tony Pustizzi said during a news conference Thursday afternoon.
The person was reviewing footage from 20 minutes earlier tracking the gunman's location but that information was not told to the officers, who believed they were hearing about his real-time movements.
Pustizzi said that caused "some confusion" for officers, but never put anyone in danger. The suspect had long left the high school.
"The delay never put us in a situation where any kids' lives were in danger or any teachers' lives were in danger," he said.
He added that the miscommunication actually made officers work quicker, since they thought the gunman was still in the building.
"Our officers, obviously, were more expeditious and trying to get through that school," he said.