A week after the massacre at a Florida high school that left 17 people dead, the sheriff in charge of investigating the shooting has ordered deputies to carry rifles on school grounds "from this point forward."
"Our deputies who are qualified and trained will be carrying rifles on school grounds from this point forward," Broward County Sheriff Scott Israel said during a news conference Wednesday — one week after the shooting at Marjory Stoneman Douglas High School.
Israel said the policy was implemented Wednesday morning and deputies will be required to keep their rifles locked in their police vehicle when they are not being carried.
"It will be done safely — only deputies that are trained and qualified will carry those rifles, but we need to be able to defeat any threat that comes onto campus," he added.
The school district's superintendent, Robert Runcie, supported the decision, Israel added. Some of the deputies will be carrying single-shot AR-15s, he said.
There was an armed school resource deputy at the high school campus at the time of the Valentine's Day shooting, but he never encountered accused gunman Nikolas Cruz, authorities have said. Israel said on Wednesday that the deputy's "response and actions … will be looked at and scrutinized as will everyone."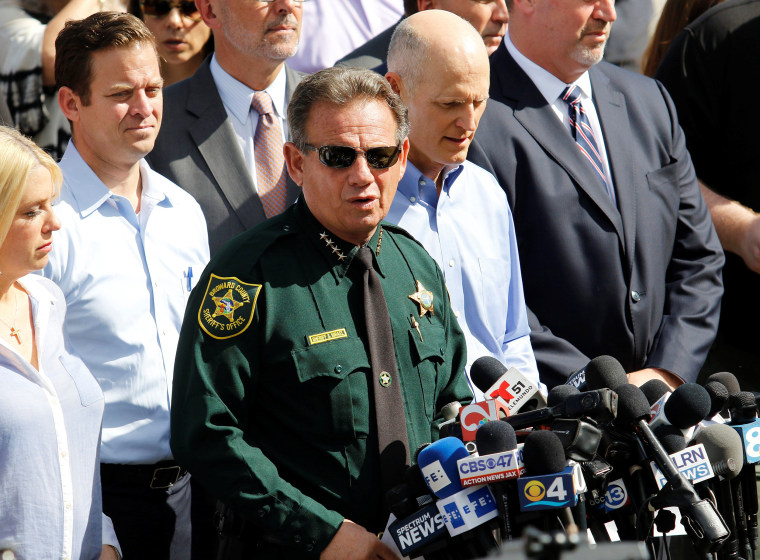 Israel has not shied away from calling for change in response to the shooting. On Wednesday, he again urged for "sensible gun control" and called for giving law enforcement increased authority to detain people under Florida's Baker Act — which says a person can be detained against their will for up to 72 hours under certain circumstances.
"There are certain people in this country that should not be ever allowed to have a gun. We need to look at that," he said.
Israel's also again called for increased authority under the Baker Act for law enforcement to involuntarily detain people for a mental examination over graphic and disturbing social media posts.
Related: Sheriff in Florida shooting calls for power to detain over social media
"And when that person leaves the facility, the mental health facility where they're examined, that doesn't mean we should give them back their guns," he added. "That doesn't mean they're better, that just means they're now in the rehabilitative stages."
"When people have just undergone a psychiatric evaluation and we're worried about their mental health, these people need to away from guns until they're evaluated — maybe years down the road," he added.
The news conference came as President Donald Trump heard heart-breaking personal stories from the parents and friends of young people who had died in school shootings at the White House.
Many students from Marjory Stoneman Douglas High School as well as family members of victims attended the emotional and intense event.
"Fix it!" Andrew Pollack, told Trump as he stood and told the story of the murder of his daughter Meadow, 18.
"It should've been one school shooting, and we should've fixed it," said Pollack. "I'm pissed."
Student Sam Zeif tearfully called for increased restrictions for buying AR-15s, the type of gun used in the shooting at his school. Zeif's text messages with his 14-year-old brother, who was also at the school during the shooting, went viral online. His brother also survived the shooting, but his best friend was murdered.
"We need to do something," Zeif said Wednesday.